GatorMOG went south. South to West Palm Beach Florida. (For those of you that are geographically challenged, that is really southern Florida.  Almost to Miami.)  But, in reality, it wasn't really all that far. . . And it was well worth it . . . As it was all good. Very good!
The GatorMOG fall gathering this year was held in West Palm Beach and was hosted by Bennett and Mary Shuldman. Bennett and Mary moved to West Palm Beach a few years ago from Connecticut and officially joined GatorMOG and MOGSouth. South Florida needs more Morgans. (Actually there are quite a few Morgans in South Florida but we rarely seem them out and about. I suspect they are kept in air conditioned garages and only come out occasionally, when their owners, northern snow birds, come south for the winter.)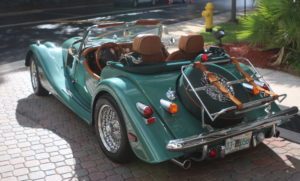 Mary and Bennett are quite active in MOGSouth and have been for some time.  Even when they lived in Connecticut.   I suspect that fact (or would like to believe it) may have contributed to their decision to relocate to Florida a few years ago. And, their desire to have GatorMOG come visit.
Bennett and Mary were the most gracious hosts we could have imagined. They opened their wonderful home to the group for Friday night dinner.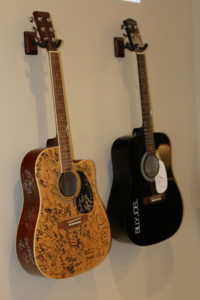 Their house is a museum of sorts with Mary's music memorabilia and Bennett's New York Yankees baseball collectables. Amazing! Their house is right on the water and we sat outside enjoying a very pleasant Florida evening.
To feed the crowd, they had an actual food truck park in the driveway to cook and serve us from the list of delectables on their gourmet menu. Quite unique and great fun!
We enjoyed the Florida sunset and finally had to find our way back to our hotel. We had a great group of Morgans . . . Plus 8s, Plus 4s and Roadsters, but it would appear that navigation really isn't our forte. What started as a simple convoy soon became a few cars here and a few cars there. Some went left while others went right and some lost their headlights. But in the end, no real drama and we were all soon back at the hotel. Again, no consensus as some went up and some went to the bar . . .
Saturday started with omelets and coffee. A visit to a private car collection, Larry's collection, was the plan. The weather was iffy and the discussion mostly centered on taking the Morgans out and risking the impending rain. The weather pundits on the internet and on television all thought the rain would hold off but then start about the time we were supposed to be returning to the hotel. In the end all but one of the Morgans hit the road.  A few SUVs also went.
Larry's collection was beyond belief. Roughly 100 cars, all elegantly displayed on 4 post lifts with year appropriate license plates and die cast replicas of the full sized cars all in the appropriate colors. There were are a few works in progress with stories of component restorations in South American and assembly back here in Florida. Larry, it turns out, has a full time staff of about 10. (I have a staff but the dogs are really not much help!)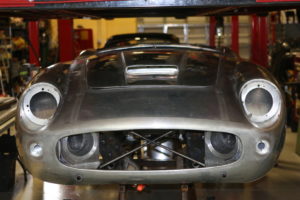 For the cars in work, there were shelves of waiting parts, nuts and bolts and other bits that would soon be added to the cars. A full library supported the restorations to ensure correctness and to assure proper assembly. An overhead loft with overstuffed chairs, a whiskey bar, and Persian rugs. This would be a hard place to leave.
The collection was housed in a facility with high ceilings allowing for country of origin or marque specific flags over each display and (just like all of our garages) several crystal chandeliers lighting each of the rooms. Really we were in awe, even those of the fairer sex.
Larry flew in, from California, to be with us and told of the history of each of the cars in the collection. He also was quite interested in the Morgans. He indicated his past ownership with Morgans but currently didn't have any in the collection. Although he had a bit of everything, British, Italian, Scandinavian, even French, but the passion was obviously German and Porsche.
There was even a plan for lunch. Larry and staff had ordered Pizza.  A log table had been set up down the middle of the display room and when the pizza arrived we all sat with down with Larry and his team and talked . . . what else? Cars.
Then it was time to leave and yes, the rain did come and it came down with a vengeance.    The Morgans in the parking lot had their tops up and were fine . . . a bit wet, but fine.  We again found the hotel, with the plan for an afternoon Morgan show and tell, cancelled.   Ok, so we got a nap and chance to clean up before dinner.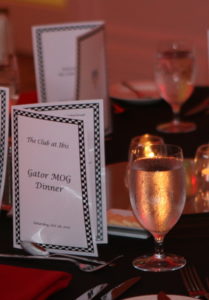 Saturday dinner was arranged at Bennett and Mary's neighborhood club house.  Again, they had over achieved.  We had a wonderful cocktail party telling tales and reminiscing about all things Morgan.  Then we sat down to a semi formal dinner with a wondrous buffet.
Elegant party gifts of Morgan Logo cuff links were given to the men at the dinner.  A lovely memento of a superb weekend in South Florida.
This event served to reiterate that geography and weather are nuisances that are easily overcome by the spirit,  friendship and camaraderie of great people in MOGSouth and GatorMOG.
Bennett and Mary Shuldman are certainly part of this crowd and we are very lucky to have them in our midst.
See photos of the event under 'Photo Galleries'