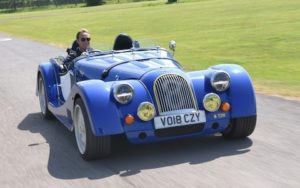 Morgan is best-known for its traditionalism, but a car like this holds its own against modern sports models CREDIT: JAY WILLIAMS
To say they are all sold out is a bit of a misnomer. Morgan dealers buy their stock, so these Plus 8 50th Anniversary Edition specials are definitely still around. In fact at the time of writing there's one being advertised on the Car & Classic website for £134,500.
That's something of a cheek considering the last production Plus 8 model was a mere £85,461, but specials like this always seem to sell well. And given the phenomenal affection for this giant-killing British brute, the final 50 cars in the Plus 8 line are guaranteed to find homes swiftly.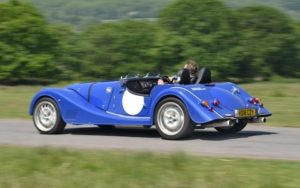 A delightful car that can be as hairy as you like, and more, discovers Andrew English CREDIT: JAY WILLIAMS
Available in French blue as a roadster, or in British racing green as a fully-trimmed road car, the roadster, while a deal less practical, is much the better looking. Is this the first aero-screened version of the Aero 8? Who knew it would look so fabulous? Details are crucial with this car and they haven't always been the most tidily done, but here care has been taken, which means the builders' screws holding the dashboard in place shriek "never do this again" even louder.
The rest of the cabin is mainly well finished and attractive, though the seats, while accommodating, are hard on the lower spine. It's a wide cockpit, with large sills but little space for luggage. Don't make the mistake of putting your wallet on the sill or it will slide off and disappear, never to be seen again.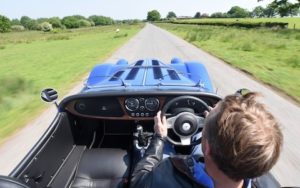 The roar of the V8 and that long, long nose might one day be a thing of the past  CREDIT: JAY WILLIAMS
The big BMW M60 mill starts with a mild boom and clanks as it idles. The six-speed manual has a heavy shift, but it slots cleanly and it suits the car. There's virtually no need of a transmission, however, as the Plus 8 will pull from walking pace in top gear. Performance is immediate and electrifying. From low down the rev range the Plus 8 monsters up the road as fast as you want and occasionally faster than that.
Its speed is limited to 155mph but the 0-62mph time is quoted at 4.5sec; we've not confirmed this but every reason to believe it. Those 245/40/18 rear Yokohamas will readily spin up on a dry road, so don't even think of what it's like in the wet.
We tested the newest car back-to-back with the very oldest, 'MMC11' CREDIT: JAY WILLIAMS
While the aluminium honeycomb chassis is fundamentally sound, the ride quality on this big 1.2-tonne car is by turns bouncy over big bumps and shuddering over small ones. Admittedly these were roads on which the original MMC II was in the air for part of the time, so there has been progress, but the new Plus 8 isn't a patch on a modern saloon.
Steering feedback and weighting has been an issue with the Aero 8 and its descendents and there's clearly been work done for this final edition Plus 8. The weighting is more consistent over the whole steering movement and there's no longer the slightly terrifying vagueness as you turn into a corner. That said, the speedy ratio of the rack and pinion means the nose can feel darty at speed, especially on a bumpy road, where this car does a good impression of a runaway minecart.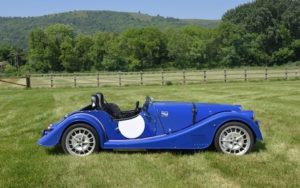 Unmistakably a Morgan, the Plus 8 has outlived most cars by decades CREDIT: JAY WILLIAMS
With limited ground clearance and suspension movement, a Plus 8 is never going to be on terms with a modern sports saloon, and for its type the chassis is dependable and grippy, but the feeling that you are flying by the seat of your pants is a bit too real for such a powerful car.
In the end a car like this Anniversary is about its details and for the most part, they're really well done, with wheels that echo MMC IIs, a lovely set of driving lamps and that rich paint quality. And if the price seems high, don't forget that the post 2012 Aero 8 based models all seem to hold their value well.
After half a century this seems a fitting tribute to the Plus 8, but one can't help wondering why we're waving goodbye.
Morgan Plus 8 50th Anniversary specifications
TESTED 4,799cc, BMW V8 naturally-aspirated with six-speed manual transmission. Rear-wheel drive via a BMW limited-slip differential.
PRICE/ON SALE from £129,000 to £131,208. As tested: £131,208. Limited to 50 units, nearly sold out.
POWER/TORQUE 367bhp @ 6,100rpm, 370 lb ft @ 3,400rpm
TOP SPEED 155mph
ACCELERATION 0-62mph in 4.5sec
FUEL ECONOMY 23mpg/16mpg (EU Combined/Urban
CO2 EMISSIONS 282g/km
VED BAND M £2,070 first year, £140 thereafter.
[For those that are interested, the VED Band is part of the UK's new tax scheme.   According to Autoexpress.co.uk the VED Band, or vehicle exercise duty, is a tax band based on the new cars CO2 emissions.  All cares are grouped in bands and the tax is paid when the car is first sold. Then the car pays a lower tax each year of ownership.   Sort of like our gas guzzlers taxes, etc.  Cheers, Mark] 
"If you buy a new car, the car's price isn't just what the manufacturer expects you to pay for it, as there are additional costs included. There's VAT charged at 20 per cent for starters, and there's a registration fee – for the number plates and getting the V5C from the DVLA – and any delivery charges that the dealer will also add. Plus, there's road tax, which is sometimes known as showroom tax for new cars, but is officially called Vehicle Excise Duty (VED), as it hasn't been used to pay for road maintenance for many years.   VED for the first year of a car's registration is calculated differently to the rest of its life."  (Autoexpress.co.uk)