2019 GatorMOG Fall Noggin – Daytona, FL (Nov) – Sep 18th Update
Each person must have a ticket for the weekend at the Daytona International Speedway. Your good looks alone (nor driving a Morgan) will not get you in without a ticket!! Buy your tickets on line as it is cheaper that at the gate.
There is a discount code provided here that will get you a reduced cost ($5 per ticket order) for your Daytona International Speedway tickets. It isn't a huge discount but it is something. Every little bit helps!!
Select the ticket package you want
Enter code: MOGCL24 to receive $5 off the online ticket order price. If you order two tickets you will get only one 5$ discount. (This will save you $10 off the price at the gate)
If you order each ticket separately you can save $5 per ticket. You must completely LOG OUT from the first purchase however and go back to the link and create a separate account (I used the Spouse's name). It keys on the account name. (Only one discount per name.) I made it work and got two 5$ discounts.
The following picture includes a location map for the Morgan / George Waltman Celebration corral. (It is the green box on the map)
We will be on pavement, across from the Owner/Driver lot, with an easy straight walk to the paddock, where Christopher John LTD., will be located.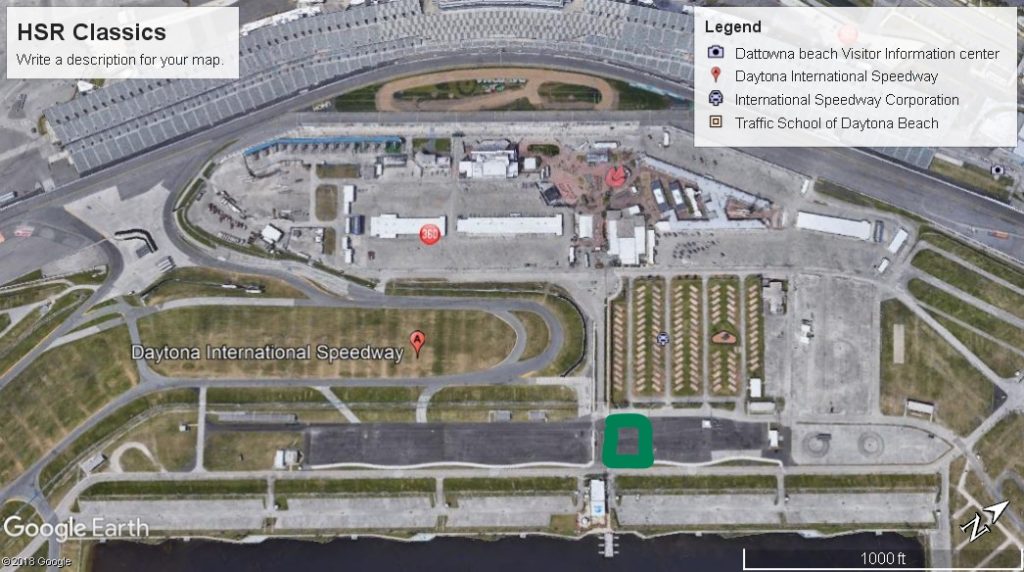 Event Schedule (15 / 16 November) Plaza Hotel in Daytona

Friday Schedule (15 November 2019)

Hotel Arrival – No Scheduled Events at Track (a Morgan Owners Noggin/Beer Call at 5PM in the Hotel Bar)

Saturday Schedule (16 November 2019)

0730 – Morgans depart Hotel
0900 – Lunch Hour Daytona Speedway Events. Car Corral, New Car Displays, Morgan Q&A
Lunch Hour – Parade Laps for Morgan Cars Only (3 Laps – TBD)
1400 – 1500 – Historic Racing Discussion Group w/ Morgan Racers Past & Present (if desired.)
1515 – Tour of Daytona Speedway Archives (and Waltman Display)
1700 – 1900 – Daytona Morgan Dealer Open House @ Christopher John Ltd. (Leave Morgans Parked at Christopher John Ltd.)
1730 – Copper Bottom Distillery Tour and Cocktail Party (Vicinity of Christopher John LTD)
1900 – Caribbean Jack's Group Dinner (10 Minute Walk)
After Dinner Walk back to get Morgans, Drive to Hotel (1 Mile)

Sunday Schedule (17 November 2019)

0730 – Morgans depart Hotel
0900 – Lunch Hour – Daytona Speedway Events. TBD
Lunch Hour – Morgans Depart for Home (Time TBD)
We will depart from the hotel at 0730 sharp on Saturday (16 November) morning. Make our way across town to the track, find our designated location and get set up.