2019 MOGSouth Holiday Party, 7 Dec, St Simons Island GA – Report from the Field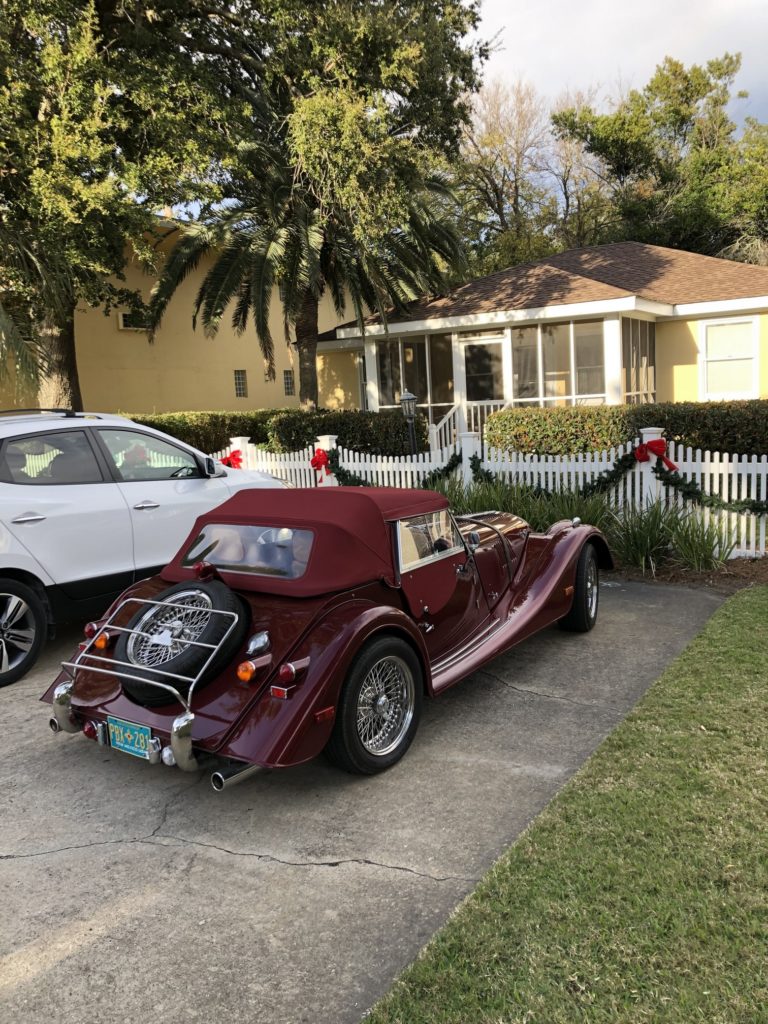 John and Debbie Stanley were our hosts for the weekend and made all the magic come together seamlessly. A monumental task!! A big thanks from MOGSouth and all those that participated!!
The Saturday morning trolley tour was a perfect review of the history and layout of St Simons Island. Those that went were quite pleased with the synopsis and the weather was delightful, cool but not cold. I heard many, many comments about the very cold and damp locations of past Holiday Parties. It seemed like a good many prefer like the relative warmth that St Simons offers and that a Winter Wonderland is just not needed.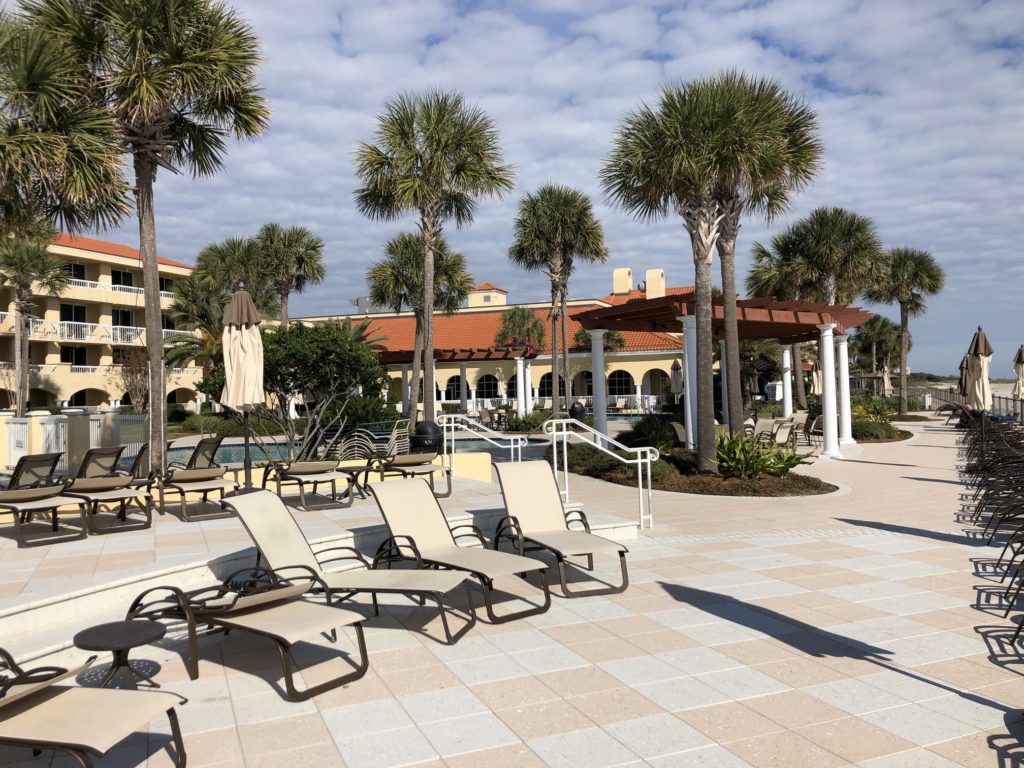 The Wesley Cottage, on the grounds of the King and Prince Resort, was again the location of the Hospitality Suite. It was decorated for the season with holiday garland draped along the white picket fence with an illuminated Christmas Tree in the front yard! The cottage itself offered a convenient and comfortable gathering spot for the club, with a full living room, a dining room, outside picnic table, a kitchen and a wet bar. Pretty much everything we could have asked for. Debbie and John went overboard with tasty treats, many Debbie baked or crafted herself, and a great selection of both hard and soft libations. There were even food and drink options for the Gluten Free folks. Wow!!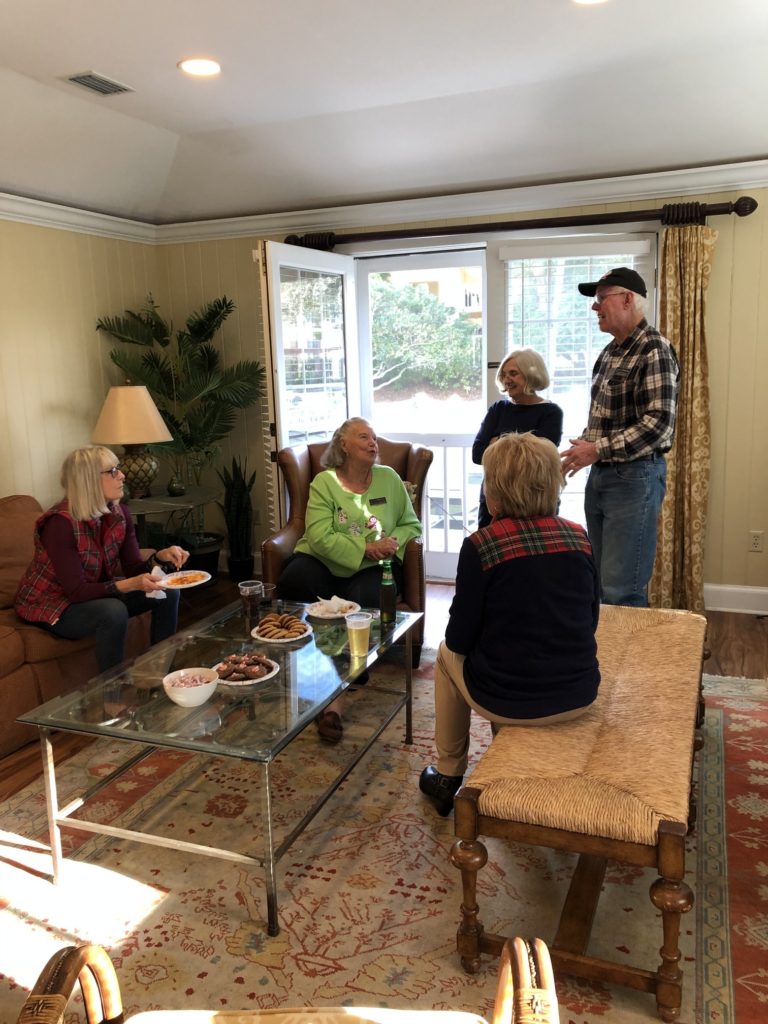 banquet room was decorated for the season with a lit tree, fancy table center pieces and other festive bits. And, the food was wonderful. The banquet itself was far better than the normal rubber chicken and mashed potatoes. The Nothing was cold and the staff assured us that nothing ran out. Ham, turkey, gravy, stuffing, vegetables and on and on. My plate was too small! And, I didn't even get desert!
The 2019 MOGSouth Holiday Party was great fun!! Lots of folks, coming from all over, an unexpectedly large turnout. Larger than last year!! We had Morgans everywhere, old and new, and some pretty ugly, but festive!!, sweaters. I have to say my sweater, although I didn't win any awards, was especially hideous. Thanks Andrea!! And, as fat as I am, just the shear expanse of 'hideous' magnified the effect, dare I say 'immensely!' I looked like something between Will Ferrell's Elf character (what a terrible movie!) and an alligator (GatorMOG . . . get it??) with a jock strap. But, in my defense, my sweater did have Morgan wings!! The awards were justly given to some very, very clever sweaters. It was obvious that a lot of time was put into their apparel. Beautiful baskets of wonderful things! I guess congratulations are in order, or would condolences be more appropriate?
This year we tried to correct the failings of last year's 'ad hoc' silent auction. This year we planned it out from the start and once again Debbie and John did a masterful job of laying out the offerings with all the administrative bits necessary to make it work. The silent auction items were arranged on tables in the banquet room, allowing everyone to circulate and bid on desired items. Folks' generosity was evident and the donations were truly terrific, and only a very few things were left, after the smoke cleared. There was also a secret envelope game that surprised quite a few.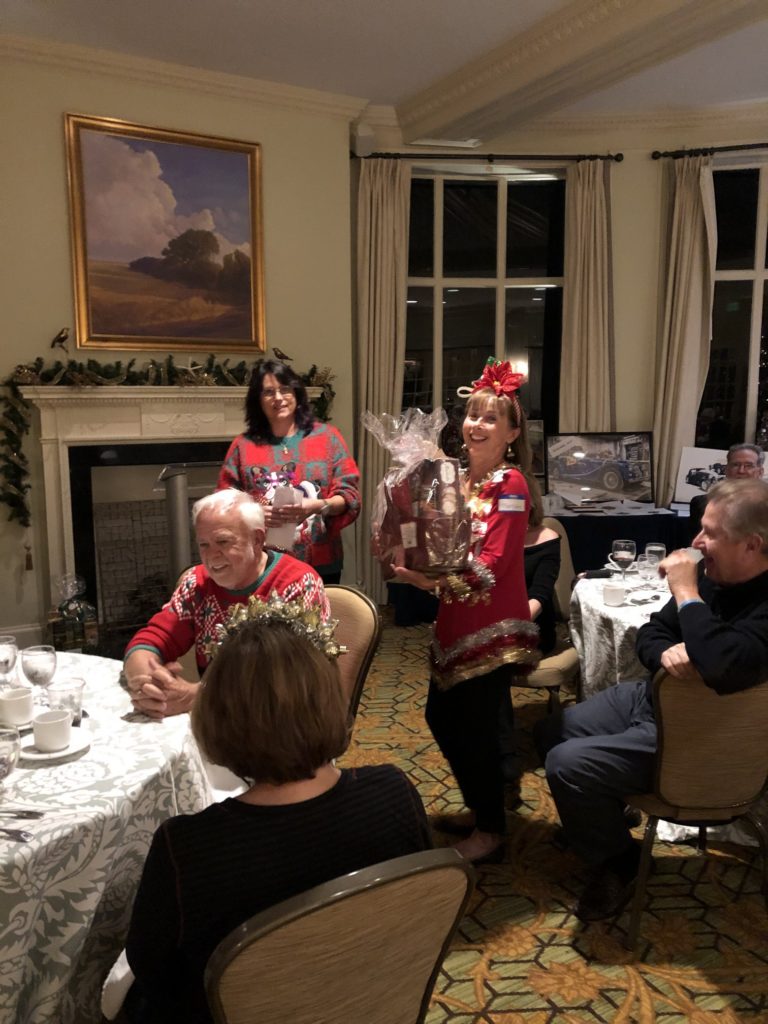 As is the tradition, the MOGSouth Mother Courage Award was presented at the Holiday Party. This year's award, 2019, went to Gary and Judy Heck. Another very good choice of recipients. We do have some wonderful people in this club!! The large traveling award was presented following the dinner, but the smaller recipient award didn't arrive in time. We will mail it directly to the Hecks. The smaller award is for them to keep however Gary and Judy's name will be added to the large traveling award that will be passed on to future recipients.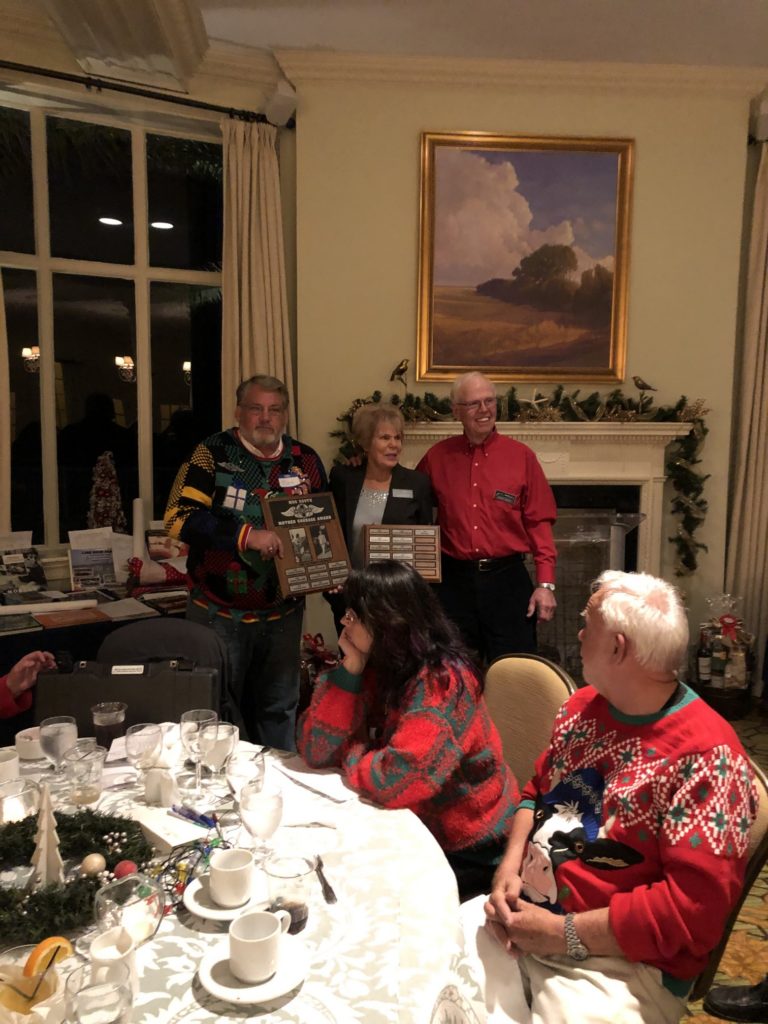 A few words of MOGSouth business and back to the Hospitality Suite for more Morgan and MOGSouth 'comradery' (e.g. drinking and cookies!)
A Holiday Party we will remember for a long time. Again, thanks to everyone for coming and a special thanks to our hosts, John and Debbie Stanley, for making it so memorable!!!
All Photos Courtesy of Allan Rae