Morgan in 2020 | Reasons to be cheerful
By Sam Sheehan / April 9, 2020 /www.pistonheads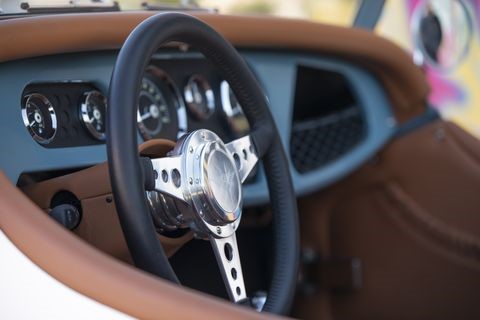 Morgan is probably one of very few British companies that still has a spring in its step during lockdown. The Malvern firm's first big international launch for the Plus Four has had to be postponed due to the disruption of the pandemic, but you sense the work done just before it temporarily shut up shop was enough to get over the hill, one it had been climbing since the first digital drawings of its ground-breaking CX platform were produced more than four years ago. Along with the Plus Six, the already-popular Plus Four has put Morgan on a totally new path, one that head of design Jon Wells thinks will enable his team to make some pretty bold moves with subsequent products – both aesthetically and technically.
"It's no secret that we've a space at the top of our line-up for an Aero successor," Wells, a member of the Morgan Cars family for twelve years, tells PH. "Its successor is being worked on and, without giving too much away, we're prepared to go further than we've done before thanks to the flexibility of the CX platform. There's no monocoque so we're certainly not tied to one look, we've shown with the Plus Four how different the platform can become, and with the BMW engine partnership, we've a great supply of powertrains to choose from."
How does a turbocharged 4.4-litre V8 two-seater to succeed the AeroMax sound? From the tone of his voice on the phone, it seems Wells is on board with the suggestion, but he refrains from getting into the future halo model's specifics. Right now "it's about the Plus Four", he says. Instead, he leaves the door wide open, stating that the "CX platform had flexibility designed into it from the start, so we could use a higher specification of BMW's modular engines [including the Plus Six's 3.0-litre B58] or even go down the alternative fuel route. That's certainly something we know about thanks to the hydrogen fuel cell LIFEcar and EV3 project from a few years back".
Ah yes, electric. Something not even a brand as firmly tied to tradition as Morgan has been able to avoid. Not that it's ever wanted to, as the EV3 showed the firm has plenty of ideas when it comes to zero-emission motoring. He says the shelved 2016 model continues to have an impact to this day, with the response to its reveal demonstrating "that people want to see Morgan doing new things for the future", while "keeping to [its] heritage and remaining a genuine, authentic coach-built car". The company trained its dealer network to work on EVs so it's ready to hit the ground running. And, handily for Wells, the packaging freedom offered by an electric car is self evident.
"But when it comes to EVs, we're making an electric Morgan, not making a Morgan electric," he affirms. "And there are things that I'd like to retain even the most forward-thinking designs; like the driver will always sit just behind the car's centre line, behind an A-pillar on the centre and with a dramatic view down the bonnet. That proportion probably stays but beyond that we're free to play with the Morgan philosophy, so you can expect something to illustrate that it has performance, but without looking too aggressive. How do you maintain the Morgan identity without an intake? We're thinking about that, with functional design as priority."
Wells refers to the EV3's brass fins, there to keep the batteries cool, as an example of EV functionality that's aesthetically-pleasing and "adds to the car's story". He admits that round headlights are likely to remain a staple feature of the Morgan face no matter the powerplant behind them, although new LED technology does allow for variations of the inner details.
The same goes for the wood that mounts to the CX structure, which Wells expects to remain across the board due to the production freedoms it enables, like "actually changing the shape of the car without affecting the platform beneath". That's not to say that Morgan wouldn't consider other things; Wells points to the EV3's use of sustainably-sourced carbon as evidence of the changes that could be brought about when relevant. But the company needn't forget about the technical merits of its unique wood-framed engineering.
It does, however, need to consider the potential wider-reaches of its CX platform cars. With improvements to NVH and refinement provided by the aluminium, CAD structure (so no more "pencil and pad sketches"), Wells isn't the only one expecting the firm's present customer base – typically men aged between 45 and 60 – to expand. Retro style is at the height of fashion, after all, and Wells is fully aware of a growing hunger for film cameras and vintage clothes, a trend Morgan is well placed to take advantage of. It seems to be going well, despite the impacts of coronavirus; Morgan received record levels of online exposure with the Plus Four, a car the company reckons could become a driver's favourite thanks to its manual gearbox and one-tonne kerbweight.
"We're also at a stage now where we can consider future technological and safety regulations before they're implemented, rather than always reacting as we used to before CX," Wells says. "We think about pedestrian impacts, which require clear space between the car's front and engine, and how to place cameras for driver assistance tech, which normally spoils the A-pillar's lines. And we've already proven that we can effectively cool a hot turbocharged engine in what's a very tight package, while showing that we can make modern wishbone suspension work with a bespoke wire-wheel design. Our pot of technology available for future cars is really very large."
2020 might not go down in history as a particularly favourable year, but as far as Morgan's story is concerned, it's looking like a turning point. Wells says the Plus Four's enquiry list exceeded expectation, suggesting that once things return to normal, the brand will expect to hit the ground running. Using his enthusiasm as a guide, it's what's to come after that which will really get the marque into its 21st century stride. For now, Morgan's design boss is "itching to get back out on the road for a drive." We couldn't agree more.