Monthly Archives:
April 2021
[I liked the bit . . . 'perfect imperfections' . . . Mark]
Retro-styled roadster looks set for a second-gen revival, and all the signs point to a heavy overhaul
Morgan has begun testing a substantially overhauled second-generation version of its lightweight 3 Wheeler roadster, as it prepares to wind down production of the current car this year.
Autocar has obtained an exclusive image of a prototype being put through its paces, giving us a first look at how the Malvern manufacturer will update the diminutive 3 Wheeler, which remains similar in its concept and design to the Morgan Super Sports launched in 1933.
Most obviously, one of the current car's defining features, its front-mounted V-twin engine, has been removed. Morgan previously confirmed that the outgoing car's 1998cc motorcycle-derived 82bhp aircooled engine – supplied by American manufacturer S&S – would become non-compliant with emissions regulations in 2021, but has not yet detailed its replacement. Irrespective of output, Autocar understands the engine will continue to drive the rear wheel exclusively.
It is now two and a half years since Morgan shelved plans for a pure-electric version of the 3 Wheeler, citing problems with its powertrain supplier and vowing to bolster its EV development capabilities by bringing "additional specialist resource in-house". It remains unclear whether this second-generation car could spawn a zero-emission variant.
With no engine elements on show, it appears the next-gen 3 Wheeler's powerplant will be housed, more conventionally, in the bodyshell itself. That means it's likely to be larger than the current two-cylinder unit and, as is the case with the other models in Morgan's range, will likely be sourced from a third-party manufacturer.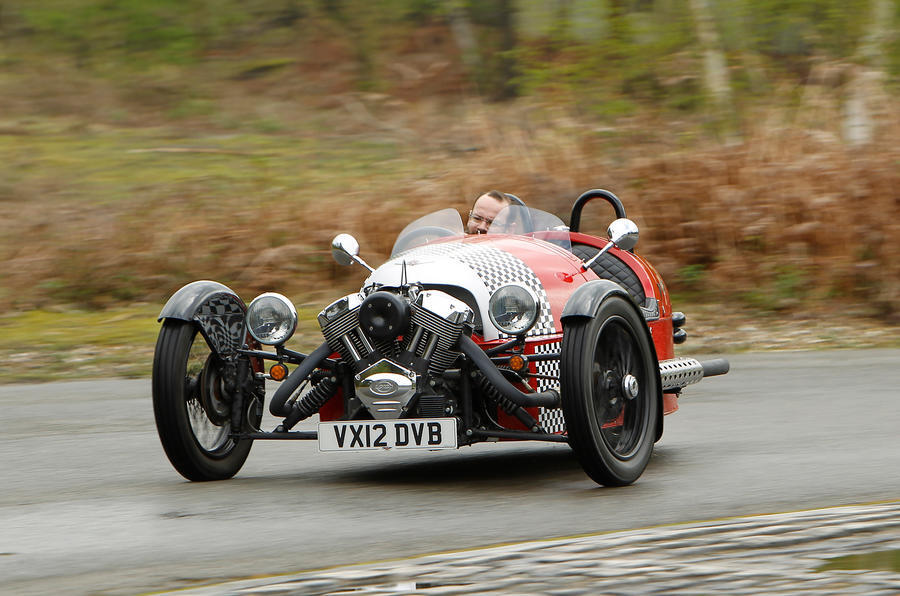 BMW currently supplies engines for Morgan's four-wheeled sports cars, but the smallest is a 2.0-litre turbocharged four-cylinder taken from the Z4 sports car, and would almost certainly be too large for the 3 Wheeler's shell.
Beyond that, we can see clues as to a subtle redesign for the brand's smallest model. With the engine relocated, it looks as if Morgan will introduce a more streamlined front end, although the front wheels will remain exposed while the rear wheel is enclosed within the tail of the car. However, the roll cage pictured here is for testing purposes and won't make production.
More significant are the apparent revisions to the 3 Wheeler's chassis. With the front track visibly widened, we get a good look at what seems to be a much more advanced suspension set-up, while the vented brake discs at the front have been substantially upsized, all of which points to a more overt handling focus and potentially a power increase for the 3 Wheeler.
The new 3 Wheeler is expected to be shown in full towards the end of this year, ahead of an international market launch in 2022.
It is with great sorrow that I communicate the passing of Pat Harris. Pat was the ever-present partner of Gene Spainhour for as long as I can remember. I am sure it is the same for many of you, but for me a MOGSouth meet without Gene and Pat just didn't seem right. My heartfelt condolences go out to Gene during this very trying time.
Pat passed away with her family in Cape Cod. Pat was a wonderful member of the MOGSouth family and one of those people that makes MOGSouth the great club it is! For me, she was always the 'bright light in room' even when we were outside mucking about with the silly cars. She could be forceful when necessary, but had a wonderful sense of humor! She often provided us with the 'adult supervision' we occasionally needed! She was loved by us all and she will be deeply, deeply missed!

Patricia Waggaman Harris
DOB: 05/29/1949 in Mt. Vernon, Ohio
DOD: 04/02/2021, age 71 in North Falmouth, MA
Born in Mt. Vernon, Ohio to Robert Waggaman and Mary Alice (Shrack) Waggaman. Pat spent a large portion of her childhood in Park Forest, IL before moving back to Mt. Vernon for high school. At Mt. Vernon High School, she met her husband to be, Jeffrey Harris, in the lunch line. Following high school, she attended Albion College in Albion, Michigan where she received a Bachelor of Arts in English. She later went on to earn a Master of Library Science from Appalachian State University in Boone, NC.
Upon graduation from Albion, Pat and Jeff married and eventually settled in Bethlehem, NC where they raised two children, Christopher and Bethany. Pat worked as a librarian/ media specialist for many years, first at West Alexander Junior High School and then at Hickory High School. Pat earned her National Board Certification while at Hickory High School.
Pat had a love of the outdoors including walking, gardening and hiking the Blue Ridge Mountains of North Carolina. She loved spending time with friends, pottery, books, chocolate, traveling, and a glass of wine. For the past sixteen years, she embarked on these pursuits and many other adventures with her partner, Gene Spainhour of Hickory. Most of all she loved her four grandchildren.
Pat will be lovingly remembered by her children Chris and Alissa Harris of Falmouth, MA and Bethany Harris and Leopoldo Sasso of Brooklyn, NY, and her grandchildren Hadley, Benjamin, Leopoldo and Clara. She is also survived by her brother Craig Waggaman and sister in-law Linda Waggaman of Radford, VA. Pat was preceded in death by her husband Dr. Jeffrey Harris in 1993.
A celebration of Pat's life will be planned in the future in Hickory, North Carolina.
Memorial donations can be made in Pat's memory to the following:
Bethlehem Branch Friends of the Library, 45 Rink Dam Road, Hickory, NC 28601
The ALS Association North Carolina Chapter, 4 North Blount Street Suite 200, Raleigh, NC 27601
Compassionate Care ALS, PO Box 1052, West Falmouth, MA 02574