2018 MOGSouth Spring Noggin & Cars and Coffee at Amelia Island – 9 /10 March
Another Huge Turnout and A Great MOGSouth Weekend Event!!
The Friday (9 March) MOGSouth Noggin at Sliders Seaside Grill in Fernandina Beach, FL was great fun. The restaurant again gave us the first floor area right inside the entrance.
This was perfect for us and we pretty much filled the space. A great crowd of MOGSouth members (and Morgan friends) came to the Noggin and joined us.
Unfortunately we missed a few of our normal stalwarts (David C., Norris H., Ellis K., Rick F., John S., Ray M., Jim B., etc.) Family conflicts, the ongoing Porsche events or other things just got in the way. It happens. They were with us in spirit so we raised a glass for them.
While we missed some, we welcomed others. Lots of new faces. And we had folks coming from far a field. Folks from Ohio, Mississippi, Missouri, Georgia, North & South Carolina and of course, a good number from Florida.
We ate and drank and ate some more. This year, something new, the dessert menu was in an old slide disc viewer (View Master?) Push the lever down to get the next image (next menu item.) We all got a big kick out of that but few actually still had room for dessert.
Once again, in their wisdom, the Amelia Island Concours d'Elegance organizers compressed the weekend, and moved the Concours to Saturday. The feared Sunday rain. (They should have known better than to listen to the local TV broadcasters. There was no rain until Sunday night, nor was there any last year, when they did the same thing.)
This meant the Cars and Coffee, as well as the Concours would be held on the same day. Makes things a bit crowded and congested and I have to believe screws up a lot of folks logistics. Hotel reservations, airline flights, show car arrival times, etc.
Regardless, our plans came off with minimal trauma (although Saturday morning came a bit too early!!)
The Morgans all met at the Surf Restaurant along A1A, at 07:30am Saturday morning. The restaurant was being renovated so the parking lot was mostly empty. Then we traveled in convoy to the Cars and Coffee site. Going into the Cars and Coffee site as a group ensures we are parked together. If we went in independently we would be parked all over the place.
This year, the organizers wanted us to leave prior to 1:30pm (or to stay to the end of the Concours.) It would appear they were a bit afraid of the masses leaving the Cars and Coffee, in vehicles, would prove a bit dangerous for the masses leaving the Concours, as pedestrians.
This didn't really materialize so folks left the Cars and Coffee as they wanted. We all left around 3:00. We had a great turnout of Morgans on the field with Roadsters, Plus 8s, 4/4, Aero 8s and even a new, 2017, M3W. Our display, as always, attracted a big crowd and we spent much of the time answering questions from the attendees.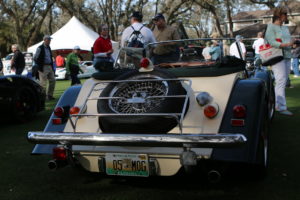 There were also quite a few Morgan owners and MOGSouth members, unfortunately sans Morgans, that came by to say hello. Tony Mclaughlin, Bob Wilson, Stu Mosbey, Gordon King, Ian Levitt and many more whose names I cannot remember (sorry!)
All in all, another tremendous MOGSouth weekend. The weather was superb, the cars were all expertly displayed and everyone was quite happy with the weekend. Lots of discussions about the new Morgans announced at Geneva and lots of discussions about road trips and other MOGSouth planned events. It looks like the MOGSouth year is off to a great start!!!
See you down the road . . . Mark.