Sad News. MOGSouth Co-Founder Charlie King Passed Away 23 Sept 2018, Age 95
[Charlie was a wonderful man and a good friend.  He will be dearly missed by many in MOGSouth.  He was a founding member of MOGSouth and his documented history of MOGSouth can be read on the HISTORY pages of the MOGSouth Website.   
As he aged, and sold his Morgans, his participation in the MOGSouth activities became a little less frequent but he was always there for us.  And, always a cheer leader and point of inspiration.   Frequently, he was asked his opinion and he always provided us with sound guidance and motivation.
He did attend the 40th Anniversary of the Club in 2015 and spoke about the club's creation.  He highlighted his role and the role of the other founding members 'back in the day.'   Then he commended the current incarnation of the club and its operation some 40 years on.
We all have to be grateful for all his efforts and cherish his friendship.  Mark]    
Dr. Charles Joel King (1922 – 2018) 
Obituary as Published in Charleston Post & Courier on Sept. 25, 2018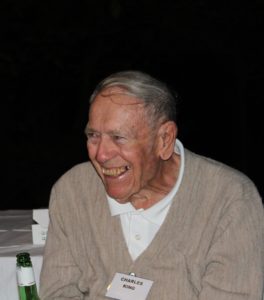 Dr. Charles Joel King, 95, of Charleston, South Carolina, husband of Caroline Oliveros King, died Sunday, September 23, 2018, at his home in Charleston, SC. His private graveside service will be at St. Philip's Churchyard.
A reception for family and friends will be held Sunday, September 30, 2018, at 35 Gibbes Street, from 4:00 p.m. until 6:00 p.m. Arrangements by J. HENRY STUHR, INC. DOWNTOWN CHAPEL.
Charlie was born November 15, 1922, in Cleveland, Ohio, the only child of Ruth and John J. King. He received his Doctorate of Dental Science degree from Western Reserve University in Cleveland and his Master of Arts in teaching from The Citadel in Charleston. Dr. King is retired from the University of Detroit Dental School, where he served as Dean from 1983 through 1988. Previously, he was on the faculty of Baylor University's Dental School and was a member of the original faculty at the Dental School of the Medical University of South Carolina.
Charlie took to retirement like a fish takes to water and never looked back. He was a man of many hobbies. He collected antiques, Morgan cars, Classic Thunderbirds and clocks. Charlie loved Great Dane dogs, travel and golf. He was active in car clubs, especially the Morgan Owners Group South. Charlie was a president of the Country Club of Charleston, where he made three holes in one. Although he was fortunate enough to play both August National and the Old Course in St. Andrews, Scotland, his time spent golfing with his friends at the Country Club of Charleston was his favorite. Charlie was a kind, thoughtful, loving, gentle man. His goodness will be missed greatly.
Charlie is survived by his wife, Caroline; grandson, Brian King; and daughter-in-law, Jeannie King of Dallas, TX. He was predeceased by his son from a former marriage, Geoffrey King who passed away suddenly on September 5th of this year.
The family's appreciation goes out to Kindred Hospice of Charleston and Home Instead Senior Care for their kind and compassionate service. Memorials may be made to the Salvation Army, P.O. Drawer 70579, N. Charleston, SC 29415. A memorial message may be sent to the family by visiting our website at www.jhenrystuhr.com. Visit our guestbook at www.legacy.com/obituaries/charleston
Published in Charleston Post & Courier on Sept. 25, 2018 http://www.legacy.com/obituaries/charleston/obituary.aspx?n=charles-joel-king&pid=190308835&fhid=6051