Ultimate Beginner's Guide to Clay Bars for Auto Detailing (www.theartofcleanliness.com)
[As most of you know, I have both show cars and drivers in my gaggle of Morgans. I've recently gotten a few blank stares (maybe it was just the individual's natural state?) when I talked about clay so I found this article and thought it might be helpful. Cheers, Mark]
What is a clay bar? What are clay bars made of?
Quite a misnomer, clay bars aren't actually made of clay. They are made of an elastic, malleable resin compound which is often formed into a block for distribution. You rub this block across your paint with the aid of a lubricant to help pull contaminants out and off of your paint.
How do clay bars work?
Clay bars are very lightly abrasive. Think of them like a 5000 grit piece of wet sanding paper. You lubricate the surface of your paint and rub the clay across it which abrades away and pulls out contaminants such as dirt, iron deposits, and tree sap.
The material clay bars are made out of is also malleable allowing it to form to the surfaces of your vehicle and withstand grating against the dirt and contaminants you're removing which are very hard.
It's important to remove these deposits with a clay bar. Many of these deposits such as rail dust, carbon, and industrial fallout contain metallic substances which when left embedded in your paint will oxidize and spread under the clear coat leading to pitting and clear coat failure.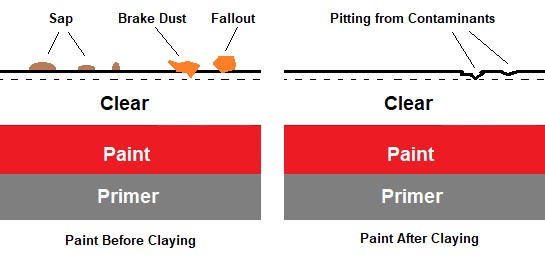 Plus, clay barred paint is incredibly smooth. This makes the application of wax or sealant much easier and increases the bond waxes and sealants have with your paint so they last longer. Win win.
Are detailing clay bars safe?
Generally speaking, clay baring is very safe. As long as you keep the surface you are claying lubricated you shouldn't install any scratches or marring. If you rub your clay on a non-lubricated area of paint you can scuff the paint lightly. There are also some more abrasive grades of clay than can leave behind micro marring but this marring is quickly removed by a light polish.
Since clay bars are so lightly abrasive they do not remove a meaningful amount of paint. Properly lubricated, you will never clay through your paint. You will also never remove scratches or swirls with a clay bar, that's a job for compounds and polishes.
Can I use a clay bar on other materials such as glass or plastic?
Absolutely! Any hard surface with stuck on contaminants can benefit from claying. Use a clay bar on your windows the next time you detail your car. You'll be amazed how smooth and water shedding the glass will be afterward.
Some grades of clay, however, should not be used on clear plastics unless you intend to polish them afterward. They can leave light hazing on soft plastic.
I typically use clay before polishing any surface be it paint, plastic, or glass that way my polishing pad has less work to do and subsequently lasts longer.
When should I clay bar my car?
Any time you feel your paint after properly washing and drying it and it feels gritty you should clay bar.
A neat trick to truly tell if your paint is gritty and contaminated is to put your hand inside a plastic bag (shopping or sandwich, doesn't matter) like it's a glove and rub your paint. This will amplify any imperfections. Paint that felt somewhat smooth to your bare hand will feel like sand through the bag.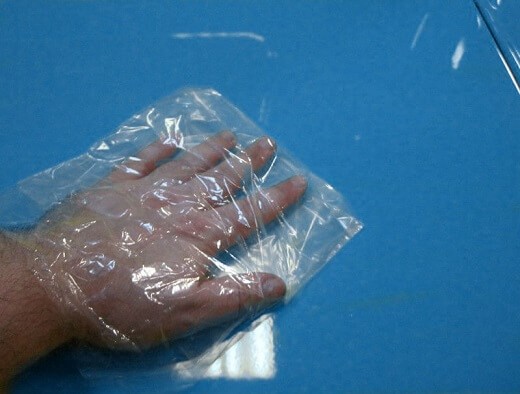 Once you clay your paint you can use the bag trick to test if your paint is truly smooth and will not benefit from any more clay baring.
Does a new car need to be clay barred?
Absolutely! While your car was transported from the manufacturer to the dealer it did so by rail, highway, and even sea. Most dealers don't do a great job at cleaning the cars once they receive them. This means your car has rail dust, iron particles, road film, salt, and other contaminants already imbedded in it.
How often should I clay bar my car?
If you're properly caring for your car this should only be once or twice a year. By properly caring I mean you've already clay barred and polished it once, have kept it protected with a good wax or sealant, and have cleaned it routinely to make sure contaminants haven't' sat on the paint for a long time.
What are the differences between clay bars?
The primary difference in clay bars is the aggressiveness/grade. There are typically three different grades of clay bar, medium, fine and heavy.
Heavy clay bars are meant to remove deeply imbedded and adhered particles. These will leave hazing and should be followed up with polish.
Medium grade clay bars are meant to remove more stubborn contaminants but may leave behind light micro marring or hazing that will require a follow up with a light polish.
Fine grade clay bars are means to remove light amounts of contaminants and will not harm the finish. These can be used as often as you like and are the kind typically found on store shelves by the likes of Meguiars and Mothers, both of which are my recommendation for most people in search of an affordable, quality clay bar.
What can I use as clay bar lubricant?
Most clay bar kits use a quick detailer as a lubricant. This is also known as a spray wax. You can also use concentrated soapy water or a rinseless car wash solution.
Never use a clay bar without a lubricant. You'll make a mess and mar your paint.
What alternatives are there to clay bars?
Clay bars have been around for years so it's the first product people think of when they think about decontaminating their paint. Fortunately, in that time, some new products have come out that can entirely replace clay bars.
There are now wash mitts, pads, and towels that are made of a rubber like substance that can be used just like a clay bar and are washable/reusable.
There is a definite cost/benefit analysis to be done when considering these alternatives. On one hand they are faster to use and reusable, even if dropped, because they can be washed. On the other, they are comparatively expensive. They can cost two to four times as much as a clay bar. If you think you'll use them often this can make them a great deal. If you're only intending to use it once or twice, it might not make sense to spend the extra money. That is for you to decide.
How to Use a Clay Bar
Note: I recommend splitting your clay bar up into two to four pieces. This will prevent you having to throw the whole bar away should you drop your clay. Once a piece of clay hits the ground throw it away. It will pick up contaminants and it will scratch your paint otherwise.
[ have dropped my clay a couple of times. You will be tempted to try to pick off any contaminants that you see and try to reuse it (because it isn't cheap), but you can't see them all and the ones you didn't find will definitely scratch your paint – Don't do it! Mark]
Wash and dry your car.
Flatten your clay out to fit flat in your hand.
Spray a small area of a single panel, around 2 square feet, with your lubricant of choice.
Lightly rub the clay back and forth on the lubricated paint.
Rub the clay back and forth until you no longer feel any resistance or hear friction. This means the paint is clean.
Wipe off the area you just worked with a quality microfiber towel.
Feel the surface with your fingertips. It should feel smooth. If not, repeat the claying process again.
Move on to the next area.
When the surface of the clay stars to look dirty, fold it in to reveal a clean surface to proceed with.
Once you're finished it is a good idea to re-wash the vehicle to remove any residue left behind by the clay and lubricant.
Tips for Using a Claybar
Wash panel before clay baring to prevent marring paint.
If you drop the clay, game over, throw it away.
Cut your bar into smaller pieces so you don't ruin the whole bar if you drop it.
Work in the shade so the sun doesn't dry your lubricant too fast.
Work in smaller areas at a time so your lubricant doesn't dry up.
Use light pressure. Heavy pressure will displace the lubricant and you'll scuff your paint.
Make sure to frequently fold in the clay to expose a clean surface to clay with.
Spray your clay with lubricant and place it into a sealed baggy for long term storage.
What is the Best Clay Bar?
Honestly, most clay bars within the same grade are pretty equal. Some are a little more malleable and shapeable than others but the performance is roughly the same. This is one area where the whole "you get what you pay for" thing doesn't really hold true.
I have used many brands of clay bar over the last 15 years and I still come back to the Meguiars and Mothers bars you can pick up off the shelf at most big box stores for under $20. I've used both and generally grab whichever is cheapest at the time. You'll get 160g worth of clay, a decent microfiber towel, and clay lubricant (quick detailer) for the same cost as just a bar of clay from other brands.
You really can't go wrong with the above mentioned bars unless your car is in such bad shape that you need a medium or heavy bar. In that case take a look at Heavy or Medium grade bars.