MOGSouth's GatorMOG Chapter's Fall Noggin – Daytona Florida 15/16 November 2019 – Report from the Field
MOGSouth's GatorMOG chapter help their Fall Noggin in Daytona Florida this year. We all (well, mostly all) stayed at the Plaza Hotel and Spa right on the Atlantic Ocean. They gave us a good rate and had a parking garage for the cars. The weather was atypical Florida, cold and overcast. So we put the tops down and bundled up. Sorry Andrea, we have no heater is this car . . . (Come to think of it, we have no heaters in any of the Morgans.) Lap blankets, yeah that's it!
We were in Daytona to celebrate the Solo finish of George Waltman in the 1968 Daytona 24 Hour race in a 1964 Morgan Plus 4. The Plus 4 came out a Police impound lot in NY, and was then driven south and raced by George. He had no pit crew or co drivers. Wow!
To add to our fun, we had commemorative T Shirts (to keep us warm(?) and Racing Roundels, with George's number 35, for all the cars. We also had a few 'on track' pictures of George passing (?) a GT40 and another passing a Corvette (?) taped to the Morgan Car Corral fencing. The wind was a bit much for our easels. We had a few 'postrace' pictures as well, one even with Bill France, Sr. Cool stuff!
We had a Morgan Car Corral with 15 Morgans to include a 2019 3.7L Roadster belonging to MOGSouth member John Pokorny. As is the norm when Morgans gather we attract the crowds and all day Saturday I didn't leave the Car Corral. Too many folks to talk to and too many questions to answer. Also at the track Christopher Sylvestri (Daytona Morgan Dealer, Christopher Johns' LTD.) had a new car display right in the heart of the Fan Zone and he too was pretty busy. He had a large crowd of potential customers (future MOGSouth members?) milling about his display all day. We sent a good number of interested folks his way.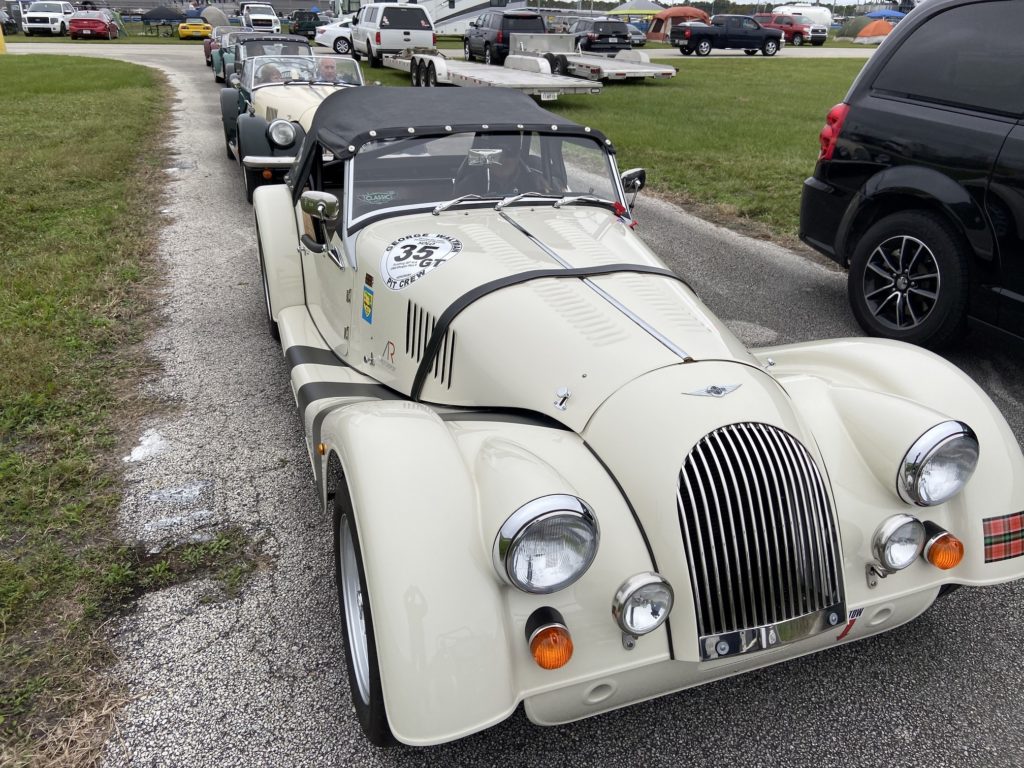 Tara Waltman, George's lovely daughter joined us for our celebration and lapped the track in a Morgan, just like her father had some 51 years ago (albeit a bit slower!). We lined up a few minutes before we were supposed to go out, but the race beforehand had an 'off' or other incident and the pace car came out and slowed the race for three or four laps. This ate into the time available for parade laps and we only go a single lap. It was great however and Tara Waltman took a video of entire lap. You can view the video at Lap of Daytona Video or go the the Video Category of www.mogsouth.com.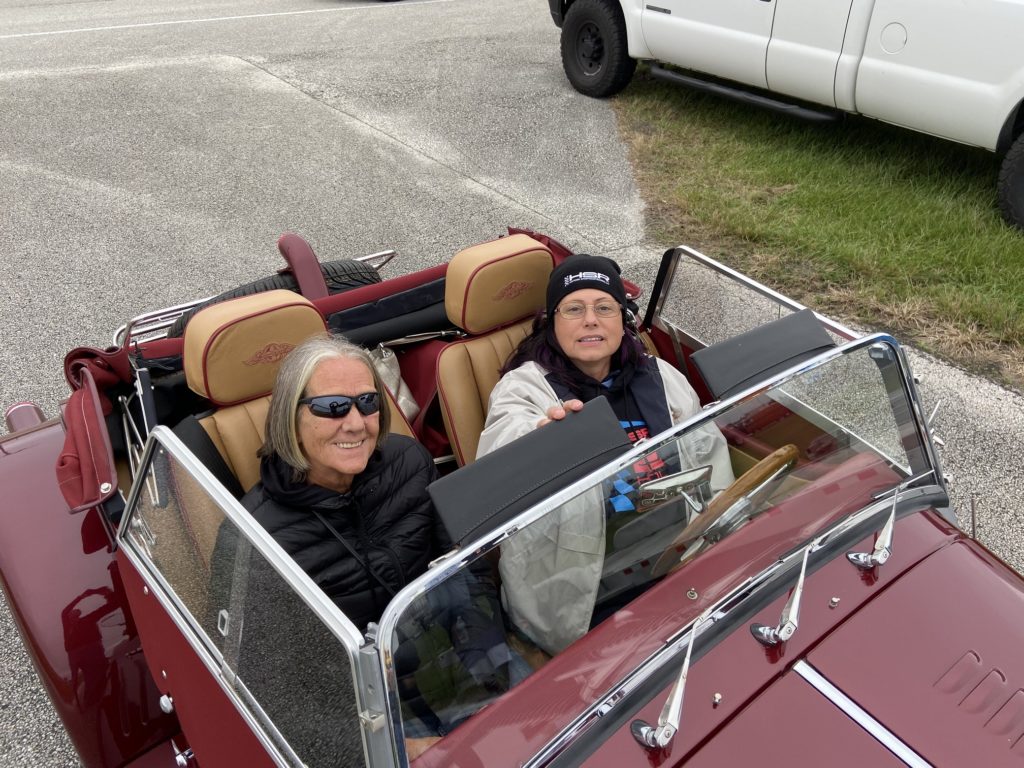 After the lap of the track we reconvened back at the Car Corral and stayed a few more hours. Then it was off to the hotel to freshen up (and thaw out?) for the evening.
After the sun went down, Christopher Sylvestri welcomed the entire Morgan gang to an open house of his Morgan dealership in Daytona, Christopher Johns' LTD. Some beautiful cars were for sale to include a rare 4 Seat Drop Head Coupe. Oh, I did want to bring that home but I have no space and there was that look from Andrea . . .
There were many other odds and ends, clothes and hats, etc., and I dare say some Holiday stockings will be full of Morgan bits and the like from Christopher's dealership. We had great things to eat and drink and only the call of an oceanside dinner, in a private room, drew us away.
Dinner was delightful and we complimented the restaurant on their quick service and ability to manage our large and somewhat challenging gaggle. We have done this enough to know that patience and tolerance are the norm. But, not this time. We were pleasantly surprised, they were great.
Unexpectedly our waitress appeared with a fancy dessert, candles lit and lots of spoons. We celebrated John Stanley's birthday with cake and ice cream (Congrats John!!) and then back to the hotel for the night. Sunday was again cool and cloudy but a good number of us went back to the track. I personally wanted to see some the action as I hadn't left the corral on Saturday. John and Debbie Stanley stopped on the way at Krispy Kreme for donuts and coffee and soon arrived at the corral with offerings for us all. Wonderful!!
We were just a few yards away from a small grandstand and I went there with a few others to watch the racing. It was a great spot with the racing cars slowing right in front of us for a hairpin turn, the accelerating off after hard breaking. Breathtaking sounds and sights. And, just off in the distance the cars are racing up on the high banking. Amazing stuff!
Eventually, we packed up or chairs and the like and left. It was mid-day on Sunday. We all had a decent drive home and wanted to get on with it. Ian and Barbara Shelmerdine followed us home, as we traveled the back roads, through rural Florida and fields of cows, etc.
Another great Morgan outing! Each one seems to be better than the last. Perhaps is the group of folks that come out to play? We do have a good time and folks make a concerted effort to join us. This time we had folks come down from Virginia, and even within Florida some folks travelled a good long way, more than 250 miles away!
Well, until next time. Have fun stay safe!
Cheers,
Mark