Joining The Elite Century Club (www.chattanoogapulse.com)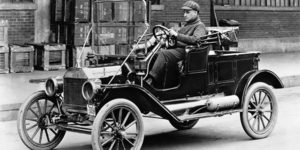 2,300 car companies have launched, but only two have hit the century mark
Ford, and Morgan. It's an unlikely pair: the conservative, patriarchal American ur-manufacturer and the family of English handcrafters. What is the secret that has allowed these car companies to be the only ones that have gone through most of the 20th Century with their identities intact?
It's a bit of everything. With the Model T, Ford built up such an enormous head start in the Teens and early Twenties that no amount of mismanagement or Nazi sympathizing—and there was plenty of both—could erase their advantage.
Founded in 1903, Henry Ford was company President on and off (his son Edsel ran the company from 1919 through 1943, when Henry finally broke his heart and badgered him to death) until after World War II.
(General Motors was in a similar position but wasn't incorporated as we know it today until October 1916. It'll join the list in about two weeks.)
Wartime military production benefitted large companies more than small and when Henry retired for good in 1945, another Ford stepped into the leadership, followed by Henry Ford II and today's Executive Chairman, William Clay Ford, Jr.
While Henry Ford came from a poor farm family and built his first engine at home, Englishman Henry Frederick Stanley Morgan, known as HFS, was the well-off son of an Anglican reverend, whose father actively supported Harry's career.
After apprenticing as a draughtsman for a railway engineer, he constructed his first lightweight three-wheel cyclecar in 1908-'09, inventing a sliding-pillar front suspension they use to this day. He intended the car only for personal use but the interest it attracted and his father's urging, had him selling cars by 1910, with the Morgan Motor Company officially incorporated in 1912.
His son Peter took over the chairmanship when HFS died in 1959; followed by Peter's son Charles in 1999. Charles was ousted by Morgan's Board of Directors in 2013, but the company remains privately owned by the Morgans.
The family history of both companies is an obvious parallel, but they could otherwise scarcely have less in common. Ford's philosophy was one of total control, famously owning the mines where their iron was extracted and the forests where wood was harvested.
In 1923, Ford sold 2,011,125 Model T's. This was also a high point of Prewar production for Morgan, which cranked out 2,300 cars, approximately 1/1000th of Ford's volume. Morgan's most successful model ever, the Plus 8, was built from 1968-2004 and they sold 6,000 of them.
In 2004, Ford was selling over 2,500 F-series pickups a day. Ford builds the Fiesta; a 37-foot long, 13,000-pound F-750; and everything in between. Morgan's largest car, the 2,600-pound Aero 8, is lighter than almost every Fiesta variant and is their only car that isn't made out of wood. Their popular new 3-wheeler weighs just 1,157 pounds.
But there is one other thing in common: Neither company has ever declared bankruptcy. Ford took $5.9 billion in low-cost federal loans, but wasn't bailed out like GM and Chrysler; and Charles Morgan was kicked out because the board felt he was leading them into financial disaster.
By keeping their firms in the family, Ford (although publicly traded, various Ford family members and trusts own most of it) and Morgan have been able to follow their own course without surrendering influence to non-car people and outside money.
Their continuity and deep knowledge of not just the industry, but their place in it, has given them the confidence and resources to pursue their own different but distinct paths.
Both only make vehicles, although Ford did once make some very fine aircraft. Whether it's drive, foresight, luck or a unique place in history, Ford and Morgan have done the nearly impossible and between them amassed 225 years of independent operation, while making some extraordinary cars.
They're one in a thousand, and there are no other companies like them.
David Traver Adolphus is a freelance automotive researcher who recently quit his full time job writing about old cars to pursue his lifelong dream of writing about old AND new cars. Follow him on Twitter as @proscriptus.