Gold Coast All British Car Show, Sunday 19 Feb, Boca Raton, FL
The 24th Gold Coast All British Car Show was held on Sunday 19 February in Boca Raton, FL.
We actually drove down from Orlando on Saturday, the day before.  Not too bad, about three hours.  No trauma.   We met up with Robin and Christine Bycroft along the way.  We found our hotel and had time to clean up and take a short nap before dinner.  It was a warm drive, and I obviously hadn't put on enough sun block. I was glowing a bit . . . But, it cooled off some as the sun went down and the evening was nice.
Sunday morning came a bit too soon.  It was already heating up when we made our way to the car show.  By the time Andrea and I had gotten the first layer of bugs off the car, it was already hot.  Very hot.  And it was still early so a ready café provided us with a cup of morning coffee, hot and strong.  I didn't notice it at the time but perhaps the ladies knew something that the rest of us more masculine beings, didn't notice.  The ladies got iced coffee.  Then the ladies got out the umbrellas and used them as parasols to block the sun.  Oh well, I'm not fully trained, or so my wife says.   Conveniently, there was a beer garden close by!  We took advantage and had the entire Morgan contingent at one table for lunch.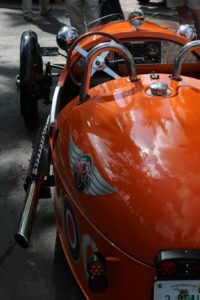 We had 5 beautiful Morgans in the Class.  Three Plus 8s, a wonderful new M3W and a 1967 Plus 4 Drop Head Coupe.   All owned by MOGSouth Members.  A new M3W owner and MOGSouth member, Paul Goldstein came by, unfortunately without his car, to say Hello.
Another interesting note was the unexpected appearance of Kim and Ron Warwick. Andrea and I had previously seen them in Wales at the 2015 Llangollen Morgan banquet, where they took pity on wayward Americans and bought us wine.  Commodore Ron Warwick was previously the Captain of the Queen Mary II.  He is also mentioned in a Peter Egan article on the MOGSouth web site. Posted in Miscellaneous News.    http://www.mogsouth.com/category/morgan-sports-car-miscellaneous/morgan-news/page/3/
This show is well attended.  It's located in a parking area surrounded by café's, pubs and accommodating shops.  I am not necessarily a fan of parking lot shows but this one is done nicely and the close proximity to shops, beer and bathrooms makes it one of the better ones.
The oldest car in the Morgan group, the 1967 Plus 4 Drop Head Coupe of Gil Stegen was voted 1st in Class by the attendees and the exquisite 2003 Anniversary Edition Plus 8 of Bennett Shuldman won 2nd in Class.  Both received silver plates to add to their trophy cases.  Well done!!
Our Morgan day didn't end with the show.  We had dinner at a local hot spot with Alan and Anne Aker of Boca Raton.  Alan and Anne are the founders of GatorMOG and the first owner of my red Plus 8. http://www.mogsouth.com/wp-content/uploads/2016/05/1988-GatorMOG-Solicitation.pdf
What wonderful people! This was the first time we met Alan and Anne.  It turns out that my red Plus 8 was a present to Alan from Anne who was able to convince Bill Fink to part with his personal car.   Unfortunately, they had to sell the Plus 8 years ago to accommodate a growing family.  (A common reason for parting ways with a two seat sports car.)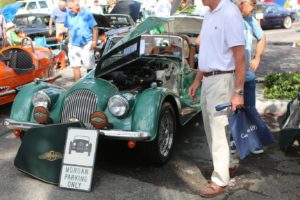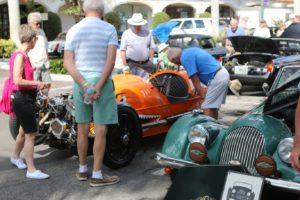 They later added a Morgan Plus 4 4 Seater to the fleet and this was the car they brought to dinner.  Dark green with reupholstered green seats.  A bit of patina, but nevertheless, lovely!!   And, it appears that there is a son that has his eye on the car, so it may change hands soon.