Christopher Ward and Morgan Motor Company reveal co-designed collection (www.watchpro.com)
Christopher Ward has unveiled three watches created in partnership with Morgan Motor Company.
[I am somewhat baffled.  Can a 'watch' that Morgan is associated with keep accurate time??   I am thinking about speedometers and the like?? Puzzled . . . Mark]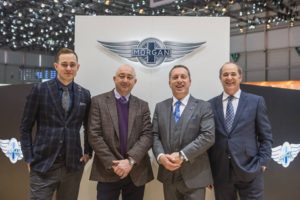 The two British companies first announced they would work together in November last year, promising to unveil new watches not at Baselworld, but at the Geneva Motor Show.
The watches draw on the design, engineering and manufacturing skills of both Morgan and Christopher Ward.
Christopher Ward's senior designer Adrian Buchmann worked with Morgan's head of design, Jonathan Wells on each model, each of which uses a custom-made version of the watch company's in house Calibre SH21 movement, which is hand-built in its Swiss atelier.
The three watches will initially be sold only to Morgan car owners when they go on sale later this year. They will be sold exclusively through authorised Morgan dealerships or at christopherward.co.uk. It is the first time that Christopher Ward has allowed its watches to be sold by a third party.
The three watches are named after Morgan classic car models:
C1 Morgan 3 Wheeler Chronometer
Housed in a Grand Malvern case, the C1 Morgan 3 Wheeler Chronometer offers a number of visible parallels to the Morgan 3 Wheeler motorcar. It has been designed to echo the bygone aviation era that inspired the 1909 original, whilst also referencing the 21st century technology present in its modern iterations. Price is £2,250.

C1 Morgan Classic Chronometer
This watch, using a modified Grand Malvern case, is sculpted along the same flowing lines of the Morgan Classic and houses a Calibre SH21. It is also priced at £2,250.

C1 Morgan Aero 8 Chronometer
Top of the range is the Aero 8, which uses a bespoke version of the in-house Calibre sh21 chronometer movement inside a case designed to captures the supercar characteristics of the Aero 8. It will retail for £2,795.