John Surtees obituary: 1934-2017 (www.autosport.com)
By Damien Smith, Published Friday March 10, 2017
John Surtees, who has died at the age of 83, will be remembered quite simply as one of the true greats of motor racing history.
The epitaph by which he will be most widely remembered, of course, is his unique achievement: the only man to win premier-class world championships on both two and four wheels.
His sole F1 title was clinched in a thrilling final-race showdown in 1964, when he became the fifth driver in history, and the second Brit after Mike Hawthorn, to claim an F1 world championship for Ferrari.
But it was on motorcycles – his first and always true racing love – that the Surtees legend began. In the second half of the 1950s he established himself as the world benchmark on two wheels, and at times was almost unbeatable.
Seven world titles, three in the 350cc class and four on 500s, came thick and fast. Frustrated by Norton's lack of investment and ambition, he switched to MV Agusta for 1956 and the relationship bore fruit immediately as he claimed his first 500cc crown. It was also the start of a life-long love affair with Italy, where he will forever be remembered as Il Grande John – 'Big John' Surtees.
Born into a bike-mad family on February 11 1934, a teenage Surtees made his first motor sporting appearance in a sidecar beside his father, before the dad-and-lad duo took British motorcycling by storm in the early 1950s.
By '55 he was considered worthy of Norton factory machinery before he made the headstrong decision to quit the biggest name in the British business and take a chance on MV with an instinctive, gut-feel decision that would become a career trademark later in life – for better, but more often for worse.
His motorcycling career statistics are astonishing. Between 1951 and '60 Surtees claimed 250 race wins from 352 starts. Along with that first 500cc title in 1956, he would secure a hat trick of class doubles: six world titles in three years from '58 to '60 – and his fame spread beyond motor racing.
In 1959, Surtees won the BBC Sports Personality of the Year and remains the only motorcyclist to have claimed the accolade.
The idea of switching to four wheels had already been put to him, but John was initially skeptical. He was a motorcyclist through and through, and had no interest in cars.
But by 1960 the lure had more appeal. MV's insistence that he could only ride the Italian bikes left him with too little racing and too many weekends free. But the agreement with Count Agusta didn't stretch to four wheels… "The first car race I ever saw was the one I was in!" he would often recall in later years, with that trademark wide smile.
Surtees found himself pitted against Jim Clark in a Formula Junior race at Goodwood, only for a rookie error to cost him a chance of victory. Lotus boss Colin Chapman took note and snapped him up to race in F1 – a rise beyond comprehension for drivers in the modern era.
And Surtees was competitive from the start. Armed with Chapman's Lotus 18, he finished second at the British Grand Prix – his second world championship start! – and led the Portuguese GP convincingly later in the year at Oporto, until the road circuit's tramlines caught him out.
The year ended on a sour note, when he was caught up in a row with Chapman and Innes Ireland, Lotus's first grand prix winner, over the honour of driving beside Clark in '61. Typically, Surtees walked even though it was Ireland who had been sacked. He couldn't have known he'd already driven the most competitive car of his F1 career and the world unknowingly lost the chance to see two of the period's great racers go head to head.
A year in a Yeoman Credit Cooper and a 1962 season in a Bowmaker Lola, both teams managed by Reg Parnell, allowed Surtees to continue to showcase his potential, even if the ultimate results didn't follow. Ferrari had already come calling, but Surtees had judged he wasn't yet ready for the red cars so early in his career.
Enzo warned he wouldn't ask again – but did exactly that at the end of a difficult season in '62. John moved to Maranello for his fourth season on four wheels, with his first F1 world championship win coming in style at the Nurburgring in the summer.
Another victory the year after at the German GP and glory at Monza helped set Surtees on the way to that title showdown in Mexico City in 1964. Racing in the unfamiliar white and blue-striped colours of NART (North American Racing Team), Surtees prevailed after Clark's Lotus failed and team-mate Lorenzo Bandini allowed him through to the second place he needed to be champion.
Surtees would remain at Ferrari until 1966, a year in which a second title beckoned – only for typical Machiavellian Italian politics to scupper his chances. The relationship with team manager Eugenio Dragoni had long been sour.
Following a calculated and brilliant wet-weather victory in the Belgian GP at Spa, Surtees lost his temper at Le Mans when Dragoni insisted that Ludovico Scarfiotti – nephew of Fiat's Gianni Agnelli – should start the race. Surtees would never reveal the details of his ensuing row with Enzo in Maranello – but his time at Ferrari ended there and then. The pair would later vow to remember the "good times" rather than the bad.
Surtees jumped to Cooper and with Maserati V12 power he won in Mexico and still ended up second to Jack Brabham in the world title, despite his team switch.
For 1967 he headed to Honda and showed the typical bullish leadership to corral the Japanese manufacturer into using a converted Lola Indycar to breakthrough success. With the so-called 'Hondola' he'd claim the Italian GP at his beloved Monza – his last world championship success.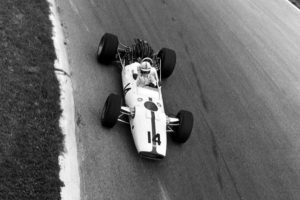 An unhappy spell at BRM led him to the decision to head down a new route: that of team entrant and constructor. The Len Terry-designed Surtees TS7 would herald the start of John's third motor racing career – and one that would be marked overwhelmingly by disappointment.
Fellow bike legend and four-wheel convert Mike Hailwood would claim a European F2 title in a Surtees in 1972, but grand prix success would elude the team. Financial problems and rows with sponsors would grind John down through the 1970s and by '77 he'd had enough – physically and mentally. He disbanded his team officially the following season and sold his FOCA entry to Frank Williams.
For years he wanted little to do with car racing. Success in property brought financial security and he found happiness with his second wife Jane, who bore him two daughters and an only son – Henry.
The motor racing bug bit again, unexpectedly, as his boy discovered the sport that his father had left behind. A family friend introduced Henry to karting and the young lad returned to declare: "Daddy, this is what I want to do!"
Surtees found himself cast as a karting father and a new chapter in motorsport began. Henry showed promise and by 2009 had risen to the ranks of the FIA's reborn Formula 2 championship – only for tragedy to strike at Brands Hatch. An errant wheel from another car would cruelly end Henry's life, leaving his family heartbroken.
The motorsport world assumed John would never be seen at a circuit again. But incredibly Surtees found the strength to turn his pain into a reason to carry on and return to the world that had given him so much – only to rob him of his precious boy.
The Henry Surtees Foundation would become John's life and the charity would raise thousands for air ambulance services and head injury research. Out of the worst possible tragedy, Surtees found the strength to carry on into his ninth decade – and his incredible energy would make him a familiar and popular figure at Goodwood and classic car events around the UK.
In his later years Surtees appeared to come to terms with his place as a cherished hero of motor racing's golden age and would speak happily and at length about his years on bikes and in cars. The Can-Am success in Lola T70s, the grand prix and sportscar successes at Ferrari, the love affair with Italy… the stories were recalled with a clarity of mind and energy to shame those of half his age.
John Surtees, CBE, OBE and MBE, is survived by his wife Jane and his beloved daughters Edwina and Leonora – and bequeaths a colossal legacy to motorsport that will never be forgotten.