Report from Put-In-Bay Ohio
[Two MOGSouth Members flew both the Morgan and MOGSouth flags on the 2017 race track in Put-In- Bay Ohio.  This report (and the pictures) is from Rick Frazee.   Rick is in the yellow car in the pictures.   He and Jim Besst did battle with the other race cars and it would appear hay bales.  I have yet to get there but will find a way some time in the future.  Mark]
2017 Put-In-Bay races are done for another year.  The races are staged every year (8th year in a row) on the airport runways of Bass Island in Lake Eire.  In the 50's the races were run through town on the city streets.   While my Morgan continues to improve in speed and reliability we still had a few problems.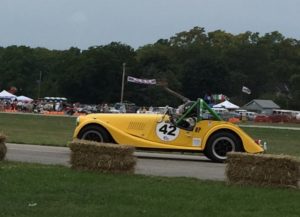 This time what we thought was Weber carb jetting problems turned out to be an intermittently bad Petronix coil.    Luckily Jim Besst (another Morgan racer) had a spare coil, that I had given him some time ago, with him.
Race day brought rain showers that made the track a bit slick.    The final race was going well when about 3 laps into a 10 lap race, at one of the quick right left corners, a dive bombing MG TD forced me off my line and into a hay bale that a previous car had bumped out into the edge of the track.    While I knew something was wrong I did continue on for another lap.   Steering seemed to be getting progressively harder so I exited the track at my paddock entrance only to be stopped by the paddock steward and told to reverse.    He then proceeded to remove a complete hay bale still tied with string.    Once removed everything worked as it should with no damage to the Morgan other than a small crack in the left rear fiberglass fender.   The Morgan is all cleaned up as of this morning and we will leave Put-In-Bay for another year and head on to Watkins Glen Sunday to race at the Glen the following weekend.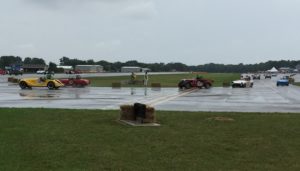 Jim Besst's Morgan 4/4, in the same race, made 9 1/2 laps before missing a corner and landing on top of some hay bales keeping Jim from finishing the last half of the last lap.  No apparent damage to Jim's Morgan either.
[This photo came from Jim Besst, showing his green 4/4 in good form with Rick trailing (for the moment.)  The photo courstesy Daniel Mainzer.  Cheers, Mark]  
At the final lunch it was suggested that the airport authority was looking to offer me a job sweeping the goose poop from the airport run ways.
Cheers Y'all.   Rick
[This photo from Steve Cripps of Rick and hay bale (goose poop sweeping?) came in after the post.  Thanks Steve. ]