Morgan Aero GT: new 'race-inspired' sports car coming in 2018 (www.carmagazine.co.uk)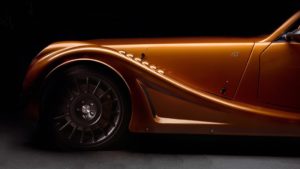 ► Morgan Aero GT
► Last Aero 8 car from brand
► Full reveal at 2018 Geneva motor show
The gloves are off, according to Morgan. The cottage industry car maker has just dropped its first teaser of a new, 'race-inspired' sports car – the Aero GT.
Thankfully though, these shadowy images of a front wheelarch aren't the only information we have to go on.
Power will come from a BMW-derived 4.8-litre V8, with 367bhp-worth of shove being sent through a six-speed manual gearbox. A 0-62mph launch time of 4.5 seconds is possible, as is a top speed of 170mph.
Morgan says that since the engine is no longer in production over at Munich, this will be the last hurrah for both the Aero 8 and the naturally-aspirated engine the brand uses.  [This is old news. We are expecting to have an announcement on the replacement in March, at the Geneva Show. Mark]
Just eight Aero GTs will be built but all of them are already sold to existing Morgan customers. Each of the eight cars has been tailor-made to each owner, and all will have 'bespoke customer-requested additions, in line with Morgan's hand-crafted approach.'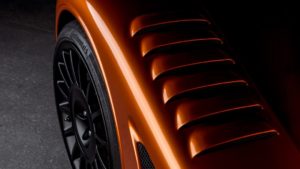 The Aero GT marks the end of the Morgan Aero 8's 17-year-long production cycle at Morgan's Pickersleigh Road production site. Every panel of the bodywork has been hand-shaped by Morgan's metal workers, and features new wing top louvres and a 'drastic' rear diffuser.
The new British sports car will be officially unveiled at the 2018 Geneva motor show, so set a reminder for early March 2018.