Morgan partners with energy firm for its first electric sports car (www.expressandstar.com)
British sports car maker has signed a deal with Frazer-Nash Energy Systems, which will provide the powertrain for its all-electric EV3 model said to make 120 miles on one charge
Morgan Motor Company has partnered with Frazer-Nash Energy Systems to develop the British manufacturer's first electric production sports car – the Morgan EV3.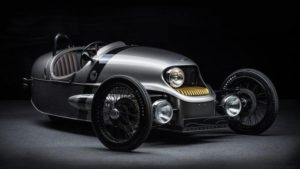 Set to enter production next year, the three-wheeled EV3 will combine the classic, coach-built styling that Morgan has become renowned for with an all-new architecture that incorporates proven electric vehicle technology.
The EV3 will benefit from rapid-charge capability, a lower centre of gravity and improved acceleration.
A liquid-cooled 34.8kW motor is driven by a 21kWh lithium battery and will send power to the rear wheel. Morgan claims the EV3 will be able to travel 120 miles on a single charge.
The new three-wheeler is certainly a head-turning piece of design, with the British manufacturer claiming that its looks were inspired by "1930s Aero-engine race cars, classic motorcycles and 1950s fantasy automatons".
Steve Morris, managing director of Morgan Motor Company, said: "We are delighted to announce our technical partnership with Frazer-Nash Energy Systems as we enter this exciting phase of EV3 production.
"We have been working closely on optimising the EV3's architecture in every way to develop a car which will offer proven reliability range and cooling performance, combined with the pure driving experience that is expected of every hand-crafted Morgan.
"The greatest challenge lies within introducing EV technology into our factory workflows, customer experience and dealer network in a robust and most importantly safe manner.
"Frazer-Nash Energy Systems offer us every confidence in achieving this. This will result in Morgan's first entrance to the world of EV being incredibly rewarding, but moreover sets the scene for many exciting future opportunities."
Noamaan Siddiqi, business development director for Frazer-Nash Energy Systems, said: "The EV3 plays an important role in Morgan's future strategy. Achieving zero emissions using electrification is a requirement no manufacturer can afford to ignore.
"Morgan has always embraced the latest technology within its vehicles to ensure it can continue to build relevant hand-crafted British sports cars.
"At Frazer-Nash Energy Systems, we appreciate the heritage and craft that Morgan brings to the world of EV technology and we in turn will bring decades of EV expertise to ensure that EV3 customers will receive a car that is reliable, proven and exhilarating to drive – a thoroughbred Morgan.
"We are very pleased to be able to provide energy management and propulsion systems to the EV3. A lightweight, spirited driving experience beneath a coach-built body is key to the identity of any Morgan. This remains a core focus throughout the development of the EV3."
No word has been given on price, but Morgan has confirmed the EV3 will enter production in the third quarter of 2018.