Morgan Spreading the Word on UK Innovation (www.smeweb.com)
[There must be a number of reasons (that we just don't fully comprehend) the US market is not being targeted by Morgan.  Too hard, too litigious, too regulated, etc.  I guess we have to buy our next Morgans in China?  Mark]
Morgan Motor Company is travelling to Hong Kong with HSBC to support the GREAT Festival of Innovation, taking place at the end of March. Here, company MD Steven Morris, pictured [below], tells SME about the trip
Why have you decided to get involved?
We have received fantastic support from HSBC over many years of business partnership, and we are delighted to be visiting Hong Kong with them to support the GREAT Festival of Innovation. We decided to be involved with the trip as it presents significant opportunities for Morgan, as a long established, forward thinking and growing business looking to expand in global markets such as Hong Kong and with further representation in China.
What do you hope to achieve?
We hope to achieve a number of important needs for our business. We will be looking to seek new business opportunities within the region, be it in approvals, homologation, distribution or regional brand partnerships. To take further advantage of networking opportunities with established contacts in the region as well as further our understanding of the current and future landscape in Hong Kong and China.
International Trade Secretary Dr. Liam Fox will be there. What do you think he will bring to the table?
We hope that Dr. Liam Fox will be able to assist the automotive industry with approvals and homologation in the region, this is something of vital importance to Morgan and other British automotive manufacturers. In an ever-changing landscape, any support and knowledge from a senior government figure would be most welcomed.
How important is it for government to support attempts to find new markets overseas?
Operating, and selling and distributing, into emerging markets overseas is critically important to the success and future of a large percentage of British companies, across multi-faceted business sectors and at all different sizes. Within our focus, luxury British sports cars are part of Britain's national identity, we are revered and respected around the world for appealing, unique vehicles. Whilst Morgan's home market is strong, one of the main factors of our continued growth is the ability to sell our products into overseas markets. The support of the government is vital to enable this continued success.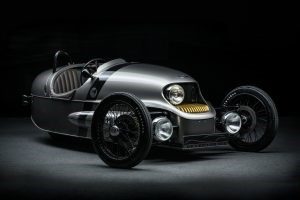 The idea is to bring entrepreneurs and the most advanced technology from across the UK and Asia to explore how we will work, live, play and learn in the future. Why do you think this important?
Morgan is a long-established company, in business for over 108 years. Throughout that time we have championed craftsmanship, and in more recent years have been exploring the latest technology to compliment that craftsmanship. Whilst we recognise that Morgan is a traditional product in one sense, we also recognise the need to create a range of products that are suitably equipped to drive the company through our future strategy, across varied global markets. Whether this is in future powertrains, design or usability, we hope that the trip to Hong Kong with HSBC will assist us with our future product strategy, as well as a future sales and marketing strategy for the Hong Kong and mainland China region.