Morgan Plus 8 – the ultimate post‑vintage hot rod (www.goodwood.com)
It's snowing as I write this, and has been for several days. All of which makes thoughts of open-top sports cars seem a touch perverse, especially if they involve Morgans. But the venerable Malvern company has just unveiled a new Morgan Plus 8 at Geneva.
So Morgans are in my head. The last four-wheeled one I drove, in February 2013, was that rare thing, a Fiat-powered 4/4. It was a 1985 example and it demonstrated perfectly why Morgans and winter weather don't fit in the same sentence. The hood and side screens were no more than a minor impediment to the rainwater's mission to soak my knees and right arm, there was as much water on the inside of the windscreen as the outside, the minimal-travel suspension pounded my intervertebral discs and I was freezing.
My previous Morgan encounter to that one was also in winter (blame two different magazine editors), but this time it was snowing. This Morgan, though, was a new one at the time (2009), a later interpretation of the entry-level 4/4 powered by a 1.6-litre Ford Sigma engine, and dynastic then-boss Charles Morgan was evangelising to me about the eco-credentials he'd suddenly realised his cheapest car had. The basic architecture might have been ancient, but the wooden body frame came from trendily renewable resources and at 795kg the 4/4 was even lighter than a Lotus Elise.
This 4/4 was a rather better drive than the earlier one, thanks to rack-and-pinion steering (more precise than the old steering box, itself improved from 1984) and dampers better matched to the stiff suspension's characteristics. It was a car more comfortable both with itself and for its occupants, its dashboard furnished with dials and switchgear appropriate to the retro exterior style instead of, as used to be the Morgan way, just making do with whatever was current in Lucas's or Smiths' catalogues of generics. The ambience, and the ash-framed body on a separate chassis, all called to mind the 1930s Singer Le Mans I had owned (and now own again), which was quite surreal in a 2009 car.
I have driven various other Morgans over the years, too, and in case you have detected a touch of negativity I should point out that, in the right weather and with the roof stowed away, they are great fun. However, we opened this piece with a Plus 8. The new one is called the Plus 8 50th Anniversary Edition, and 50 of them will be made after which Morgan will build no more cars with a normally-aspirated V8.
Now, it's possible you had forgotten that Morgan still makes a Plus 8. The model was launched, yes, 50 years ago with a Rover V8 engine mounted in a widened version of the body and chassis that had served Morgan since the mid-1950s (and, with a flat radiator grille rather than a rounded one, since the 1930s). At launch, the Plus 8 was Britain's most accelerative production car.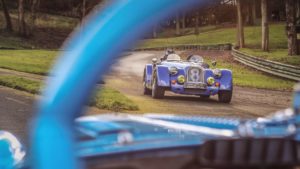 It continued, getting ever more potent, until 2004 when the supply of Rover V8s dried up and Morgan concentrated on its new BMW-powered Aero 8, as hi in the tech with its bonded-aluminium chassis as the Plus 8 was not. I got to know a particular Plus 8, in bright red, very well during and after a mid-1990s Car magazine gathering of every open-top car available in Britain at the time. Part of the story involved cornering photographs taken at that staple location, the bend by the rough cobbles at the Longcross test track familiar from myriad magazine shoots.
A couple of years earlier I had much enjoyed a blast along the Gloucestershire backroads in a then-current 4/4, returning it from another test track to the factory in Pickersleigh Road, Malvern Link. The roads were a bit slippery but I had thoroughly bonded with this Morgan and its ultra-predictable if primitive, dynamics. There was a particular downhill, rightward flick with a bump in the dip before the road climbed again at the flick's exit, and the tail snapped out as the suspension bottomed. I was pleased with how easily it was caught.
So, performing power slides for the camera in the Plus 8 should be a breeze, I thought. I revised that opinion as the Morgan got the better of me and pirouetted onto the savage cobbles. My embarrassment was worsened by the fact that the Plus 8 would no longer move forward afterwards, despite being in gear. I looked over my shoulder to discover that the right rear wheel was lying on its side under the end of the axle, although its now-jagged centre was still on the hub and rotating.
A contrite phone call to Charles Morgan was met not with annoyance that I had ruined the wheel but dismay that the wheel had broken. 'That shouldn't have happened,' he said. The episode triggered a metallurgical analysis on the Plus 8's return to Malvern, but the conclusion was that the aluminium was fine and the wheel had simply succumbed to forces more violent than it would ever normally experience. Having felt those forces, I could only agree.
I fitted the spare wheel and had a great time in the Plus 8 over the weekend that followed, no ill-effects of the mechanical trauma evident on the car's part and a heightened sensitivity deployed on my right foot's part. There has never been anything else quite like this post-vintage hot rod.
And that includes the new Plus 8 that arrived in 2012, using the Aero 8's modern underpinnings clothed with an ultimate-width, slightly less un-aerodynamic incarnation of the trad-look Plus 8 body and linking the new rather neatly with the old. It is on this car that the new Anniversary Edition, in metallic blue with yellow highlights, is based, with 367bhp from its 4799cc BMW motor and a 4.5-second 0-62mph time. In its quality and finish today's Plus 8 is a world away from the original, but the look is anything but.
It will take a while to build those 50 final normally-aspirated Plus 8s, and then what? A Plus 8 with twin turbochargers, perhaps, although nothing has been revealed.
Back in 1968, would Charles' father Peter have imagined that a car so visually similar to his new Plus 8 would still be in production? Indeed, would anyone? I doubt it.