AR Motorsport's latest offering is the Morgan Plus 4 Club Sport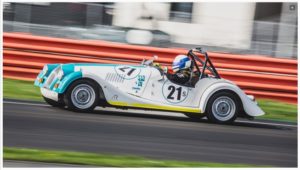 Motorsport at all levels is prevalent throughout Morgan's rich history. Since the inception of the Morgan car in 1909, 3 and 4 wheeled examples have been used in trialling, rallies, circuit racing, sprints and hill climbs to name but a few motorsport disciplines. From trialling 3 Wheelers to victories at the Le Mans 24 Hour endurance race, Morgan cars have been competing in motorsport around the world for over 100 years.
Morgan's motorsport division, AR Motorsport, is a dedicated part of the Morgan Motor Company, and produce a range of race prepared vehicles, road and race performance parts as well as accessories for new and old Morgan cars. Working as a division within the company, their expertise and knowledge is second to none.
AR Motorsport's latest offering is the Morgan Plus 4 Club Sport. Following on from other race and road models including the Plus 4 SuperSports, Plus 4 BabyDoll, ARV6 and AR Plus 4, the Club Sport is specifically designed for those looking to make a start in Morgan motorsport.
+4 CLUB SPORT – 2018 Morgan Plus 4 GDI 2.0
The Club Sport differs from a standard road car with:
Engine:
– Re-mapped ECU and sports exhaust system producing 180 BHP at the flywheel
– Oil cooler
Suspension:
– Panhard rod
– Four externally adjustable shock absorbers
Brakes:
– Competition front pads
– Race brake fluid
– Brake bias valve
Wheels:
– 4 x 6.5" x 15" bolt on
alloys with no spare wheel
Tyres:
– 195/55×15 Toyo R888R E marked road/track tyres
Body:
– Lightweight style with no interior trim or carpet
– Interior surfaces of body and door are aluminium covered
– Rubber floor mats
– Body colour painted dashboard
– Standard heater remains
– Removable spare wheel cover
– Post type centre rear view mirror
Weather equipment:
– Quick release traditional style windscreen with electric heating
– Black PVC hood
– Black PVC side screens
– Driver side aero screen.
Safety equipment:
– 1x Tillet FIA race seat and brackets
– 6 point race harness
– Fire extinguisher kit (manually operated)
– Battery cut off switch
– Rear FIA rain light
– Front towing straps
– Rear towing straps
– Set of bonnet pins
– Pair of race roundels
– Safety sticker kit
– Rear roll bar and integral belt bar
– Removable side intrusion bars
– Suede 14" racing steering wheel
– Inertia bypass switch.
Optional extras:
– Quick release steering wheel boss
– Spare wheel and tyre
– Front undertray
– Round door mirrors
– Additional Tillett passenger race seat and harnesses
– Electric fire extinguisher
Oh, I almost forgot . . . £48,994 INC VAT + OTR.  See the MMC Web Site www.Morgan-Motor.co.uk for more.
Cheers,
Mark