The Story of 'Dolly' – the first prototype for Morgan's Plus 8 (Hemmings on line – 7 Aug 2018)
Photography by Troy Ziel, John H. Sheally, Bob Dunmore, and Patrick Brinton; courtesy of Tcherek Kamstra and Morgan Cars USA.
Hemmings Editor's note: We're pleased to be able to share the story of "Dolly," the first prototype for Morgan's Plus 8, a model devised a half-century ago that debuted at the 1968 Earls Court Motor Show, and would first come to the U.S. around 1971. From 1974 through 1992, it would be available here in limited numbers thanks to a propane fuel conversion that was devised by Bill Fink, principal of San Francisco, California's Isis Motors Ltd., now called Morgan Cars USA. The Plus 8 was built in two series — the original Rover V-8-powered version of 1968-2004, and the BMW V-8-powered version of 2012-2018.
This piece was written by Tcherek Kamstra, sales and marketing director of Morgan Cars USA, and Bill's stepdaughter.
'Sixty-eight was an auspicious year for Morgan, and the man who would become the longest-standing Morgan dealer in the United States. American Morgan dealer Bill Fink became enamored with Morgans during his years spent rowing at Oxford. He bought his first car in London in 1962, and soon after taking possession, he drove it to the factory for the first of innumerable visits.
From this beginning, Bill's enthusiasm grew so much that, by 1968, he was regularly selling Morgan parts to grateful owners all across the United States. He named his business Isis Imports, after the river he often rowed on while at Keble College.
When American laws made it seemingly impossible to meet the stringent requirements for importation, he figured out how to legally bring Morgans into compliance by converting them to run on propane. This process took years to develop and implement single-handedly, however Bill is a determined sort and has always had a talent for finding solutions when faced with a problem.
Having spent quite a bit of time figuring out how to make the propane idea work, Bill obtained parts in the USA and brought them over to England. He then converted a standard car in a borrowed workshop and drove the car straight to Malvern, in hopes that Peter Morgan would be interested. Not long before reaching the factory, a red Morgan started coming up behind him. Suddenly, the car pulled out and passed him. Sensing a bit of a challenge was being instigated, Bill sped up and passed the red car. Not to be outdone, this Morgan was soon in front of him again. The two cars continued this for about three miles, and when Bill pulled into the Morgan car park, the other Morgan zipped around the building, out of view.
Maurice Owen inspects a mock-up of the V-8 in an altered Morgan Plus 4 chassis.
Peter Morgan came out to look over Bill's propane conversion. After some discussion, he said he would like his chief engineer to have a look at the car. Bill agreed, and was soon face-to-face with the driver of the red Morgan with which he'd just been having a bit of one-upmanship. That is how Bill met Maurice Owen, the man who would end up being one of his closest friends. The car Maurice had been driving that day was a Plus 4 he had modified using a V-8 engine. Its license plate read OUY 200E; this was the first prototype for Morgan's newest model, the Plus 8, which would be introduced in 1968.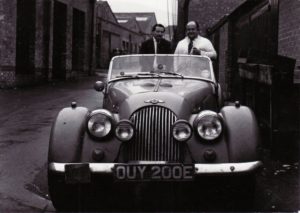 Development engineer Maurice Owen (in white) and Dolly.
With Bill's solution for bringing new Morgans back to American approved by Peter Morgan, the two men shook hands, and Bill was now the official dealer for the United States. Visits to the factory were increasingly frequent, and the red prototype Plus 8 caught Bill's eye, as it sat unused in a shed. Over the years, he asked Peter about the possibility of buying OUY and bringing her to the States. After a period during which a previously interested buyer didn't finalize that car's purchase, Peter told Bill it was to be his. A member of the staff scoffed a bit at the American who was silly enough to want the car, but want it he did, and in 1977, the purchase was made.
Bill at the wheel of Dolly.
So why did Morgan go down the V-8 path 50 years ago? The answer is quite simple. By the mid 1960s, Morgan's relationship with Triumph was coming to an end because the new straight-six engine would not fit into the Plus 4. An alternative would have been a V-6 from the other long-term engine supplier to the company –Ford– but their engine was too tall to fit under the bonnet. Then came a phone call from Peter Wilks, a director of Rover, asking for a meeting in Malvern.
During the meeting, Peter Morgan was asked if there was any possibility that Rover might acquire Morgan in a friendly take-over. Peter was polite with his response, saying he was flattered, but they'd like to soldier on for a while as they were, thank you. Then, turning the tables on the man from Rover, he asked if there was any possibility that Morgan could acquire some of the V-8 engines that Rover had just started to build under license from Buick. They were light and compact and would just about fit into a Morgan. Wilkes responded that he thought this might be possible. Was this a bargaining ploy to sweeten the bitter pill of selling the company? We will never know, as a few months after the meeting, Rover was itself taken over by Leyland, the owners of Triumph. After some torturous negation, the agreement to provide the Rover 3.5-liter V-8 was confirmed, and production started in 1968.
The SU dashpot-clearing bonnet bulges that called to mind a famously endowed country singer, inspiring Dolly's name.
Of course, obtaining the engine was just the start. It was just about the right size, but a special engineer was needed to squeeze it into the little Plus 4. Maurice Owen, an experienced racing engineer, was that man. He'd previously approached Peter Morgan, inquiring if he had any special projects in mind, so when the V-8 project arrived, he was appointed. He worked, mainly on his own, in the development shed at the back of the factory. He was a practical man, so work was often carried out first, and drawings done afterwards. He was left very much alone squeezing that engine into OUY, principally by stretching her chassis by two inches. Indeed, the first time he drove her out of the factory gates, it was just after midnight on a cold February [1967] night; no one was watching.
Initially the car had a big Holley carburetor. After a drive at a Prescott test day, American driver Mike Virr, impressed by how quick she was by the standards of the day, said to Maurice, "You can't sell this to little old ladies." "Oh, that's alright," said Maurice, rubbing his hands. "We'll just de-tune it a bit." The car sprouted two SUs, with their distinctive covers, and became "Dolly." All later cars, including the second prototype MMC11, did not have these appendages, as the engine was eventually mounted a bit lower.
Maurice and Dolly, here in racing trim with Bill's preferred #61 livery. Dolly would be the only Plus 8 to run wire wheels.
Tcherek and Bill have told us that Dolly should be arriving in England now, traveling home by boat, for the first time in four decades to help celebrate the Plus 8's anniversary. This car, driven by Bill, will participate in Morgan Motors' annual "Thrill on The Hill" event, which begins with a car show jubilee at the factory in Malvern Link on Saturday, August 11, and culminates in the Prescott Hill Climb in Gloucestershire on Sunday, August 12. Also joining Dolly will be "MMC 11," Morgan's own 1968 Plus 8 that inspired the special 50th Anniversary Edition model; "AB 16," Peter Morgan's own Plus 8; "J 9546," the final Plus 8; and "Plus 8 50th," the first of those 50 cars built.
Steve Morris, managing director of the Morgan Motor Company, commented: "We're excited to announce the return of Thrill On The Hill for 2018. Our annual Summer events have continued to prove popular among owners and enthusiasts alike, and we expect this year to be better than ever as we welcome visitors from around the world to celebrate 50 years of the Morgan Plus 8.
"I'm particularly excited that we are able to bring OUY 200E, the very first Plus 8, back to the UK from the USA specifically for the event. We look forward to seeing everyone on the 11th and 12th of August."
It's a weekend that no true Plus 8 fan will want to miss.