Morgan Plus Six 2019 review https://www.autocar.co.uk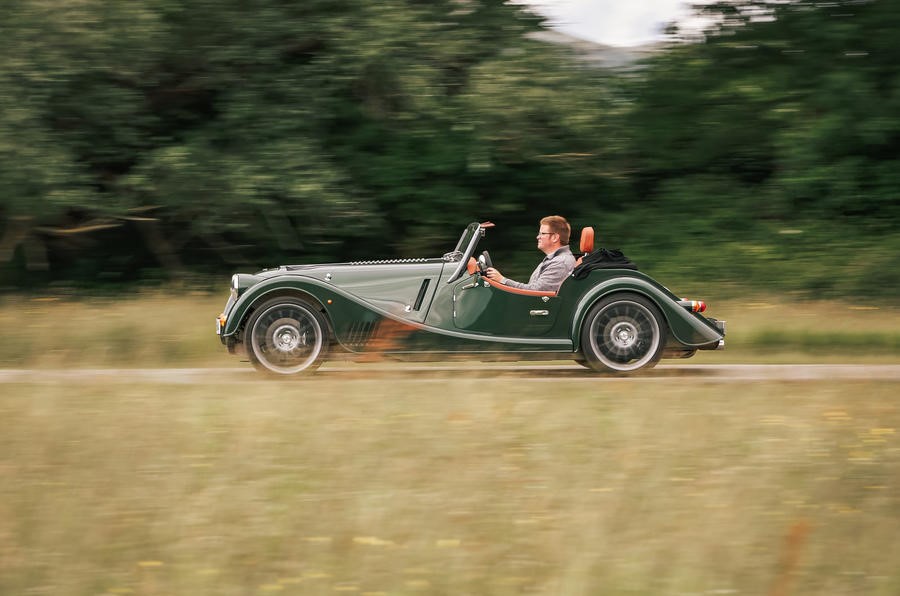 What is it?
Picture Britain's typical family-owned and operated business. The sort that mothers and fathers pass on to their kids, or in which uncles, aunties and cousins all pitch in together. You're imagining a chip shop, right? Just me? Perhaps a pub, a corner shop or a post office, then. Not a car factory, I'd bet.
Well, just imagine one – if you can. It won't be easy. Making cars isn't something you succeed at simply by getting up early, drinking lots of tea, getting your hands dirty and having a go. It's complicated. It requires up-to-date specialist know-how, and expert design, engineering and manufacturing skill. Peeling spuds, pulling pints or stamping envelopes, it ain't. And yet The Morgan Motor Company was family-owned and operated right until the year of its 110th anniversary; this year. Not a bad innings, that.
Change has finally come to Pickersleigh Road, however. Earlier this year, the Morgan family decided to sell a majority share of the business to the Investindustrial private equity group that previously owned Aston Martinuntil its recent market flotation.
Ask around at the firm's visitors' centre as to why that decision was taken, and the answers come very honestly. "It was the right offer, when all the others over the years just weren't," one staffer said. "We'd reached the point where the family was beginning to hold the company back rather than drive it on. Growing the business now needs investment and well-connected, industry-savvy leadership. Which, we're hoping, is what we've now got."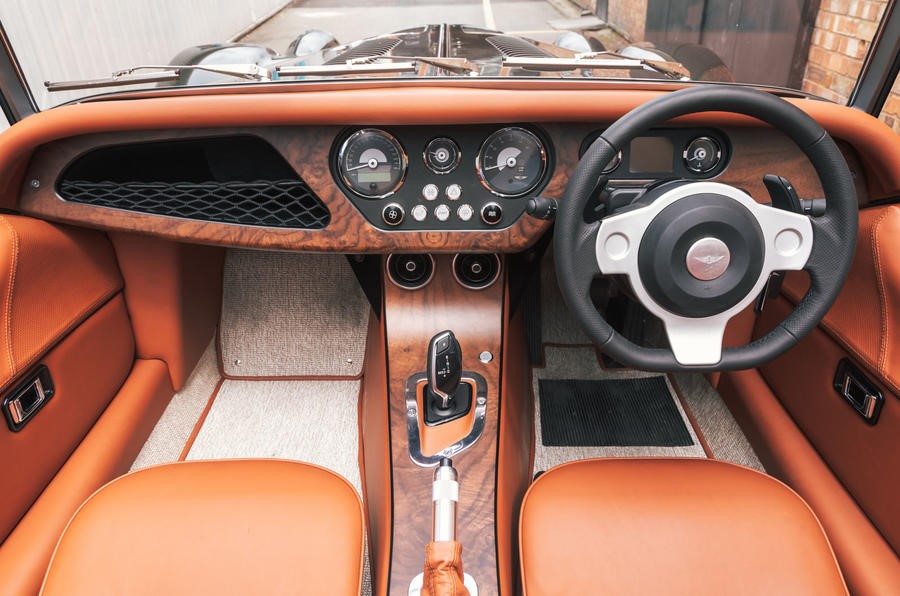 At the same time as announcing that change in ownership, back in March, Morgan also announced its first ground-up new car in 19 years: this one, the Plus Six. In development since 2016, this'd be better thought of as the old regime's parting gift to the company rather than the first fruit of the new one. Ironically, though, it's definitely 'all-new' enough to feel like the latter.
Based on a new aluminium box-section monocoque chassis twice as stiff as the old Aero-series chassis that served under the Plus Eight, but also no more heavy, it's also the first factory Morgan with a turbocharged engine: BMW's 335bhp 'B58' turbo straight six hooked up to the familiar ZF eight-speed automatic gearbox. Unlike any Morgan before it, the Plus Six has electromechanical power steering, and its new chassis has even been designed to accommodate electric drive motors in future.
What's it like?
You're getting into a little bit of the company's future, then, when you click the chromed button door release, swing open the tiny, cut-down driver's door, and step over one of those famously wide running boards to lower yourself carefully into the Plus Six's all-new cockpit. The seats remain pretty narrow, just like the footwells – but the cabin has clearly grown for length, with this 6ft 3in tester is genuinely spoilt for leg room. There's both reach and rake adjustment on the steering column, and a very sound layout of controls overall. I'm not sure that footwell leaves room for a third pedal except at a squeeze, though there has been talk of a manual version. Even so, chances are you could be comfy here for a few hours at a stretch, almost regardless of how you're built.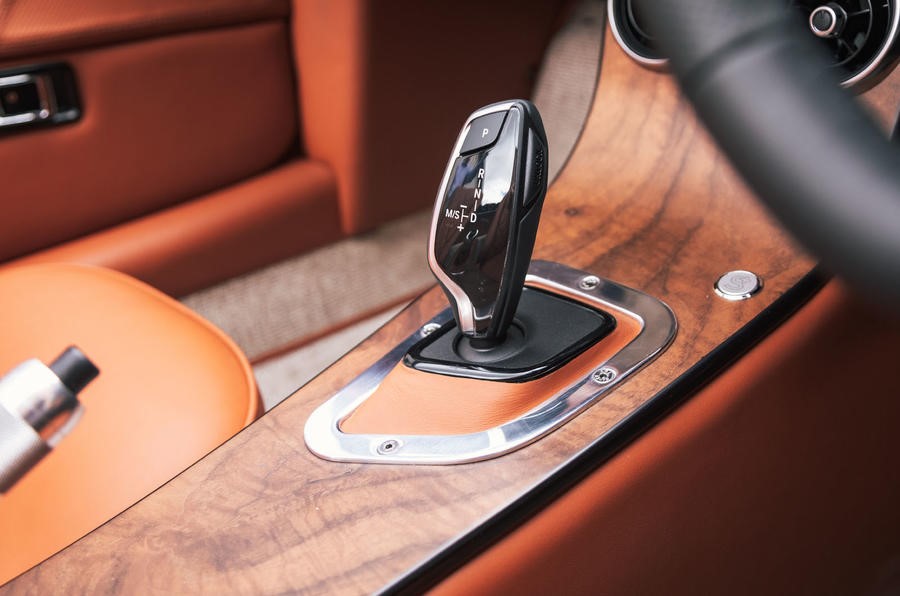 The Plus Six's cabin finish is generally very good. Our test car had attractive 'box weave' carpets, embroidered headrests and soft, attentively stitched hides – though it could have done with a more appealing-looking steering wheel. Instrumentation is by traditional analogue clocks placed, in Morgan convention, in the middle of the fascia – and the more distant positioning of the speedo than the rev counter, together with the size of its numbering, makes you glad there's also a small digital trip computer screen with a digital speedo visible through the orbit of the steering wheel rim. If not for that, you'd need to take a passenger with you at all times, just to tap you on the knee as you hit the national speed limit – which, for all I know, may very well be what Morgan owners do anyway, just in case.
And it really wouldn't take long to hit that limit, by the way. That BMW straight six sounds a bit tuneless at times, offering a lot more turbo induction noise than exhaust burble under load – although an 'aftermarket' exhaust which might, I suspect, be fitted to your car even before it leaves the factory, apparently adds greater audible fruitiness.
Assuming it adds enough of it, there'd be very little else to find wanting here about a powertrain with more torque than a top-of-the-range six-pot Jaguar F-Type operating in a car weighing half-a-tonne less. The Plus Six is instantly quick, picking up from dawdling speeds with real swiftness. It is not a car that needs to be driven at all hard to go fast, or to feel enlivening for its outright pace. That's new ground for Morgan, in my experience. There's no doubt that a good manual version would be more involving and, to this tester, would suit the car better. Still, the ZF auto's manual mode is quick enough to feel like a very acceptable compromise, and it's as slick as anywhere when shifting by itself (although I do wish Morgan had found some nicer-feeling shift paddles than the somewhat flimsy, plasticky ones familiar from the PSA-Peugeot-Citroen parts bin).
On to that new chassis, then, which pretty plainly gives Morgan a great deal of fresh opportunity for enhancing and fine-tuning the handling of this car – but which you wouldn't say it had fully explored just yet. It has certainly helped to banish some of the worst dynamic traits that Morgan owners may be used to from this car. The Plus Six tracks very straight over bumps taken at speed. It has a reasonable amount of supple compliance in a ride that remains only medium-firm feeling; one that doesn't feel nearly as wooden or brittle as some Morgans have, over the years, but that still struggles to keep perfect close control over pitch and squat.
The new chassis has put a little bit of extra length into the car's wheelbase compared with that of its predecessor model, and yet it retains steering that's uncharacteristically slow by sports car standards, with almost three full turns between not especially tight-feeling extremes of lock. It's also suddenly quite light of weighting.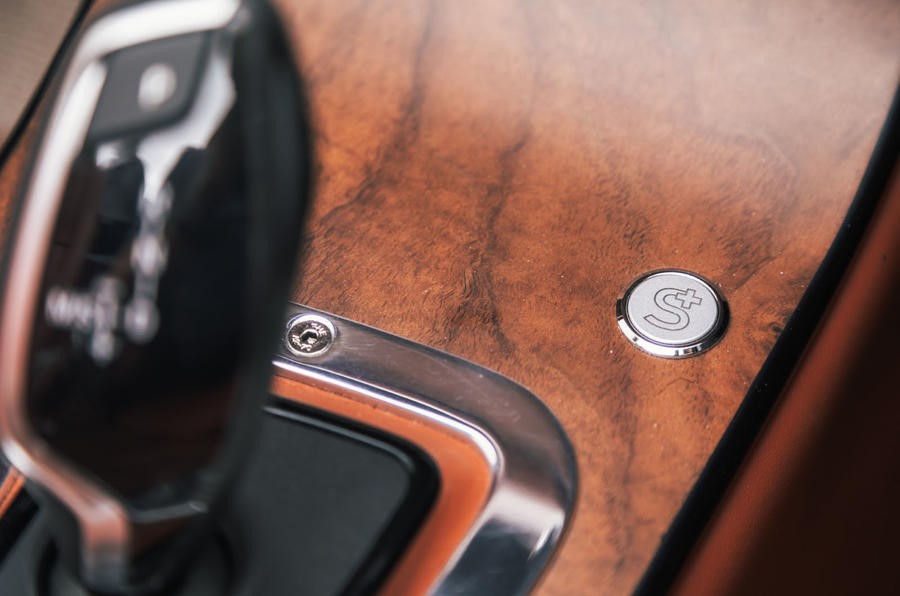 For both reasons, while the Plus Six handles gentler faster bends with appealing precision, it doesn't feel quite as agile, wieldy or keen as it might through tighter ones – and for what remains a small, light sports car, you really do notice. It was a contributing factor, for this tester at least, in eroding slightly the immediacy of control you'd ideally like over the car's steered axle – the other being the sheer distance between that axle and where you sit in the car, which is another way in which this appealingly small two-seater is made to feel larger than it might.
Should I buy one?
Well, you'd certainly have to get used to the proportions of the Plus Six – likewise the slightly athletic entry and exit routine, the placing of the minor switchgear, and the intricate sequence of doing and undoing of steel pop fasteners and opening and closing of latches necessary to get the roof up quickly in a shower. So much of all of that feels akin to memorising the password for the manned door of the owner's club. It'd all be a labour of love to get to know, I'm sure – and, for the lovers, the dynamic strides that Morgan has taken with this car will surely seem great.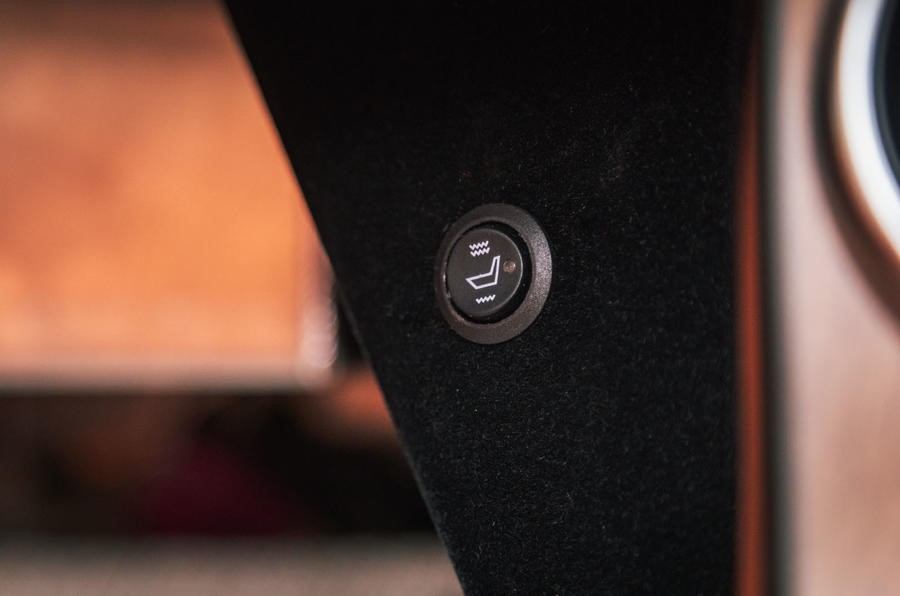 For me, it's what this chassis might go on to do that's really interesting – because while the Plus Six is a lot better than you expect it might be in some ways, and in others quite honestly just a lot less bad than you might have feared, it now seems tantalisingly close to becoming a much better driver's car with the right kind of dynamic tuning. I'm not suggesting it'll ever handle like a Porsche, Lotus or Alpine – and neither would anyone want it to. But it's certainly diverting to wonder, for now, just how close it might get.
Morgan Plus Six specification
Engine 6 cyls in line, 2998cc, twin-turbocharged petrol Power 335bhp at 5000-6500rpm Torque 369lb ft at 1600-4500rpm Gearbox 8-spd automatic Kerb weight 1075kg (dry) Top speed 166mph 0-62mph 4.2sec 
[Don't believe everything you read. It is not a twin turbo (e.g. two turbos) , rather it is a single twin-scroll turbo. Mark]