Morgan Plus Six (2019) review: the most well-rounded Mog yet (https://www.carmagazine.co.uk/ Jul 2019)
► It's an all-new Morgan!
► Uses 335bhp BMW straight-six
► Prices start from £77,995
This doesn't happen too often: a brand-new Morgan sports car. And despite appearances, this really is a brand-new car beneath the familiarly-styled coachwork, on a fresh platform that will underpin further future Morgan models.
Yep, a straight-six does the donkey work here, and it's got a real kick: BMW's B58 engine also found in the Z4 M40i and Toyota Supra, among other berths.
The Plus Four is a four-cylinder, the Plus Eight was a V8, so this must be a six?
In this car its 335bhp feels more potent than ever. The Plus Six weighs 1075kg dry, and it can snort and snarl its way from 0-62mph in 4.2sec, quicker than the same-power BMW Z4 and even a smidge faster than the Toyota Supra, but it feels even quicker than that. Largely because you're closer to the engine doing its work, hearing its turbo swooshing and smelling its exertion through the bonnet vents just ahead of you. Of the various cars the B58 engine powers, it feels at its most characterful in this car.
Sounds like it's quite hairy to drive…
When you want it to be, but overall, it's actually surprisingly refined and well-rounded – by low volume sports car standards, you understand.
The engine is coupled to the eight-speed ZF torque converter auto gearbox it's also paired with in the Z4 and Supra. In its default mode it shifts smoothly and unobtrusively, changing up relatively early. Nudge the lever to the left for Sport mode and downshifts become more extravagant and upshifts later and swifter; more so still if you press the Sport Plus button on the centre console, which alters the throttle and gearshift maps but doesn't muck about with the power steering or traction control. In fact, it doesn't have the latter at all, which is absolutely fine by us. It does have ABS, however.
Wot, no manual?
It does feel odd to see that familiar BMW gear selector in the middle of the Plus Six's hand-built cockpit, and it's hard to shake the feeling that a H-pattern 'box would fit the car's character more completely.
But the B58 engine and ZF auto transmission are very much an item, and separating the two isn't straightforward. Morgan says that if a suitable manual gearbox were to become available, it would certainly consider offering a manual version in the future. Still, the pedals feel a tad offset, which might be exacerbated with the addition of a clutch pedal.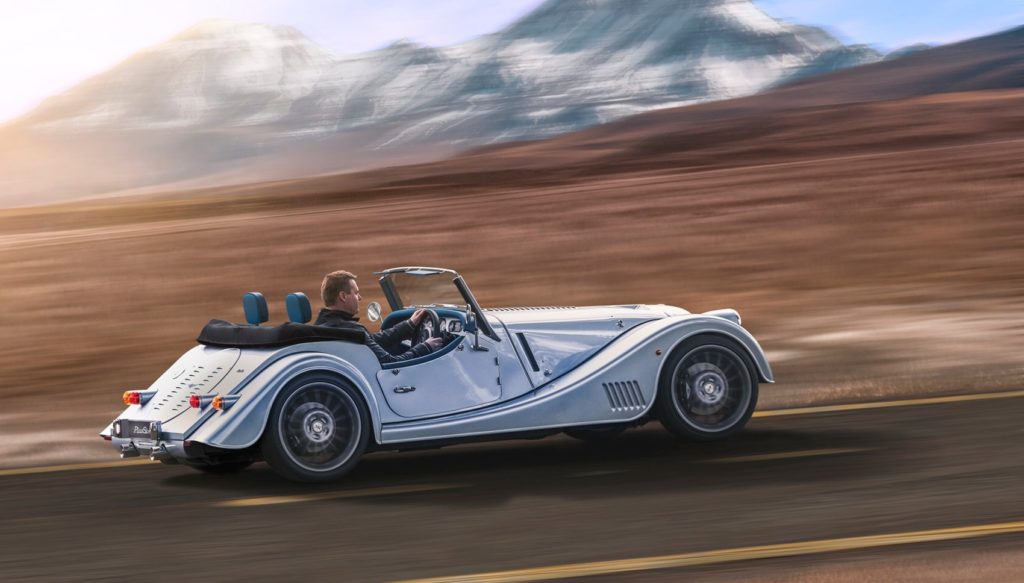 Regardless, the ZF 'box is easy-going in town and you can override it with manual shift paddles mounted to the steering column surround. Shame they're plastic and rather ordinary-feeling, but manufacturing bespoke shifters would have inflated the Plus Six's price accordingly.
Anyway, you were saying…
The Plus Six is the most undemanding Morgan to drive yet – which isn't the same thing as saying it's uninvolving.
It has electric power-assisted steering – Morgan's own – which is remarkably stable on bumpy roads. There's real stability either side of the straight-ahead, and the steering doesn't paw at cambers or feel nervous at speed, which does wonders for fatigue on long journeys. It's perhaps not the most feelsome setup in the world, and in some ways you might wish it actually did writhe around in your hands a bit more on B-roads, but for high-speed stability and carrying momentum on uneven roads, it's impressively well-resolved.
With all that torque on tap (369lb ft between 1600 and 4500rpm), the Plus Six tends to leave a light smear of its bespoke Avon tyres on the road in its wake under acceleration. We drove the Plus Six on a hot sunny day but you get the impression you'd have to be on your guard in the wet. It uses an open differential rather than a locking diff, chosen to help make things less intimidating on slippery roads, and for the most part it works extremely well; it's only in occasional driving situations you find yourself with an LSD craving.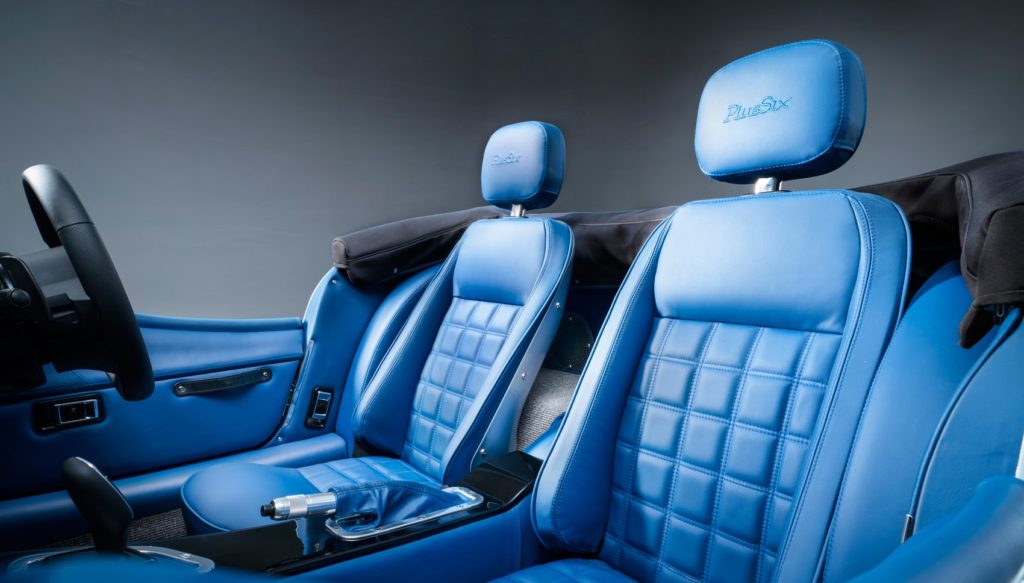 Overall, the Plus Six's handling is very polished. In terms of outright body control it's not perfect by any stretch, as is entirely reasonable for a car developed by a small independent company on a budget a fraction of the size of a large manufacturer. It's a car that it takes longer to trust than some, with less immediate feedback through its controls than one might expect of a sports car. Once you learn to trust it, it's really quite benign with a balance that appealingly tends far more towards oversteer than understeer. For an ultimate drive on a great road there are other sports cars you might choose over it (not least Supra, Alpine, Elise) – but that's not necessarily what the Plus Six is about. It gets far closer to them from a dynamic point of view than one might expect, with a character all of its own. And in straight-line acceleration it's more exciting than most cars this side of an Ariel Atom.
Suspension is by double wishbones all round. In terms of ride as opposed to handling, it doesn't quite breathe with the road as, for example, a Lotus does, with a slightly abrupt edge to its suspension movements – although it's one that feels more comfortable with miles, and it isn't unreasonably firm; it is a sports car, after all.
There must be some downsides to the Plus Six experience?
I struggled with the driving position, so important in a sports car. The hand-made seats (trimmed in leather with an almost limitless choice of grain and colours) look fantastic but I couldn't help but feel like they're mounted little too high. I felt perched on, rather than ensconced in, the car.
There is a decent range of adjustment, more so than in previous Morgans, with the seat sliding fore and aft and the backrest tiltable, enabling taller drivers to get comfortable in the Plus Six than in previous models. The Plus Six offers 200mm more legroom than a Plus 8, for example.
Nonetheless, I'm 5ft 10in but the top of my head was buffeted by the airflow, to the point that my hat was blown off my head at one point, and there's lateral support only if you shuffle down in the seat to better support yourself against the side bolsters. The lumbar support can also be inflated or deflated with a squeezable rubber pouch, which helps, but my driving position still felt like a compromise.
The steering wheel adjusts for both reach and rake, further increasing the Plus Six's appeal to drivers of all sizes. It's a shame the wheel itself, an off-the-shelf unit from GKN, doesn't look a little more bespoke. There's some beautiful craftsmanship at play in the cabin, but naturally the first things your eyes are drawn to are the gear selector and the wheel. They are reasonable compromises to allow for given the tight budget this entire car was developed within. The Plus Six was funded by Morgan itself (and some government funding) and they've done a lot with a little.
Tell me more about this new platform
It's called the CX Generation platform, CX signifying 110 years of Morgan. Throughout that time, remarkably, the company has been family owned and run; that finally changed at the beginning of 2019 with a majority stake purchased by European investment group Investindustrial – although the Plus Six was completed before the acquisition.
The Plus Six is the first car to be spun from the CX platform, which will also underpin a future flagship model to fill the gap in the range left by the Aero series. Intriguingly, the platform has provision for electric motor architecture, so a hybrid model could be possible.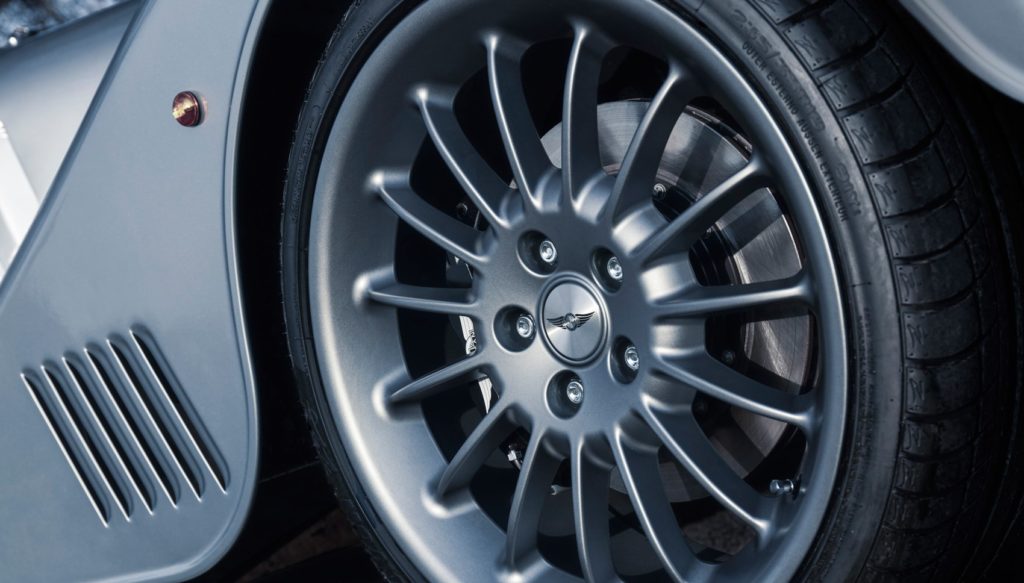 Apart from the car's structure, designed to be roomier and with greater adjustment for different drivers, the CX's electronics platform also unlocks a variety of opportunities for Morgan: the Plus Six features central locking and puddle lights beneath the doors, for example, and while the car doesn't currently feature traction control, it may do in future updates.
Is there still a wood frame as part of its construction?
Yes, while the CX platform is based around a bonded aluminium monocoque – a type of structure Morgan has been working with for around 20 years now, and using BMW engines for the same stretch of time – it still features a supplementary ash frame to which its body panels are mounted. Aside from tradition, it brings extra rigidity and has benefits in impact protection.
How much is the Morgan Plus Six?
It's not cheap, at £77,995, but that's a more palatable price than the now out-to-pasture Plus Eight model which had strayed into six-figure territory.
The car tested here is one of the first 50 'First Edition' models off the line, costing £89,995. Each comes with a hardtop as standard to supplement the moderately fiddly but effective fabric hood and a host of special design details. Each First Edition will be finished in either Emerald metallic green paintwork with tan leather or blue-grey Moonstone with blue leather (pictured).
Morgan Plus Six: verdict
The Morgan Plus Six is a deeply appealing car. While it's more sanitised than classic Morgan models, its increased civility hasn't eroded its character or sense of occasion. To be sat within it, sidescreens and roof removed on a sunny country lane, vented bonnet ahead and arms in the breeze, is an experience unlike almost any other in the modern automotive landscape.
The burly straight-six is both smooth and tractable at low speeds, feels electrifyingly fast when extended, and the Plus Six's handling bodes well for further-developed applications of the CX platform in the future. The extra accommodation and relatively low 170g/km CO2 output has the potential to open possibilities in previously inaccessible European markets too.
The driving position is an issue for me, and the interior furniture may be for others, but overall this is the most well-rounded model Morgan has yet produced, and an encouraging product for the next chapters in its chronicles.
Specs
| | |
| --- | --- |
| Price when new: | £77,995 |
| On sale in the UK: | Now |
| Engine: | 2998cc 24v turbocharged straight-six, 335bhp @ 5000rpm, 369lb ft @ 1600-4500rpm |
| Transmission: | 8-speed auto, rear-wheel drive |
| Performance: | 4.2sec 0-62mph, 166mph, 38.2mpg, 170g/km CO2 |
| Weight / material: | 1075kg (dry)/aluminium monocoque with supplementary ash frame |
| Dimensions (length / width / height mm): | 3890/1756/1220mm |