Used car buying guide: Morgan Aero 8
First unwrapped in 2000, the Aero 8 was a modern(ish) take on Morgan's tried-and-tested olde-worlde formula, and, despite its age, good examples can still be found
For all that the new Plus Six does to take Morgan belatedly into the 21st century, with its all-independent suspension, lightweight aluminium chassis and punchy turbocharged straight six, it doesn't exactly advance the Malvern brand's design language beyond, say, 1964.
That's part of Morgan's charm, of course, and its steadfast commitment to traditionalism is an integral component in its quiet but sustained success. So when the cross-eyed Aero 8 was unwrapped at the 2000 Geneva motor show, all bets were off.
Here was a genuine, up-to-date sports car, with a BMW V8 giving it a competitive 4.8sec 0-62mph time and promises of engaging dynamics, courtesy of new inboard shock absorbers, double-wishbone suspension and AP Racing performance brakes.
The modernisation didn't stop there, either: niceties including air conditioning, cruise control and a heated windscreen placed the Aero 8 in another realm entirely to the brand's existing models. Morgan being Morgan, of course, it was all still assembled around an ash wood frame, and the asymmetrical metal dashboard would look equally at home in the cockpit of a 1960s airliner. If it ain't broke…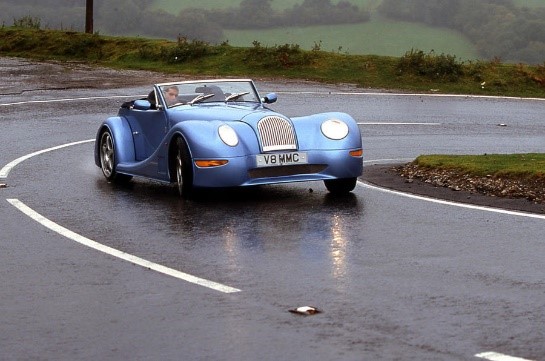 Just over 200 examples of this first-generation car were produced between 2000 and 2004, and they still pop up in the classifieds periodically. Its Series 2 successor, subtly restyled to comply with US safety standards and allow for a roomier cabin, packed a hefty power upgrade but was built for only a year in limited numbers, so most have been retired to private collections.
The closest the Aero 8 came to receiving what you might call a facelift was in 2005, when the Series 3 was launched with Mini headlights in place of the previous New Beetle items, giving it a more conventionally styled visage without compromising on its retro appeal.
Mechanicals were left largely untouched until the roadster entered its final form in 2007 with 362bhp from a 4.8-litre V8 that BMW kindly continued producing on a limited basis for Morgan after retiring it from its own line-up. An automatic gearbox was also made available for the first time, featuring an optional Sport mode and offering improved straight-line performance over the six-speed manual unit.
The Morgan Aero 8 has pace and kerbside status in spades, but it's very pricey.
Later variants include the ultra-exclusive, boat-tailed AeroMax coupé and its Targa-topped Supersports sibling, the traditionally styled Plus 8 and, more recently, the Series 5 – a revived, subtly updated version of the Aero 8, produced from 2016 to 2018. The austentacious Aero GT acted as the car's swansong, and was made in very limited numbers.
Happily, because improvements and tweaks made to the supercar over its 18-year life cycle were so subtle, choosing which version to go for is simply a matter of deciding your budget: prices for early cars begin at £40,000 (plus shipping costs if you opt to import), but you can expect to pay above £120,000 for low-mileage Series 5 cars and special editions.
How to get one in your garage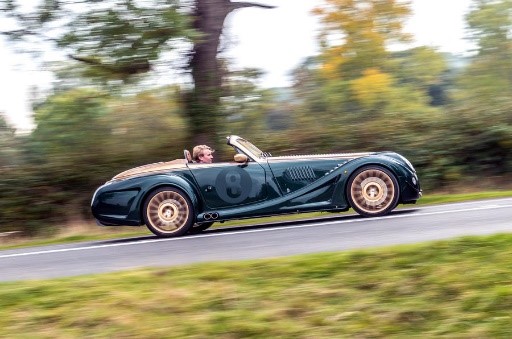 An expert's view
Melvyn Rutter, Melvyn Rutter Ltd: "It's a very finite market, and not that many come up for sale, because people tend to like them and drive them. Initially, there was a huge rush and Morgan couldn't make enough. It was only the really determined who stuck with it and waited; they weren't impulsive buyers. Like the 3 Wheeler, there were people who had never really thought about a Morgan before, and we got new people into the fold."
Buyer beware…
Engine: The side-exit sports exhaust is a highly prized option, giving post-2004 cars a bassy growl. Both BMW-derived V8 engines are characteristically durable, but stick to their servicing schedules and shell out for genuine parts.
Body: Series 1 and 2 cars are known to suffer leaky roofs, so keep them garaged. Wooden element of the chassis means crash repairs and restoration work is a specialist job best undertaken by a Morgan dealer. Body panels, especially the bootlid, evolved over the years, so research before replacing them. Low front splitter is prone to stone chips.
Gearbox: Don't be put off by a noisy manual gearbox. The Aero 8 features far less soundproofing than a contemporary BMW, so a degree of crunchiness and whirring is par for the course. Installing a quick-shift gearstick helps to eliminate some of the clunkiness.
Electrics: Exposed indicator wires can come disconnected, so check under the front wings if they're playing up, and later Beetle headlights have a tendency to let water in and become misted. Series 1 cars suffered from a sticking starter motor, especially after long periods of non-use. Fit a conditioner to keep specialist gel battery in working order. Power-steering pump is a weak spot, but replacements are easily found.
Interior: Later interiors are more modern but still prone to wear if not maintained properly. Popular modifications include an aluminum steering boss and a Mota Lite steering wheel, while an upgraded stereo is a wise investment.
Also worth knowing
The manufacturer offers a full maintenance and restoration service at its Pickersleigh Road headquarters, with a fixed price servicing structure.