Progress Report: Morgan 4/4 vs Morgan Plus 4 (https://www.topgear.com/ 24 Jan 2022)
Five decades separate a pair of British sports cars with a very similar vibe.. Time to see what else splits them.
I'm not sure I can spot the difference.
Very funny. But I'll concede that getting these two Morgans together is a very visual demonstration of both the company's design language and its evolutionary philosophy. A number plate swap might just prove enough to divert your attention from the 56-year age gap between these cars. Yep, one of them really is as old as the England mens' last major football success.
Photography: Jonny Fleetwood
With thanks to Chris Towner for the loan of his delightful Morgan 4/4
Surely there are other visual cues…
Back in the Sixties, exterior door handles were on the Morgan options list. And the 4/4 you see here is in 'purists' spec' – aka it doesn't have any. It's best to keep the roof down at all times if you want to get into the car without looking like you're breaking into it. Other differences involve a different layout of spotlights up front and a disparity in their number of hand-stamped bonnet vents; both cars sport eight each side, but the older car doesn't require a stip of them on top.
Is that because it has less power?
Correct. In wonderfully period red 'n' black is a Sixties Morgan 4/4, with a 1.6-litre 4cyl Ford engine sending a supremely modest 75bhp and 98lb ft to the rear wheels via a four-speed gearbox. One which sees the shift lever emerge from under the dashboard; while its H-pattern is familiar, actually getting adept with it takes a minute. In blue is a brand-new Plus Four, a 2.0-litre 4cyl BMW turbo providing the rear axle – and much better tyres, I might add – with 255bhp and 258lb ft via a six-speed manual sporting an unglamorous knob but a slick, easy shift.
I'm guessing their performance differs.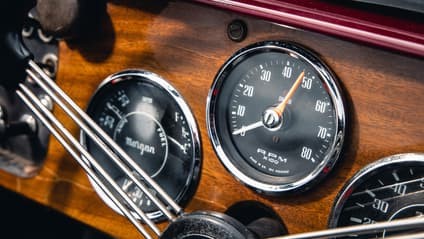 With more than three times the power, the Plus Four is unquestionably a quicker car. But these things are all relative. The 4/4 carries barely more than half its newer relation's weight, at 660kg, and with skinnier tyres and a surprisingly torquey old engine, it moves more than swiftly enough. On grimy roads you might find yourself managing the Four's turbocharged delivery a bit, whereas the 4/4 gives you everything with zero drama, revving keenly around its quaint dial but delivering so much below 4,000rpm that you can exercise mechanical sympathy without stymying your pace.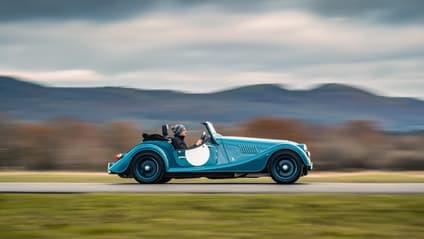 As well as smelling like it was made in the Sixties, the 4/4 brakes and steers like it, too. Halting for a roundabout needs forward thinking and the wheel is overly large. But it twirls around without much resistance and given how measured the game little Ford engine is in its delivery, you can drive this thing with vigour and trust implicitly in the chassis below taking the strain. Despite the Plus Four's heap of extra performance – a 5.2-second 0-62mph time is probably about half its ancestor's – the same is true in the '22 car. ABS helps it stop keenly, too.
So come on – how different do they actually feel?
There's less of a gap between them than I'd anticipated. I recently ran a Plus Four for 12 months and happily declared it a "a modern Morgan", and yet with a bit of context the experience it delivers is astonishingly faithful to a car five decades its senior. Beyond the 4/4's wing mirrors actually being on the wings, its glovebox locking like a Victorian dresser drawer and its lack of head rest or three-point seatbelt, the interior ambience and view up the road is all but the same as the Plus Four's.
They're even similar inside?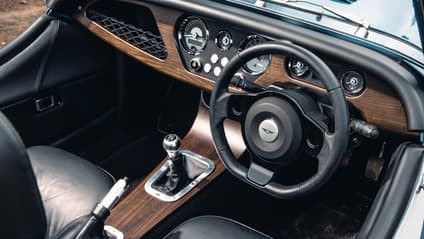 The newer car's tech – Bluetooth audio, air con, heated seats, power steering, ABS – largely operates in the ether and doesn't have overt visual cues. And with the side screens removed – the most authentic way to drive a Morgan – these two deliver an identical level of refinement and sense of safety on a 60mph country road. Which suggests Morgan makes the most tactful progress of any carmaker, keeping its models' core attributes wholly intact while integrating the tech we all secretly want with real subtlety. What ho!