MORGAN 4/4 80TH ANNIVERSARY EDITION (http://www.msn.com/)
Good Show! Morgan Plans to Sell Its Venerable Roadsters in America Again
Call us lazy and unpatriotic, but we don't tend to read more than the first couple of dozen pages of any bit of legislation enacted by the federal government. Others do, however, and an obscure provision in the so-called FAST Act that passed into law last year—that's "Fixing America's Surface Transportation"—is set to have a major effect for a small British sports-car maker.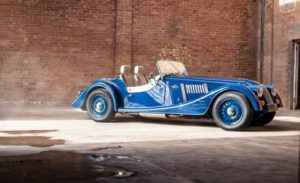 To save you from reading the whole thing, the act included a clause exempting low-volume manufacturers from most federal standards for replica motor vehicles that are "intended to resemble the body of another motor vehicle that was manufactured not less than 25 years before the manufacture of the replica vehicle."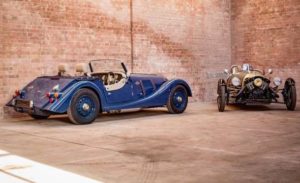 And as Morgan has been making several of its cars for many more decades than that—indeed it has just launched an 80th-anniversary limited edition of the venerable 4/4—it means that the company is now getting set to relaunch some of its older models in the U.S. alongside the 3 Wheeler that already is sold in several states.
"The bill allows us to bypass much of the safety stuff," Steve Morris, Morgan's managing director, told us at the Geneva auto show. "There are still going to be different requirements in some states, but we're digging down to see what exactly we'll have to do. But I think that by the third quarter of this year we'll be back with some of the heritage models. It's great, a real boost for us."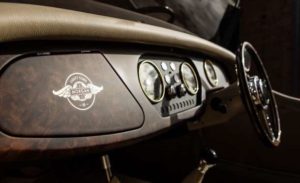 Morgan has sold its cars in the U.S. at various times throughout its 106-year history, but none since the Aero 8's exemption from rear impact standards and the need to have smart airbags expired in 2008. Yet the limited scope of the exemption means that it won't be the company's more modern, aluminum-frame models like the Aero 8's successors that return—rather the far-older steel-frame "Classic" models: the Roadster, 4/4, and Plus 4. Meaning there will be no airbags, ABS, or traction control to get in the way of what remains the sort of driving experience your great-grandfather likely would recognize.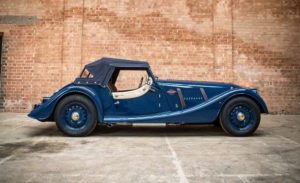 Not that things are quite as simple for Morgan as loading up a boat with Moggies and steering it towards the setting sun as "Rule Britannia" plays. The bill also requires that any replica vehicles meet modern emissions standards, so no side-valve engines. Fortunately, Morgan's current Classic line-up is powered by Ford-sourced V-6 and four-cylinder engines that should be capable of making the grade. Cars also will have to abide by different states' replica registration laws and procedures.
"We've got to sort out the compliance, but as we're using the Mustang 3.7 and the 2.0-liter direct-injection engine, that should be doable—we just need to work out a cost effective solution," said Morris. "We've also got to sort out dealers and distribution."
If all goes to plan, the Morgans should be back in the U.S. by the end of the year. You'll want to don your finest tweed to celebrate.