Charming British automaker Morgan will offer charming hybrid powertrains by 2020 (http://autoweek.com/)
DELTA MOTORSPORT AND POTENZA LEND A HAND
If you would have told us 10 years ago that both the mclaren-p1 and the porsche-918-spyder would be hybrids, we would have told you to take a long walk off a short pier. Now we hear the Morgan Motor Co. is building its wooden cars with hybrid powertrains in mind and all it gets is a "Hmm."
This week, the charming British company that builds charming wooden cars said it received a 6 million pound infusion of cash (that's $8.5 million) for new electric motor development, in collaboration with Delta Motorsport and Potenza Technology.
"With funding from the U.K.'s Advanced Propulsion Centre, the consortium will develop hybrid and electric powertrain systems which will significantly reduce vehicle CO2 emissions and deliver best-in-class fuel economy," Morgan says in its release.
Morgan will introduce these new powertrains progressively from 2019 on; all models will offer hybrid propulsion by the end of the decade. Morgan says it expects this to increase demand, and therefore increase the workforce at its Malvern factory in the U.K.
Looking back, this isn't a complete departure for Morgan, which developed the LifeCar (Lightweight Fuel Efficient Car) almost 10 years ago. The LifeCar was a fuel-cell hybrid Morgan Aero 8 that was built with the help of several universities in England.  It was meant to have a 1,000-mile range, weigh less than 1,800 pounds and get 15 miles of all-electric driving.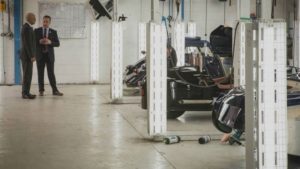 The Morgan factory in Malvern, England. PHOTO BY MORGAN
"We have been involved in the research and development of new propulsion technology since the inception of the LifeCar project almost 10 years ago," said Steve Morris, managing director. "We are now ready to develop the best hybrid and electric drivetrain solutions for production implementation before the end of the decade. We expect the project to deliver growth and employment benefits here at Morgan and in our partner companies, but equally it will broaden the appeal of the Morgan brand and attract new customers in our key markets."
We're not sure how many new customers a hybrid Morgan would grab in the United States, especially since the 3 Wheeler we tested a while back was everything right with the retro brand. Still, there seems to be room for a little bit of everything in the market, considering 2015 was a record-breaking year for car sales.