Mr Morgan and Mr Selfridge combine for iconic car (http://www.malverngazette.co.uk/)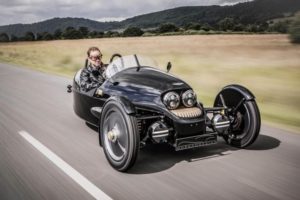 LEGENDARY car marque Morgan is combining with another famous brand Selfridges to launch the Malvern motor manufacturer's first zero emission, all-electric car.
Both companies were born in England in 1909 and have been waiting for the perfect opportunity to collaborate. Steve Morris, Morgan managing director, explained: "To make this collaboration truly unique, Selfridges and Morgan are creating a limited edition of the EV3, called UK 1909 Edition, blending Morgan's legendary engineering know-how and iconic design with Selfridges' famous flair for fashion. The result is a car that is a collector's item as desirable and beautiful as a piece of art and as practical, comfortable and fast as a 21st century car with carbon neutral credentials should be. A triumph of style and function that honours Morgan's celebrated craftsmanship, the UK 1909 Edition will only ever be made in a limited edition run of 19 – a number that is a nod to the year during which both Selfridges and Morgan were founded."
The retro-futuristic three-wheeled electric vehicle, with an expected autonomy of between 120-150 miles depending on drive cycle and a top speed of around 90 miles an hour, has a beautiful bullet-bodied, face and exposed wheel design style, which takes inspiration from 1930's aero engine race cars, classic motorcycles and 1950's fantasy automatons.
Brass conductive cooling fins encase the batteries and four large round headlights add to the overall boldness of the design which for the UK 1909 Edition limited edition comes in a luxurious yet understated black with Selfridges bronze detailing, reminiscent of the Oxford Street store's famous bronze name plaque.
The tail lift last seen in the late 1920's on Morgan 3 Wheeler race cars, has been re-introduced, subsequently creating a visually forward stance with a seductive heritage look. This is enhanced with low slung running lights that carry through the cylindrical form of the side pods. An entirely new dashboard arrangement features a classic magneto switch for drive selection, a digital screen, and uses wood and treated aluminium throughout.
As part of the unique collaboration, Selfridges has enlisted nine British brands to produce a driving kit with sustainable accessories for the contemporary recreational motorsports man and woman. The kit is priced separately but can only be ordered with the car.
Some brands such as Alexander McQueen and Belstaff have found Britain-based artisans to manufacture their contributing accessory, instead of manufacturing it overseas as they do with their main lines, to ensure all elements of the UK 1909 Edition, from the car to the driving kit, are exclusively handmade in the UK.
The full driving kit includes an exclusive Globetrotter case made to exactly fit the luggage rack on the UK 1909 edition, a bespoke Christopher Raeburn driving overall in waterproof materials, a George Cleverley pair of leather driving shoes made in the same leather and stitching as the car seats and leather detailing and Linda Farrow driving goggles in leather and bronze, plus other items by Dents, Belstaff, Alexander McQueen and Richard James.
The UK 1909 Edition will be officially launched in store in Selfridges Birmingham on October 1 and in London Oxford Street on November 1. Together with the complementary driving kit, the car will retail at £49,999. It will be manufactured from November this year and be delivered to each customer within six months.