Morgan Run for the Hills in the UK (www.malverngazette.co.uk)
THOUSANDS of Morgan cars will be returning to their home town of Malvern this summer for a very special event.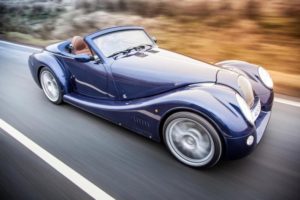 Morgan Motors and the Morgan Sports Car Club have joined forces for Run For The Hills 2017 at the Three Counties Showground, billed as an event not to be missed by fans of the hand-made cars.
The event promises to be the biggest gathering of Morgans since the company celebrated its centenary in 2009.
Run For The Hills promises two days and nights of live entertainment, Morgan themed events, trade stands and much more.
It will include tours of the Morgan factory in Pickersleigh Road, where visitors can explore the history of the family-owned British marque, from the first three-wheelers built in 1909 by founder H F S. Morgan, through over a century of innovation and craftsmanship to the modern high-performance Aero range.
There will also be a gala dinner, and the weekend will finish with the English Symphony Orchestra headlining the Morgan Prom Spectacular, with a firework finale set against the backdrop of the Malvern Hills.
A fundraising auction at the dinner will raise money for the British Heart Foundation, which Morgan has this week declared its charity of the year,
Steve Morris, Morgan's managing director, said: "Run For The Hills is a wonderful opportunity to celebrate everything that people love about Morgan. Whether you have a Morgan in your driveway or just a poster on your wall, Run For The Hills is for all enthusiasts.
"Every Morgan ever produced was crafted in Malvern and what better way to celebrate over 108 years of innovation than by bringing the cars home? We look forward to welcoming thousands of cars back to the hills that have echoed to the sound of every Morgan for over 100 years."
A range of ticket and accommodation packages are available including single day tickets, gala dinner tickets, weekend tickets and concert tickets.
For further details, visit morgan-motor.co.uk/runforthehills.