MOGSouth's own Speed Racer?? Bill Stelcher!! (http://www.yourobserver.com/)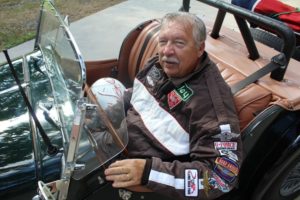 Braden Woods Resident has Drive to Continue Racing Antique Automobiles.
Shortly after he started collecting and racing antique cars in 1965, William Stelcher contracted a rare disease.
"I told myself I had polymorganitis," said Stelcher, who now is 73. "It was a word I invented because I had a crazy collection of six, three-wheeled Morgan cars."
He eventually recovered from his love of three-wheelers, but there was no antidote for his love of collecting and racing.
Stelcher's current classic cars:
1929 Model A Speedster: Purchased in 2007. Stelcher says, "I love this race car because it is just exhilarating, and racing an old car is a real adrenaline rush."
1965 Morgan Plus 4: Purchased in 2002. Stelcher says, "It has an openness to it. It's a perfect car to go on just a ride in the country."
Stelcher, who lives in Braden Woods, still has a Morgan, only this one is a 1965 Morgan Plus 4. It's not his racing vehicle, though, for he spends more time just riding around town with it.
His racing car now is a 1929 Model A Speedster that he uses as a member of the Daytona Antique Automobile Racing Association.
"We are just a bunch of old guys driving very old cars," Stelcher said of the group. "Our goal is to drive them as fast as we can, while simultaneously trying to make sure that our parts don't fall off."
The parts aren't likely to fall off since Stelcher not only races and washes his cars, but he builds them as well.
"I'm pretty well-known with pre-war cars," said Stelcher, who owned Kinetronics Corp., a manufacturing business that sold photo lab equipment, before retiring eight years ago. "I've raced on tracks all across the country, and I am considered one of the sport's senior members."
Since purchasing the Speedster, which can reach 90 mph, in 2007, Stelcher has raced it around the United States at tracks such as Watkins Glen (New York); Road America (Wisconsin), Lime Rock Park (Connecticut) and the Mid-Ohio Sports Car Course (Ohio).
Races for Stelcher are typically four-day events that include a day of practice, a day of technical inspections, then qualifying races followed by the final day of the features.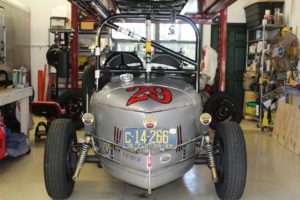 Braden Woods' William Stelcher's Ford Speedster sits in his auto shop that he had built on his property.
It is not a grind for Stelcher, who has no plans to retire from racing. "It is just too fun," he said.
Of course, the racing events are just part of the hobby. Stelcher spends countless hours in his auto shop, cleaning and fixing his cars. "I spend more time out here in my shop than I probably should," Stelcher said. "My wife (Carol Stelcher), thinks I'm hiding from her sometimes."
His wife is a big part of his hobby as well. Carol cheers him on as they travel around the country and she has made many friends, too.
"The ladies trade recipes, just like the old times," Carol Stelcher said. "And it is a wonderful hobby for him. Between his dog, Willy, and the cars, he is very active, and I think that's good."
Those around Lakewood Ranch should be seeing him driving his Speedster for quite some time.
"I would not sell the race car if someone offered me $50,000 because it is a huge part of racing history and it is really special to me," Stelcher said of his Speedster. "I love my Morgan, too, though. I bought it from a retired school principal in Memphis, Tenn. It is a wonderful car to drive, it's sporty and it handles beautifully."
Driving his Morgan around town keeps Stelcher young, and he said it makes him feel like the cool kid on the block.
"Everybody gives me the thumbs up when they see me in the car," he said.