Report from the Field: 24 Hours of Le Mans 2017 (June 17 – 18)
[This is a report from John Tuleibitz, a past MOGSouth member and friend to many in the club.  In fact we just saw John in Greenville, SC at the Spring Meet.  Thanks John!   Mark] 
Le Mans is one of the races I've always wanted to see .  .  .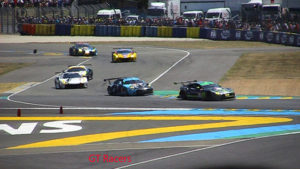 Le Mans is one of the races I've always wanted to see, but the logistical challenges involved with getting there from Paris and trying to find a room when most of the 250,000 spectators and thousands of team members book their hotels and even tent spaces years in advance made it seem impossible. But, after attending two European F1 races with Grand Prix Tours and having all those types of problems worked out, I decided to try them this year for the 24 hour race. It was definitely the way to go.
I had transportation from and to Paris,  one of the finest hotels I've ever stayed in, great seats, good company and an excellent tour guide. They even managed to provide unusually good weather. Instead of chilly evenings and mornings and the normal several hours of rain, the weather was sunny with highs over 90 and lows around 80. Needless to say, I was over-dressed.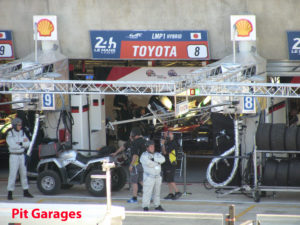 My seat, in a covered grandstand, was at the start/finish line directly across from the beginning of the pits, the official clock and the winners' podium. From there, I had a good view of the final couple turns, the start/finish line, the pit straight and the first turn. It was a great place to watch some of the racing and marvel at the incredible speed of the LMP1 class Porsche and Toyota hybrids. GT3 cars, like Aston Martins, Porsches and Ford GTs are among the fastest cars in existence, and they were passed on the straight like they were parked.
But, there's only so much of a day-long race that can be watched from one seat. Like many races, if you want the best view of the entire race and want to know just what is happening, you're better off watching it on TV. At just over 8 1/2 miles per lap you really can't walk all the way around and sample every corner, but it is possible to get to a couple track-side viewing spots and to see an amazing variety of people, cars and amusements along the way. Plus, the Le Mans museum is a must-see stop. In addition to a lot of vintage cars, it has a huge collection of cars that have raced in the 24 hour, plus a room filled with 1:43 scale models of many of the racers and dioramas depicting various years in the track's history that have to be seen to be believed.
And, while all this is going on, the racing never stops. This is a flat-out sprint race from start to finish. The Porsche hybrid that won overall did not take the lead until about 2 laps from the end. In order to do that, it had to recover from a full hour that it had spent in the garage having a part of its hybrid system replaced.
I paid the closest attention to the top GT class since the cars are recognizable. As they approached the finish line to start their last lap, the order was Aston Martin, Corvette, Ford GT and Porsche 911. As they crossed the line 12 seconds later, it was Corvette, Aston Martin, Porsche, Ford. When they got the flag, it was Aston Martin, Ford, Corvette and Porsche thanks to some wheel banging on that last lap. The cheering from all the Brits in the stands demonstrated why this is often called a British race held in France.
It took a lot of years to finally make it to the race, and it's one of those events that I don't feel a great need to visit again, but it's one of those races that has to be seen live once just to experience the atmosphere that can't be captured on film or TV. If I were to go back, I'd probably spend a lot of time trying to find the best vantage points for spectating so that the next time I'd really be able to know what was happening and see more of the actual racing. I guess that's why most people seem to go just once or every year.
If it's not on your bucket list, it needs to be added. And if you decide to go, check out Grand Prix Tours.
John Tuleibitz