Carshow Classic: 1936 Morgan 4/4 (And Morgan History) – Trying To Understand The Enigma (www.curbsideclassic.com)

At the Paris Motor Show in 1936, a British manufacturer exhibited a compact, two seat sport tourer, built as was conventional at the time around a steel chassis, a wood-framed body, semi-elliptic rear suspension, an overhead inlet, side exhaust valve engine and using an unusual sliding pillar front suspension. Unusually for a British sports car of the time, it was painted a bright, Carnation red.
This was the first in a line of Morgan roadsters that continues to this day, still built the same as in 1936. The Morgan is a living dinosaur, the carrier of a proud tradition of car building by hand, with traditional materials and tools, that has long gone extinct otherwise.  Morgan's unceasing traditions, spiced by new adaptations and evolutionary models, is one of the greatest stories of the automobile's history.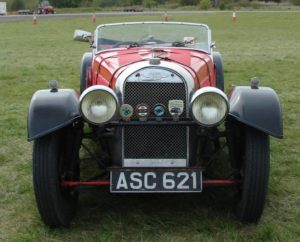 Actually, several such cars would have been shown – marques like MG, Hillman, Talbot, Riley, BSA, AC and Singer were all producing cars of this format at that time. Most of those marques have gone, but one remains, and so does the car, the Morgan 4/4, a derivative of which is still in manufacture, in the same factory, on the same tooling, and still with a wooden frame and sliding pillar front suspension.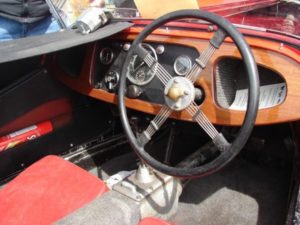 The 1936 Paris Show car is still extant. A natural Car Show Classic, and a great car around which to tell the story of the Morgan Motor Company.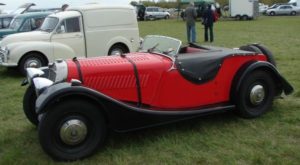 Much has been and still is said about Morgan.
From the Company's home away from the heart of the motor industry, its perseverance in the use of the wooden frame for its body,  the all enveloping image of conservatism, by being an almost cottage industry in an industry of world wide players and even to the Company still being with us, Morgan alternatively intrigues, amuses and surprises.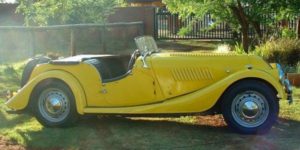 It is an enigma in an industry which would normally seek to provide clarity, to customers, investors and regulators.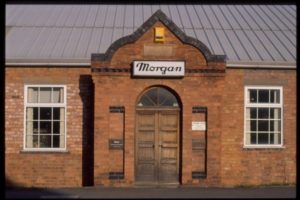 The Morgan Motor Company was founded in 1910 in the town of Malvern, principally an attractive spa town better known for its mineral water and Edwardian hotels than anything else. It is some 130 miles north west of London, 60 miles south east of Birmingham and close to the Malvern Hills. It is closer to rural, agricultural Wales than industrial England. A greater contrast to a location such as Coventry or Dagenham is harder to imagine.
Morgan has always been an independent, proud and quietly conservative company. It has never sought to be grow beyond the scope for what could be assembled in Malvern, and has only changed its products, at infrequent intervals, to meet significantly changing market needs and demands. No annual facelifts, no new models unless a step change was needed. Hence, the three wheeler lasted for over 40 years, the 4/4 is still running after 80 years.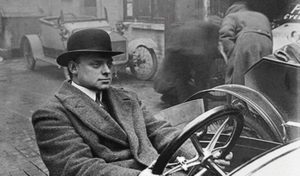 Henry Frederick Stanley Morgan (always known as HFS) built his first car in 1909, at the age of 28. He had been apprenticed to the Great Western Railway in Swindon, and then came to Malvern in 1904, close to where his father was a Church of England minister. His father funded his early business ventures, initially based around a service garage and a bus service. Most British towns and cities had similar ventures starting at that time, leading to range of future businesses, up to and including the Nuffield Organization for example.
The Morgan Motor Co Garage and Motor Works opened on Worcester Road in Malvern in 1906, and became an agent for Wolseley and Darracq, from France.
HFS built his first car in 1909, known as the Runabout, with no intention of building it commercially. Rather it was for his personal use, but the demand was there. More finance came from Prebendary George Morgan and the Morgan Motor Co was born. The garage was enlarged, machine tools were purchased and manufacture commenced.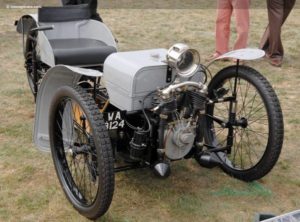 The Runabout was a single seat three wheeler, with the single driven rear wheel powered by a Peugeot engine. It also had a possibly unique combination of tiller steering and independent front suspension, based on the sliding pillar system still used on Morgans today. Later versions had various British motorcycle air-cooled engines, and by 1911 had two seats and wheel steering as well.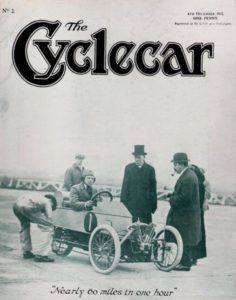 Morgan soon realised the value of motorsport as a promotional tool, and collected a series of speed, endurance and race records and wins in the years up to 1914, in Britain and in France, perhaps the natural home of the cyclecar.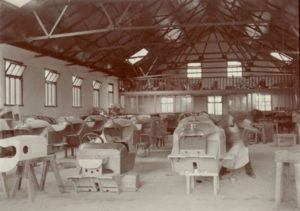 By 1913, the Worcester Road factory, formerly the garage, had been outgrown and the business moved to a greenfield site on Pickersleigh Road in Malvern. Two large workshops were built, which are still in use and are known today as the "Works", though the production cycle now goes down the hill rather than up it. The first world war saw Morgan contribute to munitions supply.
Morgan resumed car production in 1919, with all production now centred on Pickersleigh Road. Three wheelers, now with options of four seats, were still the Company's only product, though the range of bodies included the Aero sports version, light vans and versions aimed at families.
Two speed gearboxes, without a reverse gear, air-cooled twin cylinder V engines and sliding pillar suspension were constant, but features like front brakes, electric starters and lights, and overhead valve engines started to appear. These cars, with the visually distinctive exposed V-twin air-cooled engines are the classic Morgan three wheeler, and the series ran from 1911 to 1939.
The later and larger F–series ran from 1932 to 1952, with the inevitable interruption, built around a ladder chassis and fitted with a Ford 4 cylinder side valve engine within a more regular bonnet, and was known as the F-4 (Ford, 4 cylinders). Body work for these cars was also wood (usually ash) framed aluminium, built by Morgan themselves, on a steel chassis, and with the bought-in Ford engine.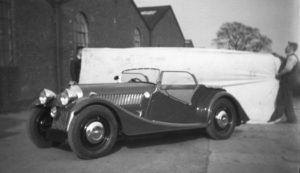 In 1936, there were significant vehicle taxation changes in the UK, with cyclecars losing much of their advantage over a regular compact car. Morgan responded with the first Morgan four wheeled car, four cylinder car, called the 4/4 (spoken as "4 4", not "4slash4"). This car was first shown in Paris in 1936, painted in Carnation red. It has been in the care of one Morgan enthusiast for around 40 years, or half its life, who I met at the Abingdon Air and Country Show earlier this spring.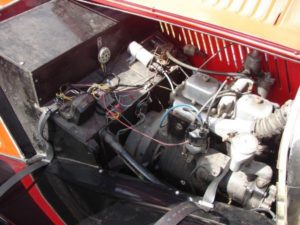 The 4/4 was built around a steel ladder frame chassis, the wood-framed body, semi-elliptic rear suspension, a four speed gearbox and a bought in engine, from Coventry Climax. The most distinctive part of the car, in 1936, if not 2016, was the sliding pillar independent front suspension.
Sliding pillar suspension, as used by Morgan, is essentially a very simple geometry, with the stub axle carrying the wheel and brake being carried by a sleeve which moves along a vertical pillar, controlled by a coil spring, and rotating around it to steer the car. The pillar is effectively a link in a rigid structure attached to the chassis.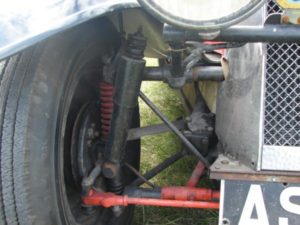 The major limitation of the system is that suspension travel has to be limited, to limit roll. As the car rolls, the wheels remain parallel to each other, rather than being allowed any change in camber angles. Hence, as the car turns, the load is placed progressively further away from the centre of the tyre, therefore, the need to limit suspension travel, which in turn leads to a harder ride. But in 1936, most competitors were using semi elliptic beam axles, and the Morgan option was arguably ahead of many in many ways. It had actually been used by Morgan since 1909 in various forms.

The number plate covers the crank handle access, and lifts when required.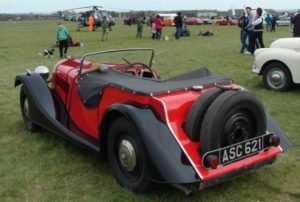 This car has changed very little since 1936. In 1937, a four seater version was offered and in 1938 a drophead coupe, with a fixed screen, full height doors and the complete wood'n'leather interior.
In 1937, a Morgan was entered privately at the Le Mans 24 hour Race in France, then as now the pinnacle of European endurance racing and an event with great symbolic value to the British motor sports community and not just for Bentley and Jaguar. The Morgan finished a noteworthy 13th overall and second in its class, a result that was repeated in 1939.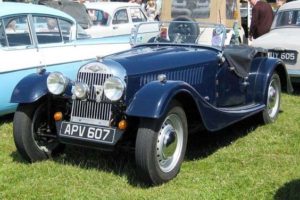 The Coventry Climax engine was replaced in 1938 by a 1267cc Standard engine, built specifically for Morgan. Allegedly, Sir John Black, Chairman of Standard, was a close friend of HFS Morgan and had indeed worked for Morgan as a draughtsman for a patent application for the Morgan Runabout, 30 years earlier.
Production of the 4/4 resumed after the war. Morgan offered the visually very similar Plus 4 from 1950, with the Standard Vanguard 2088cc four cylinder engine, with around 70bhp. The car had a significant performance increase, and motorsport success continued, principally in rallying.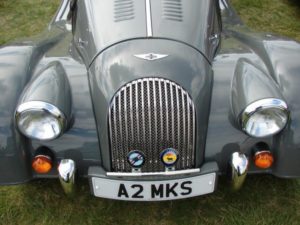 In 1954, the car was revised again, with the Triumph TR2 engine, with 90 bhp, and the radiator now hidden behind the attractive, distinctive cowl that persists to this day. The brakes were by now hydraulic and a heater was available.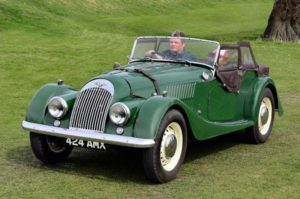 In 1955, the 4/4 name reappeared, powered by a 1122 cc engine from the Ford Anglia. Compared with the Plus 4, performance was inevitably down – 0-60 was around 30 seconds rather than 13 seconds but the car was also significantly cheaper at £713; the Plus 4 was over £800.00 (equivalent to around £15,000 now).
But the car was now looking dated, and the next step in the Morgan story starts. In 1955, MG launched the MGA, which although not a monocoque, was a clear step change from the wood framed TD and TF series, which were direct derivatives of pre-war cars.  Out went the wood frame, and a steel body was used on a very different and more modern steel chassis with wishbone front suspension,  full width styling, full height doors, integrated head lights, internally stowed spare wheel and a boot.
The Morgan was looking old, but given the relative production volumes, Morgan could not aspire to compete more directly with the MG. The company effectively, consciously or sub-consciously, was now on the path to being the contemporary builder of an old style, old technology, higher craftsmanship car, building a new unique proposition.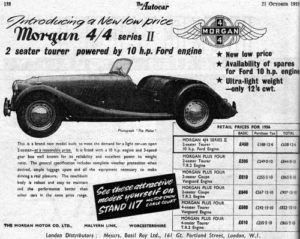 The 4/4 and Plus 4 were therefore subject to a series of changes – the Triumph TR2 engine was used in the Plus 4 from 1955, and the 90 hp car was getting quicker. The TR3 engine followed in 1956, now reaching 100 bhp and a standing quarter mile in 16 seconds. Meanwhile, the 4/4 used Ford Anglia power, including the 1930 Anglias 105E 997cc engine, with 39bhp, and later the Consul Classic 1340cc engine.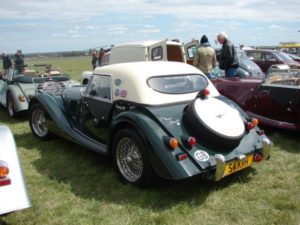 In 1959, HFS died; control passed to his son Peter Morgan. In 1962, Morgan won the 2 Litre Class at Le Mans in a prepared but road legal Plus  Four Super Sports hardtop, something that was marked with a special edition in 2002.
Morgan built on this with the 1963 Plus 4 Plus, a car that was recognisably Morgan but built in fibreglass with fixed hardtop roof. Clearly, Morgan's enthusiast and loyal customer base didn't go for this idea – 26 cars were built in 5 years, and it can't have been purely because of the slightly awkward profile of the hardtop.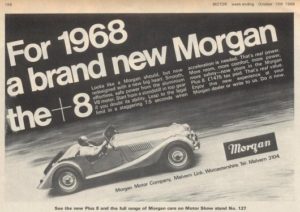 As the Plus4Plus faded, perhaps the definitive Morgan came among us, and demand within the UK started to rise after several years of higher demand from North America. The 1968 Plus 8 (or +8) was a direct development of the Plus 4, fitted with the Rover (ex-Buick) 3.5 litre V8 and bringing a new level of performance to Morgan.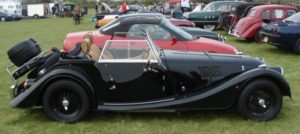 Here was a car that could now reach 125 mph, 0-60 in under 7 seconds and almost match a Jaguar E-type in a straight line, at two thirds of the price. The suspension travel was still limited, the cornering was not to Jaguar standard the weather protection was basic to say the least, but the charisma and character could out weigh that for the Morgan fan, without doubt.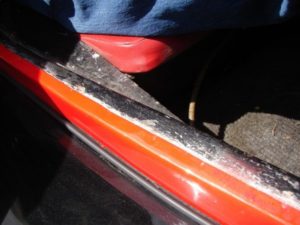 By this time, the idea of a traditionally styled, wood frame car (seen above by the seat base and sill), with a suspension design dating back to 1910 and built in a factory where the layout required the part built cars to be pushed uphill, had become an established piece of the English sports car market, with a prominence probably disproportionate to its production volume. Through the 1960s and 1970s, Morgan was producing around 375 cars a year, each built around the same steel chassis, wood framed body of steel or aluminium and a bought in engine, and the 4/4 and Plus 8 were the staple models for the 1970s.
The 4/4 by now had a Ford Cortina 1600 engine, in varying states of tune; in 1971 the Plus 8 gained US type approval and the Rover SD1 5 speed gearbox in 1976 with a 155bhp version of the V8 engine. But visually, nothing changed – the 1952 styling was still there, untouched.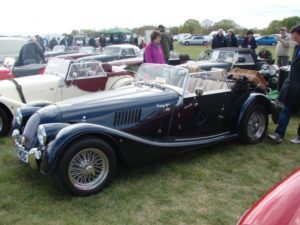 In 1981, Morgan had to take a significant step – a 1600 cc Twin cam Fiat engine replaced the Ford unit in the 4/4, as the rear drive Escort and the Cortina were replaced by more modern cars. The Plus 4 name came back in 1985 with a 2 Litre Fiat twin cam and five speed gearbox, and rack pinion steering made an appearance as well. The Plus 4 now had around 120 bhp, the Plus 8 around 190 bhp. By 1990, the Rover 800 (Sterling) four cylinder 2 litre M series engine was in the Plus 4, and waiting lists were being measured in years.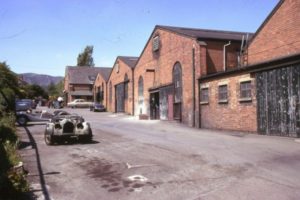 The Works in the 1970s, as seen by Hemmings
Few seemed to mind waiting five or more years for a Morgan – after all you could be pretty sure the car would be familiar when it arrived. What was inarguable was the unique nature of the craftsmanship in creating a car this way, which was undeniably a major part of its appeal.
In 1990, the BBC broadcast a series in which Sir John Harvey-Jones, the former Chairman of ICI, then Britain's leading chemical and pharmaceutical company and a true pillar of British industry, visited various businesses in a consultancy role. The most remembered edition featured Morgan, and Sir John's advice to increase prices, invest in productivity and product development was not received easily. It made interesting TV though, and not just for those very English accents.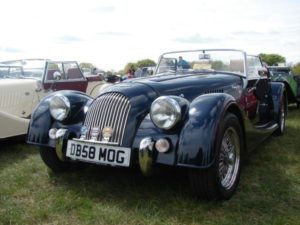 Morgan therefore continued through the 1990s in the same vein – by 1997, the Plus 8 had 4.6 litres of Rover V8 and 220 bhp before giving way to a Ford Mondeo V6 engined version, known as the Roadster. Same tune, different singer.
In 1999 came a four seat version of the 4/4 with rear bucket seats.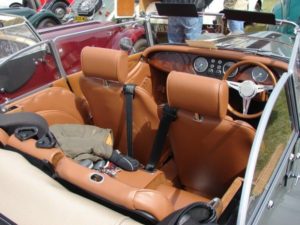 Did you ever expect rear seat belts and a neatly integrated high level brake light on a Morgan?
There were a range of changes, including a variety of Ford and Rover four cylinder engines, longer doors and even airbags, and a declaration from Morgan that the ash frames dipped in Cuprinol timber preservative (a brand more normally associated with fences and garden sheds) had proved to be remarkably effective in crash tests.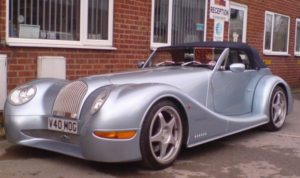 But something dramatic was stirring in Malvern. In the mid 1990s, Charles Morgan, son of Peter, grandson of HFS, had raced a car with an aluminium chassis and wood frame body. In 2000, Morgan surprised many with the introduction of the Morgan Aero 8. Style wise, you can debate if this car was a success, with a front which had a slightly cross-eyed look from the new VW Beetle headlamps and a body that seemed to take the Morgan look into an emphasised form. But the real drama was underneath.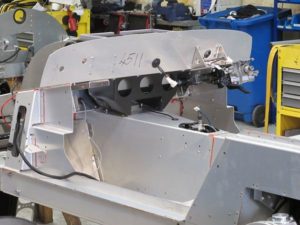 The body was still wood framed, the windscreen flat and the weather protection less than brilliant, but the aluminium panels covered an all aluminium chassis, based around extrusions, castings and stiff panels bonded and riveted into a very stiff structure. Power came from another surprising element – a 4.4 litre 32 valve V8 supplied by BMW, then influential in the British motor industry as the owner of the Rover Group of course. Suspension was independent front and rear, with no sliding pillars in sight.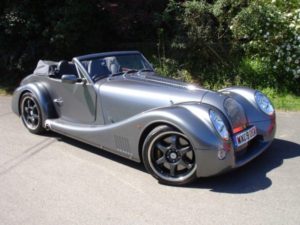 I have written before on CC about British eccentricities, and there is no doubt that a wood framed car in the twenty first century is one of them. Building that car around an advanced, high value, highly engineered aluminium chassis and equipping it with a complex V8 engine that will take it to perhaps 170 mph is certainly one also. The world is always better for variety; eccentricity is an advanced form of that and therefore this is a good thing.  It is certainly very different to anything else, even a more traditional Morgan – styling apart, it is closer to a Lotus Elise in some ways – and BMW were quoted as saying that it was the best car built using a BMW engine, other than a BMW (obviously).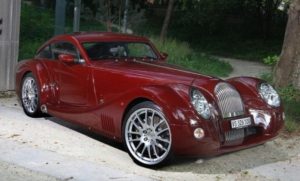 The Aero was developed into the AeroMax – a fixed head version of the Aero 8 with a profile redolent of a pre-war Grand Tourer, which is not inappropriate given its heritage, and the later Aero Super Sports, with a price of £126,000. Perhaps Sir John Harvey-Jones's advice was finally being followed?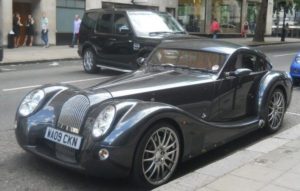 These cars are without doubt complete scene stealers from just about anything else, and whilst clearly Morgan they are also clearly a modern take on the familiar style.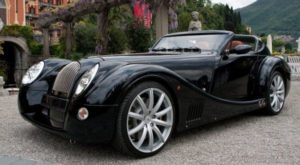 The roof of the Aero Super Sports is based on Targa panels, which could be stowed in the boot if you had the patience, and an automatic gearbox was also available. This was a very different car from the Plus 4 or even the Plus 8, which from 2012 also used a BMW engine, with a six speed gearbox.
The Aeromax and Supersports have now been aggregated into the Aero 8, which stows its hood under a clamshell boot lid. The taillights are from the Lancia Thesis.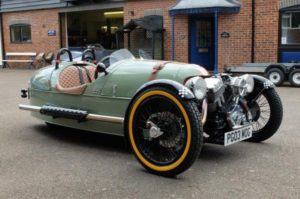 Morgan went to the archives for the next car – a rebirth of the V-Twin Three Wheeler idea in 2011, to mark the centenary of the original. An 2 litre OHV twin cylinder engine from S&S (initially it was to be a Harley-Davidson engine but this was switched, perhaps to avoid a Harley on Harley clash in the leisure vehicle market) driving the rear wheel through a Mazda MX-5 transmission, an aluminium, wood framed body on a steel chassis, and a clearly deliberate heritage theme to the entire car, or motorcycle depending where you live and the homologation regime operating there.
Either way, 115 mph and 0-60 in under 5 seconds is pretty quick, and enough to attract 2000 buyers over the first 4 years, and a lot of friendly press coverage in the UK press, specialist and mainstream.
To top that, an electric version, knonw as the EV3, is now under development, with a very modern take on the Three Wheeler style and a 20KWh lithium ion battery., carbon fibre panels over an ash frame and brass bars covering and providing cooling for the battery and motor., a combination surely only Morgan could, or would offer. This will be coming to the market in perhaps 2017, supported by UK Government grant aid. Yes, government research grant funding for electric cars is going to Morgan.
In many ways, Morgan is a contradiction. From the start, led by the obviously entrepreneurial and driven HFS, to a company that was content to build a relatively small numbers of cars of dated design 20 years later; a company that only moved to four wheels and four cylinders because of tax pressures but which chose to build sports cars rather than continue in the cyclecar market; to remain building on a wooden frame to the extent it became an unique selling point and labelled "British Heritage" but fitted with a V8 engine and still using a sliding pillar suspension; using a very contemporary aluminium chassis under the wooden frame with a powerful V8 and a British wood'n'leather interior, or a car that copies an 80 year old design and adds an electric powertrain.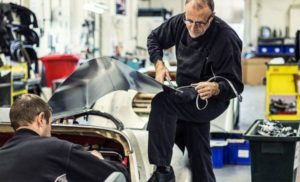 One personal observation though. Please by all means see Morgan as a metaphor for modern Britain, but only if you consider the Aero cars with their advanced aluminium chassis, albeit under a traditional wood frame body, or the innovative, original electric sportscar that is the the EV3,  Britain may still sometimes look as if it still in 1851 and the Great Exhibition, given the public face of some of our institutions, organisations and procedures, but  scratch the surface and there's a proper, modern, European country underneath, respected and admired from across the rest of Europe.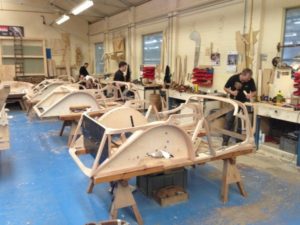 There's much that is very unusual, and unique, about Morgan, perhaps sometimes amusing, charming, beguiling even, perhaps it's British, perhaps it belongs more to the early twentieth century than to the twenty-first. Maybe, we shouldn't really view the Morgan, and by implication the company, against the normal rules but consider them as more of an instrument, akin to a bespoke musical instrument, a favourite set of golf clubs, a high quality cricket bat or the family heirloom grandfather clock. It is not always easy to make a fully logical case for any of these, but all are available and many reading this piece may have willingly invested in one of them, or something similar. For the price (the best selling 4/4 and the 3 wheeler account for 60% of so of the annual production of around 1000 cars; each starts at around £30,000), a Morgan is unarguably inadequate against many modern world criteria, yet they still endure and have a strong, loyal clientele, although the waiting lists are not quite what they were.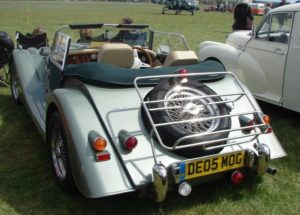 Perhaps they have a timelessness, a Britishness, carry some evidence of the execution of otherwise lost crafts and skills, mixed with the new, some of the beauty and elegance of the Malvern Hills, that also comes out in the music of the Sir Edward Elgar, a contemporary of HFS who was also born close to Malvern, and my favourite British composer, all then put on wheels. Elgar's most well known composition is probably the Enigma Variations, and the most well known of those is Nimrod, a piece, for sombre and celebratory occasions, that to me somehow evokes Britain – there is a reason it is playing softly in the background in the Battle of Britain Hall of the RAF Museum in London.