Morgan's zero-emissions three-wheel car to go on sale in Selfridges (https://www.theguardian.com/)
Limited edition version of sports car maker's all-electric EV3 costs £52,500 and aims to promote British craftmanship.
Just 19 of the UK 1909 Edition cars will be made and sold in Selfridges' flagship Oxford Street store from the end of November. Photograph: Selfridges/PA
The world's first zero-emissions, all-electric three-wheel car will go on sale in November – in the unlikely setting of a London department store, where it will jostle for shoppers' attention alongside Louis Vuitton handbags and Tiffany jewellery.
Hand-built by the Morgan Motor Company, the British bespoke sports carmaker, the two-seater will cost £52,500 and is the result of a collaboration with retailer Selfridges that aims to promote craftsmanship within British manufacturing and sustainability.
Just 19 of the UK 1909 Edition cars – a nod to the year both companies were founded – will be built to be sold in Selfridges' flagship Oxford Street store in central London from the end of November. A replica will be displayed in a purpose-built concession in the revamped ground floor accessories hall while a running prototype will be available to test drive.
Taking four hours to charge, the 1909 will have an expected range of 120-150 miles – with a top speed of about 90mph – and comes in a "luxurious yet understated black" with Selfridges' bronze detailing, reminiscent of the Oxford Street store's distinctive sign.
The limited edition car is a bespoke version of Morgan's all-electric EV3, which was unveiled at the Geneva Motor Show this year, and retains the company's traditional ash frame Power comes from a 20kW lithium battery and a liquid-cooled 46kW motor driving the rear wheel.
Sebastian Manes, Selfridges' buying and merchandising director, said a flurry of interest had already triggered some pre-orders. "We are thrilled to be able to launch such an extraordinary product, which not only looks amazing but also responds to every criteria of sustainable, responsible manufacturing we adhere to.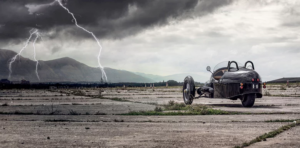 The limited edition car is a bespoke version of Morgan's all-electric EV3. Photograph: Selfridges/PA
"The development of this limited edition of Morgan's forthcoming all-electric car has been a wonderful experience from start to finish, and we can't wait to see the further response the car aficionados among our customers will give this unique and exciting collaboration. We have never done anything with cars before and hopefully this is the start of a long-term collaboration."
Jon Wells, head of design at Morgan, which employs 180 staff at its Malvern factory, where not a single robot is used in the workshops, said: "Selfridges is a big machine and we are a relative minnow. But we got together after taking some senior staff on one of our factory visits and discovered we had a lot in common.
"The whole experience has been a very productive and immersive one combining Morgan's legendary engineering know-how with Selfridges' flair for style and sustainability goals. In the online world dominated by quick clicks, and immediacy, this is about promoting and celebrating two iconic British brands which share a history."
He said 95% of Morgan cars built since the company's inception were still traceable. The car is being unveiled at Selfridges' Birmingham store – its nearest to Malvern.
About 95% of all Morgan cars built since the company's inception in 1909 are still traceable.  [I find this a very interesting comment.  My experience is that you can find the beginning and the end of a car's lineage, but finding out what has happened to that car in during the interim gets a little murky.  MB]
For shoppers with even more cash to splash, Selfridges has also created a range of upmarket accessories to complement the vehicle. They include a £2,995 trunk from British leathercraft specialist Globe Trotter made to fit the car's luggage rack, driving goggles by eyewear-maker Linda Farrow, a classic wax belted jacket from Belstaff and an Alexander McQueen scarf.
Morgan is also leading a £6m government-funded consortium to develop new EV and hybrid technologies – promising that more new technology will be introduced across its hand-built sports car range from 2019.
"By 2020 we will be seeing emissions-free driving zones in many cities and town centres. This is a huge step for us," said Wells.