16th Annual Atlanta British Car Fayre
    
There were 14 Morgans on display including a new Trike, an Aero 8 and Harry Gambills' new Aeromax as well as his Plus 8 plus numerous Plus 4s, a 4/4, several Roadsters and Plus 8s.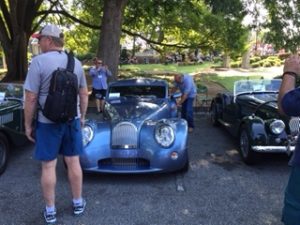 In addition to yours truly along with my  daughter Amy and grandson Eli, members in attendance were: SuperDave Bondon with Marilyn joining him later, Morgan Bondon, Drew Weigner, Lance Lipscomb with grandson Trip, local Morgan dealer Bob Boston, Fred Hollinger, Dwight Kinzer and Paul Brown, and Pete Olson parked elsewhere with his Caterham Super 7.  Cyril Brown and Ham Williams were there and Gerald Petter stopped by to say hello.     I am sure I missed someone and if so I apologize.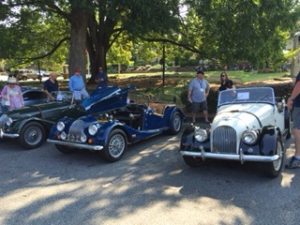 For the last several years the Morgans were parked near the Iron Horse Pub making it easy to grab a beer but also thankfully, in the shade, as it was quite a warm day.
It was estimated that there were over 300 British cars at the show, including 70+ Sunbeams as they were having their Meet in conjunction with the Car Fayre.
The Annual Atlanta British Car has become a great event at a great venue.
Hope to see you there next year.
Randy Johnson