[This is the report submitted by MOGSouth members Charlie and Anita Hill to Moss Motors following their participation in the Moss Motors Scavenger Hunt called the Moss Motors Challenge.  Enjoy.   Mark]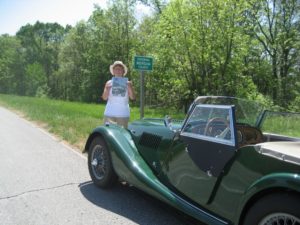 Some of my friends participated in the Motoring Challenge in their MGs in 2013. It seemed like it could be a lot of fun. My wife and I thought it might be something we could do. We like touring in our car. Much more fun that sitting around at a car show. But my British sports car is a Morgan and my Japanese sports car is a Honda S2000. MOSS doesn't have a catalog for either car.
I thought I would try it in the Morgan any way. Why a Morgan? First, some of you may be asking "What is a Morgan?" Morgan is a small British car company over 100 years old. They started with 3-wheelers which were popular in Britain then. They introduced their first 4-wheel car in 1936 and continue to build very much the same car today. The most revolutionary change occurred in 1955 when they redesigned the front end from the exposed radiator and free-standing headlights to the current cowled radiator and faired-in headlights. They were forced in to this radical change when Lucas stopped making the headlights when they lost their last big customer, MG. This was when the MG TF was introduced with faired-in headlights.
The most common question I am asked about my Morgan is if it has a wood frame. Morgans do really have a steel chassis. This common misconception is due to the traditional coach-built body which has the body panels tacked to a wooden skeleton, a construction method common in the 1930s.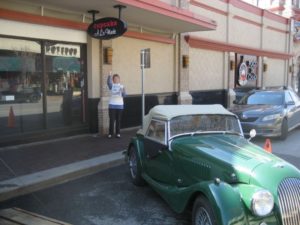 Back to why a Morgan. Reading the Moss Motoring Challenge guide, I noticed it didn't mention anything about catalogs, only that the car must be supported by Moss. Morgan, as a small manufacturer, used many off-the-shelf parts such as Lucas electrical equipment also used by other manufacturers. Also, Morgan never (and still don't) make their own engines. They used the TR4 engine in my car, a 1964 Morgan +4. Moss sells many of these parts in their catalogs for other makes. I looked through the Challenge Guide and concluded that I could at least win the Challenge Decal and a T-Shirt. Traveling to all 50 states, much less the Canadian provinces was not a realistic goal for us but many of the rest of the points were possibly attainable. The whole point was to get out and drive the car and have some fun.
The first challenge was to wait for the spring rains to wash the salt off the roads here in the Mid West. This is normal though if you have a car here that you don't want to rust out. The only impact on the Challenge was that we would not be able to get the Ski Resort with Snow photo. (There is actually a ski resort near Kansas City which I did get later!) When we passed that hurdle, we started out easy with destinations in our suburb. Our first destination was the library about 3 blocks from our home. Then came the bowling alley, Main Street, playground and a few more obvious destinations. Then we started moving on finding more difficult destinations. The degree of difficulty can be deceiving. We thought that finding a dead end street sign would not be a problem as there are lot of cul-de-sacs and broken-up suburban streets around. "Dead End Street" seems to be politically incorrect today. They are all marked as "No Outlet"! We finally found one in an older out-of-the-way neighborhood. Another one, that I thought would be easy, we couldn't get – "Under a Full Moon." The weather was uncooperative during the driving season here. It was either overcast or raining. And during the non-driving season (when there was salt is on the roads) simply pulling the car out of the garage wouldn't work as trees and buildings blocked the view of the moon. I doubt if I could have made a decent photo anyway. I have never had any luck with trying to take night photos with a digital camera. I have tried to take photos of Christmas lights several times with dismal results. I never had a problem with my 35mm Nikon. On the other hand though, some destinations that would be difficult or impossible for others were easy for us. As example, there is a National WWI Museum and Memorial is in Kansas City.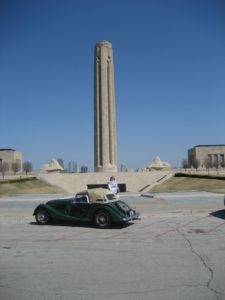 As we ran out of destinations we could find in our local area, we started longer trips. This takes a little planning with the Morgan. What is the weather going to be? Do we put up the top or put on the side curtains? Or do we leave them down. Getting caught in a sudden rainstorm in a Morgan is not fun. It is going to take several minutes to stop, pull out the top and side curtains and put them on the car. We had that happen once and that was enough. You are fine if you can keep going at least 35 or 40 miles per hour, otherwise you get soaked. Luckily we were in town and were able to pull in to a self-service car wash and put up the top. If it is going to be cooler you will want to wear a windproof jacket and/or put up the side curtains. With the low cut doors, a Morgan can get pretty chilly going down the road. We picked up some more cities and counties and even a couple of states. We had some fun drives but it wasn't nearly as challenging as trying to find some of the more unusual destinations. Along the way, though, we drove on some great roads, saw some beautiful scenery and met many interesting people. Even the couple of encounters we had with the police were quite cordial. In both cases we were stopped in an unusual location beside the road taking Challenge photos. After they discovered that we were on having any trouble, they were interested in the car and the Moss Challenge. As we started to run out of destinations that we could reach in one day trip from our home we decided that we would not be looking for destinations that would need an overnight stay somewhere. The long drives involved would change the Challenge from a casual, fun pastime we really enjoyed to something more serious that neither of us wanted.
In February, 2015 we were surprised to find that somehow we ended up in the top 50 challengers in spite of never traveling much more than 100 miles from our home.
More next year.
By Charles and Anita Hill