Morgan Motor Re-Acquires Malvern Home (http://www.fleetpoint.org)
Continuing the positive momentum in the business, and as part of a long term strategy, Morgan Motor Company has hit yet another milestone in a record year, with the re-acquisition of factory land.
At the Geneva Motor Show earlier this year Steve Morris, Managing Director Morgan Motor Company, announced a record trading year with a 14% revenue growth year-on-year. It's the first of many positive steps planned in a long-term strategy for Morgan Motor Company under the guidance of Morris, the Morgan family and recently appointed Chairman Dominic Riley.
In January 2006, the Morgan Motor Company sold the land on which the factory is built to fund product development in a sell and lease-back deal with Stirling Investments,a deal that enabled the company to develop new vehicles and implement new technology. The re-acquisition of the land follows a successful period of business development and helps to provide stable foundations for Morgan's future growth plans.
After a sustained period of successful trading and consolidation, Morgan Motor Company has now purchased both the Pickersleigh Road site and the Morgan Visitor centre. It's a clear indication of Morgan's commitment to its roots in Malvern, which for over 108 years has been the home of the Morgan Sports Car.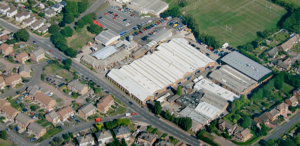 The inclusion of the Morgan Visitor Centre in the land purchase secures the future of this destination as a popular tourist attraction, which has welcomed over 30,000 visitors a year since the official opening by HRH Princess Anne in 2009.
Steve Morris, Managing Director, said: "The positivity felt by all Morgan staff is stronger than ever. To now own the land where we create our range of cars is something truly special and the news was welcomed with delight by the whole workforce. Morgan Motor Cars is enjoying a business turnaround under the guidance of the new management team and I look forward to fulfilling all of Morgan's exciting plans in the future. I'd like to thank Stirling Investments for their assistance during the 11 years of land ownership and also to Gowling WLG and HSBC for guiding us throughout the acquisition process."
Dominic Riley, Chairman Morgan Motor Company, said: "Buying back the land that is the real home of Morgan is an investment for the future of the company, an investment in the future of the factory and a significant moment for everyone that's been working so hard at Morgan over the years. We are stronger than ever with record revenue growth, increased employment, a clear vision for the future and strong demand for product from customers around the globe."