2017 Report from the Field: MCCDC's MOG 47 in Williamsburg, VA
[Report from Chuck and Karen Bernath (MOGSouth Members from Jacksonville, FL) who attended MOG 47 with their 1980 Turbo Plus 8 (a car recently converted from propane to throttle body fuel injection, while still retaining the turbo charger).  Neat car and it sounds like they had a great time.  Be sure to see the accompanying pictures from MOG 47 posted on the web site, in the Photo Gallery Category.   Mark]
The trip up to Williamsburg, Virginia for  MOG 47, June 16 – 18,  was great.  The 1980 Plus 8 ran well the entire way!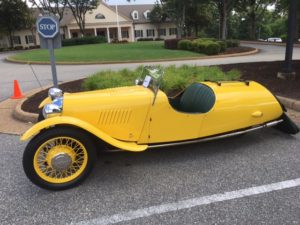 There were 19 Four Wheelers and 1 trike.  There was an even mix of Plus 8's, Plus 4's, Plus 4's 4 seaters, and 4/4's.  The predicted rains kept a lot of people from driving their Morgans.  They drove their tin tops.
The Concours on Saturday morning was accompanied by drummer and the bag piper.  The Saturday rally was fun even though rain was eminent.  We drove with another couple in their tin top.  Sure enough it rained buckets and the Morgan's that drove the rally got soaked.
Sunday was another great day.  I helped run the gymkhana and the autocross at the airport.  The Gymkhana involved dropping balls in evenly spaced buckets by the navigator, stopping the car allowing the navigator to get out and pick up a sheep laying in the road and moving it to a pen.  Driving twice in a circle around a pole with a rope tied to the pole and the navigator holding the other end without tipping the pole over, throwing bean bags at target holes, and picking flags off the tops of cones and then replacing them.  All these obstacles were timed in one event with the shortest time getting the prize.  Sunday was also the autocross. This event was set up by Rich Fohl and was quite challenging
The Awards Banquet on Sunday night drew approximately 60 people.  The food was very good.  To round out the night we won two awards!  One for the longest distance traveled and the other for best early Plus 8.  Bruce Trabb did a great job as chairman of the whole event.
We spent two days in Colonial Williamsburg seeing the sights and then headed back to Florida.  The first day of our trip back was easy as we stopped in Kinston, North Carolina at the Chef and the Farmer Restaurant for supper.  The food was New York City restaurant style and wonderful.  The second day driving was a bit longer, as we stayed to the back woods. We were hampered somewhat by 4 different rain storms.
Another great Morgan weekend!  The car ran great and we won two awards.!  Can't beat that!!
Chuck and Karen Bernath