A Morgan 3 Wheeler Is The Most Fun You Can Have At Any Speed (Feb 2018 – jalopnik.com)
[I removed a few photographs as they are nothing you have not seen before.   But I left one just 'cause.  Mark]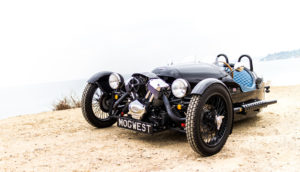 The huge V-twin engine up front. The two skinny tires sticking out from the sides. The open top. A body like a fighter plane from a war decades past. Few cars are as instantly intriguing to enthusiasts, passersby and other motorists the way the Morgan 3 Wheeler does. And you can definitely include me in that group.
There are few cars I have been so excited to drive as this one. I had my first peek at a Morgan 3 Wheeler in September 2015 during the Jalopnik Film Festival in Los Angeles. Since that time, I've been itching to get some proper seat time in one of these unique machines. Typically I get to experience somewhat immediate gratification, and rarely have to wait long to have a go.
Could the Morgan live up to all the hype I'd built up in my mind? Could it live up to anyone's? Would I walk away disappointed and dejected after all that anticipation?
I didn't care. I had to know.
(Full Disclosure: Morgan needed me to drive the 3 Wheeler so terribly that they insisted I make a trip to Southern California, pick up the car at Morgan West in Santa Monica, and drive it around for the better part of a week.)
What Is This Thing?
Morgan has produced this version of the 3 Wheeler since 2012, and they're all bespoke, hand-built, and finished in a tiny shop in the English city of Malvern Link.. It's a two-seat, front-engine, rear-drive roadster that's actually homologated and registered as a motorcycle in the U.S. since it only has three wheels. Its base MSRP is around $50,000, and there are a bunch of personalization options that can bring that price up quite a bit.
It may surprise you that Morgan has actually been making three-wheeled cars since 1911—longer than most car companies have been in existence. The first run V-twin models were built from 1911 until 1939, and even had four-cylinder Ford motors in some models from 1932 through 1952.
Morgan built this machine to be all about driving fun. It's not practical at all. There is no roof, there are no cup holders, there's no A/C nor heater.
I couldn't care less.
You Can't Be In A Hurry
If you're getting a coffee, filling up the tank at a gas station, stopping to take pictures, or standing anywhere near the 3 Wheeler, you will have people come up to you wanting to talk all about it. The first question is always "What is it?" Plenty of car people I know have never seen a Morgan 3 Wheeler in person, and fewer still have even driven one.
I was happy to play temporary host to this machine. Of the easily 100 people I talked to about this car, only three knew what it was. One guy happened to be the owner of a Morgan Aero 8 that I spotted parked at a restaurant along Topanga Canyon (Los Angeles, everybody!) and I pulled over to seek him out. The other two guys happened to be English, so they knew what was up.
Strangers are always amused by this car, and then they're quickly curious how fast it is.
What If You Are In A Hurry?
Fortunately, the power-to-weight ratio is absurdly good in the 3 Wheeler. With an 82-horsepower 1979cc S&S V-twin mounted up front, and tipping the scales at a measly 1,157 pounds, you will have no trouble running away from the car next to you at a red light.
If you accidentally pop the clutch with a bit of throttle input, you will bark the tires instantly. I may have done this in a not so accidental manner a few times, just to be sure. Pair that to the wicked popping exhaust note from that big V-twin, and you've got one stellar experience.
Morgan says that the 3 Wheeler will go from 0-60 mph in just six seconds, but I felt like it might even be quicker than that. Top speed is said to be 115 mph, but I never really tried to go that fast. Highway speeds, paired with a few quick passes to get around slower freeway drivers were easy, and the torque-loaded engine wanted to pull at any RPM in any gear.
The powertrain for this Morgan is one strange combination. It's got that big aforementioned V-twin motorcycle engine up front hooked up to a Mazda five-speed manual gearbox, and then the single rear wheel is belt driven. Find me a modern car with a more bizarre setup.
How Does It Really Drive?
Believe it or not, city driving is awesome. It's easy to maneuver, has great visibility (seeing as it has no roof, a tiny windscreen, zero pillars, and the side view circular mirrors are easy to move around manually if you find yourself in a tight spot) and the steering is super precise when you're in motion. That big diameter wooden wheel is light in your hands, and has no adjustment at all.
Luckily it meets up with my driving position properly. 19-inch wheels with tiny four-inch wide Avon tires provide just enough adhesion to keep you safe, but allow for a hint of slip when you're having a little more fun on a twisty road. I couldn't stop giggling when I was tossing the 3 Wheeler around any curve. Especially when making the back end kick out ever so slightly.
With exposed knock-off wheels and no extra body panels in your way, you'll nail every single apex if you want to. The overall length is just 126 inches, but the wheelbase is 92 inches. That proportion helps not only sharpen handling, but keeps any bumps subtle. A tubular steel space frame keeps the chassis rigid enough to keep handling in order, while providing you reasonable cabin safety.
When you are trying to park in a tight space, things do get a little harder. With no power steering, and not much steering adjustment, you will find that you'll want some momentum when you pull into a parking spot. If you're trying to make a U-turn in an intersection or in the turn lane of a four lane road, you'll have to put in some extra elbow grease.
Is It Practical At All?
Hell no. Who are we kidding?
I don't even care that it isn't practical. You can fit yourself and a passenger into the cabin with reasonable comfort, but seeing as there are no doors, getting in and out of the 3 Wheeler is similar to the process you find in a single-seat race car. Even with my experience in race cars, there still isn't a truly graceful method for making your way around the cabin. Again, I don't care about that. While it may not have climate control or heater system, the Morgan I tested was equipped with optional seat heaters, which came in nicely when cruising around Venice at night.
While the S&S V-twin cranks out a good bit of power, and you're definitely moving around more weight than the usual motorcycle this engine typically hauls, Morgan states the combined fuel economy as 31 MPG, which isn't bad at all. With a tank carrying about 10 gallons of unleaded, you'll get a good amount of driving before having to hit the station for a fill-up.
Storage is minimal. There are pockets inside the cabin, next to each person, where you can throw your mobile phone or maybe a folded piece of paper, but you won't be making a grocery run to feed a family of four with a passenger on board, and you definitely won't take this on a long road trip. There is a rear storage compartment, which nicely fit the car's tonneau cover on one side, my smaller camera sling bag on the other, and the tool kit in one small spot in the tail. Another reminder that the Morgan 3 Wheeler isn't built for practicality. It is built for fun.
Cool Details Throughout
A car like this has plenty of personality on the outside, but the Morgan 3 Wheeler also has a few interesting bits inside. There's a start button hidden behind a flap, just like you get in a Lamborghini. The horn is a toggle switch in the middle of the dash panel. The trunk is held down with leather straps. Even the headlights are activated with a switch just like the horn. It's a simple panel, but it's got plenty of character that perfectly fits this car.
Launch the missiles!
With the optional quilted seats and bright blue leather, the black metallic exterior really makes for a cool combination. I do wish my tester had the shark mouth front end, but this clean look worked nicely. One cool feature is that the steering wheel is removable, like a racing car, making entering and exiting the car a little easier.
No wimpy horn here. This thing could scare a Ford F-150.
There are plenty of weekend cars on the road you can get for around $50,000, and many of them will provide a great experience, but none of them will be as much fun as a Morgan 3 Wheeler.
If you're buying a second car, to use on weekends and for quick stints around a twisty road, this car needs to get serious consideration. At any point, at any speed, in any condition, this is easily one of the most enjoyable cars I have ever driven.
Next up: this completely old-school machine is going electric. I can't wait to see how that turns out. I guess I'll just have to drive it again and find out…