First example of £120,000 Morgan Aero GT rolls off production line (Apr 4, 2018 – www.shropshirestar.com)
The first of the swansong version of the Morgan Aero 8 – the Aero GT – has been built, with just seven more slated for production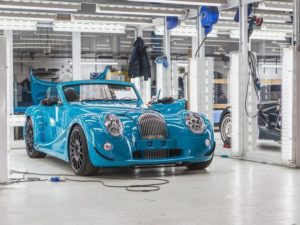 At this year's Geneva Motor Show in March, British sports car manufacturer Morgan showed off its latest limited-run vehicle – the Aero GT – and only a few weeks later, the first example has been built.
Just eight units of the swansong version of the Aero 8, which has been in production since 2001, are set to be made and this is the first. It's finished in Miami Blue paint, and is heading to Revolutions Morgan in Perth, Scotland, where it will be collected by its new owner.
"It was a pleasure to reveal the car to the world just a few weeks ago, to see the first car leave the factory is an honour and I know the new owner will be delighted when they take delivery."  Steve Morris, managing director of Morgan
Powering the Morgan Aero GT is a BMW-sourced V8 engine, delivering 367bhp to the rear wheels via a six-speed manual gearbox. It's capable of 0-60mph in 4.1 seconds with a top speed of 170mph possible.
To help keep that power to the ground, the bodywork has been heavily revised from the Aero 8 – with the GT taking inspiration from Morgan's GT3 racing efforts in 2009 – to produce more downforce. Each car is also fitted with adjustable suspension, while a carbon fibre roof is available as an optional extra for those looking to shed more weight.