Where does Morgan go after the V8?
If you have driven on the M25 near Heathrow recently you will have seen the latest big car company advertising billboard. It's a massive double-sided digital screen, 62 feet wide and visible to all 12 lanes of M25 traffic.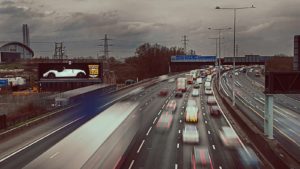 Now that's what you call exposure. And the car in the picture? The latest hi-tech BMW or futuristic Audi perhaps? No. As the slogan makes clear – "Hand-made in Britain since 1909" – this is as retro as motoring gets…
It is the Morgan Motor Company's first-ever billboard ad campaign in the capital; there is another huge display on the M4 between Chiswick and Hammersmith. Why? For managing director Steve Morris it's about taking the Morgan message to a new audience.
Morgan seems to be on a bit of a roll right now. In February this year, the family-owned firm announced record growth of 19 per cent, employment at the Malvern Link works at its highest-ever level, exports up and improving margins for a £2m pre-tax profit in 2017.
To celebrate it went out and bought a London bus: the No 159 to Islington Green, and the last-but-one Routemaster to be taken out of service in 2005. Once converted into "event space", it will be all aboard for hospitality, Morgan-style, at a range of events this year. And yes, of course, it is due to be on duty "Over the Road" at the Goodwood Revival in September.
The connection between this bus and Morgan? The Routemaster first went into service in 1968 which was the year the Morgan Plus 8 was launched. Like the No 159, the rip-roaring sports car has decades of faithful service behind it on road and track – it has been Morgan's flagship, icon and breadwinner – but it too has now been pensioned off as the supply of BMW 4.8-litre V8s ends. The last bent-eight Morgans checked out in style at the Geneva Motor Show in March with special farewell editions of both the Plus 8 and the Aero GT.
Once the 50 Plus 8 50th Anniversary models and the eight Aero GT specials have sold out (which they virtually have, says the company), Morgan will be down to just its Classic range – 4/4, Plus 4 and Roadster – the Three-wheeler in petrol vee-twin form and, due in production by the end of 2018, the battery-powered EV3.
The Classic models are popular and the Roadster should be in line for a boost after 2018 updates that include – shock horror! – a coil-sprung multilink rear end to replace the cart-sprung live axle. But the V8s were the money-spinners (the final models are selling for around £140,000), while it is still only the Three-wheeler that is exported to the US, the Classic range stymied by its lack of airbags and signature sloping back end – it looks great but is said to fall short in the crash tests.
V8-less, it could be said that Morgan might be in a bit of a hole, despite the upbeat mood. The firm is certainly at a crossroads; question is, which direction will it take for the new audience it is carefully grooming?
Morgan marketing chief Toby Blythe might have just lost a third of his range but he is staying positive – and looking across the pond. The long-awaited changes to US low-volume exemption rules will, if approved, grant safety and emissions concessions for cars that are imported in small numbers.
GRR found out more about where Morgan is going next when we caught up with Toby Blythe recently…
Just how important is the US market to Morgan?
After 109 years it should be one of our biggest markets. We have 13 franchise partners in the US selling about 70 Three-wheelers a year, and they are crying out for the Classic four-wheelers. As soon as the exemption goes through it will open up a 500-cars-a-year market for us.
How are you getting your message across to the US administration?
I would like to offer President Trump an open invitation to visit us in Malvern Link, have the factory tour, drive some cars and experience first-hand the most iconic British sports car. We would explain that we are a small eco manufacturer that wants to support the US businesses that work with us.
It's too late now to sell the V8 models in the US but what about their replacements?
Right now there is no direct replacement for the Aero and the Plus 8's future in the Morgan line-up hasn't been decided either way. We are working 3-4 years ahead on new product and have an ever-growing research and development department. It's not just about the past 109 years, we are preparing ourselves for the next 109 years.
What engine will replace the BMW V8?
We are not expecting to make an announcement on that in 2018.
Would it be important to have a British engine? What about the JLR supercharged V8?
It's more about finding the right power unit for the model rather than where it comes from. In terms of Britishness, we don't need to worry about that. Everything else is British and hand-made in Malvern. There is no dilution of Britishness using different engines and never has been. The JLR V8? That would be good, 575hp. But it's a matter of finding the right partner to supply engines for the life of the product. You know, we have never manufactured our own engines…
Would any new Plus 8 have to have a V8?
No, I wouldn't think so. Historically the name has been synonymous with a V8 but it doesn't have to be, as others' naming strategies have shown.
You are about to have one electric model, what about a battery-powered or hybrid Plus 8?
People like electric cars. We are looking at all kinds of possibilities for the future.
How well is your partnership with (electric and range-extender specialists) Frazer-Nash Research working?
It's brilliant. As new powertrain partner, they have helped us with the EV Three-wheeler which has come on leaps and bounds in terms of range and packaging. There is still some work to do but it will be on sale by the end of the year.