Aston Martin Vanquish IP Mystery Buyer Found? Hint: the suspect is also English – 4/12/18 (autonews.com)
[This rumor is swirling. There are lots of press reports stating that Morgan and Aston Martin have negotiated some sort of deal related to the Vanquish.  Perhaps we will hear something from the Geneva Show, where Morgan typically makes their announcements and new vehicle reveals.  Mark] 
We reported recently on the $26-million sale of Aston Martin's intellectual property and design drawings for its departed Vanquish. Rumors abound about who the buyer was and while Automotive News had initially surmised that the Morgan Motor Company may have been involved, both Aston and Morgan were non-committal.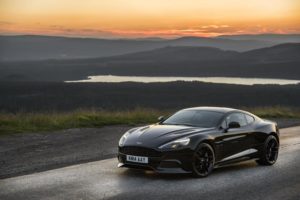 The reason Auto News is now practically convinced that it was indeed the 110-year-old British car manufacturer is that Morgan has just announced plans to build a new model with specs that practically mirror those of the outgoing Vanquish.  Namely, a rear-wheel-drive, front-engined coupe built on a bonded and riveted aluminum chassis.  [This is the Aero 8's and Aero based, Plus 8's current spec, and has been for years,  so this isn't the 'smoking gun', they seem to think it is.]
Aston Martin's CEO Andy Palmer explained to Automotive News that he agreed to sell the Vanquish tooling as well as 18 months of Aston Martin Consulting services to help with the new car's development.
He only did so after receiving reassurances about the way the future car would be executed. He also mentioned that the customer didn't want the Vanquish connection named. And so, it remains, no official announcements have been made but we would be surprised if this were not the case.
Morgan currently offers three models to US customers, the quirky three-wheeler and the Plus 4 and Roadster 3.7 (which you need to source your own engines for). [Not exactly true.  Morgan provides the engines and the dealers have them installed.]  All three have long wait lists.  But with this new high-performance flagship, due for release at some point in the mid-2020s, it could be the ideal vehicle to offer power-hungry American shoppers.
Aside from mentioning that the design would follow its traditional approach, details on the engine and other drivetrain components have not been revealed yet by Morgan. Whether it ends up using a version of the Aston's 5.9-liter V12 or perhaps another BMW V8, we cannot wait for some more details in the coming months.