This is what it's like to drive Morgan's AR Plus 4… https://www.carandclassic.co.uk/ By Chris Pollitt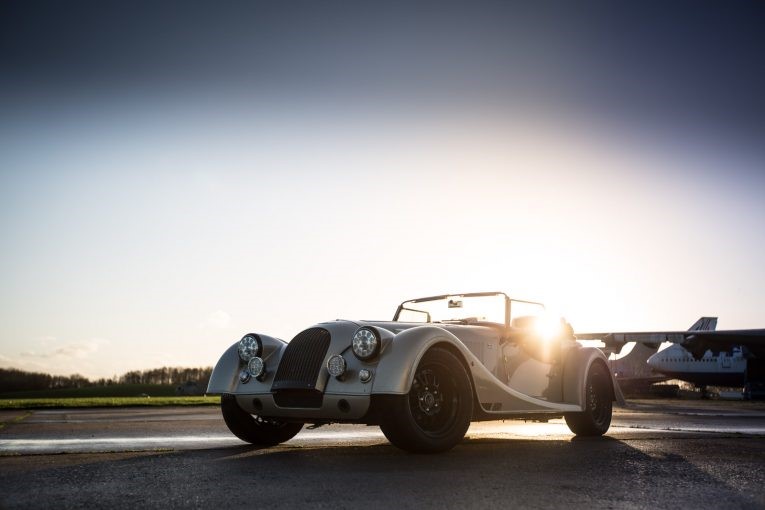 Photos by Bruce Holder
When you think of a Morgan it's perfectly acceptable for the mind's eye to draw up the image of gentle drives in the countryside, gingham blankets and picnics in the sun. And for many older Morgans, that is most definitely the case. However, we really shouldn't let ourselves think that. Morgan has been entwined with motorsport since its black and white beginnings way back in the 1900s. The company was founded in 1909, but just three years later in 1912, Morgan's three-wheeled offering was on the steep banking of Brooklands, where it was competing to win the award for greatest distance covered in an hour by a cycle car. Admittedly, Morgan lost out to a GWK, however, the following year it scooped the victory by covering 60 miles.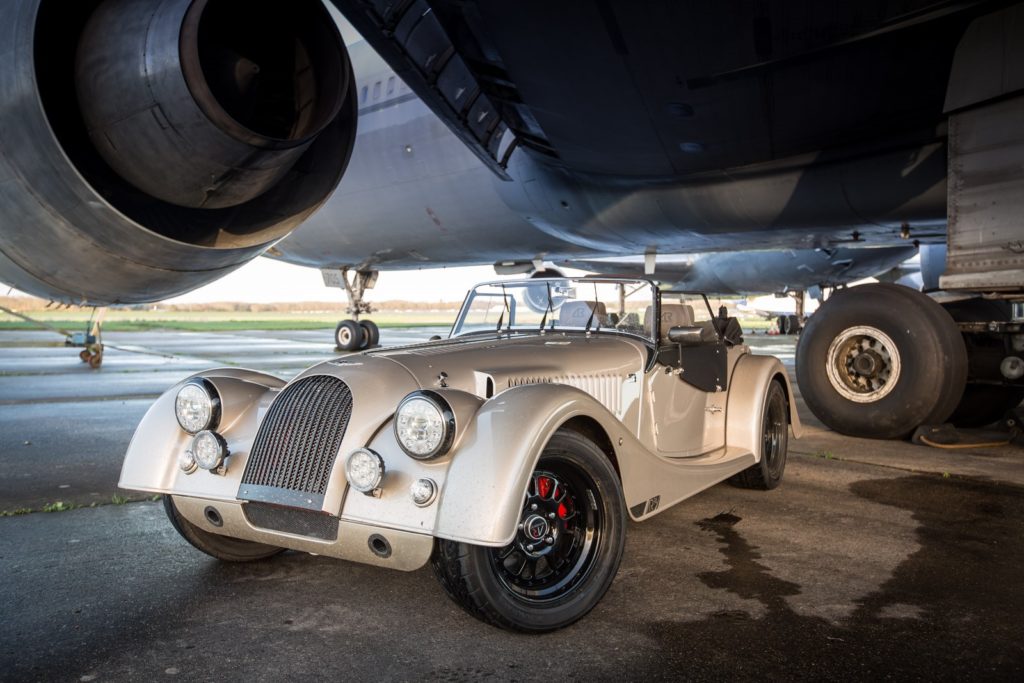 The point here is that Morgan cars and competition go hand in hand. Over the decades the model range has grown, and so too has the racing arm of Morgan. Morgans have been seen at Le Mans, they've been seen at hill climbs and thanks to the incredibly popular Morgan Challenge racing series, they have been seen battling it out in packs at almost every circuit in the UK. Yes, Morgans like to race. A lot.
This has led to the growth of Morgan's side business, if you will, which goes by the name of Aero Racing. It's here that select Morgans are 'breathed' on in order to get them competition ready. Suspension, wheels, brakes, race equipment such as seats, roll cages and fire extinguishers, and of course, engines, are all fitted or built in house at Pickersleigh Road alongside the road-going counterparts.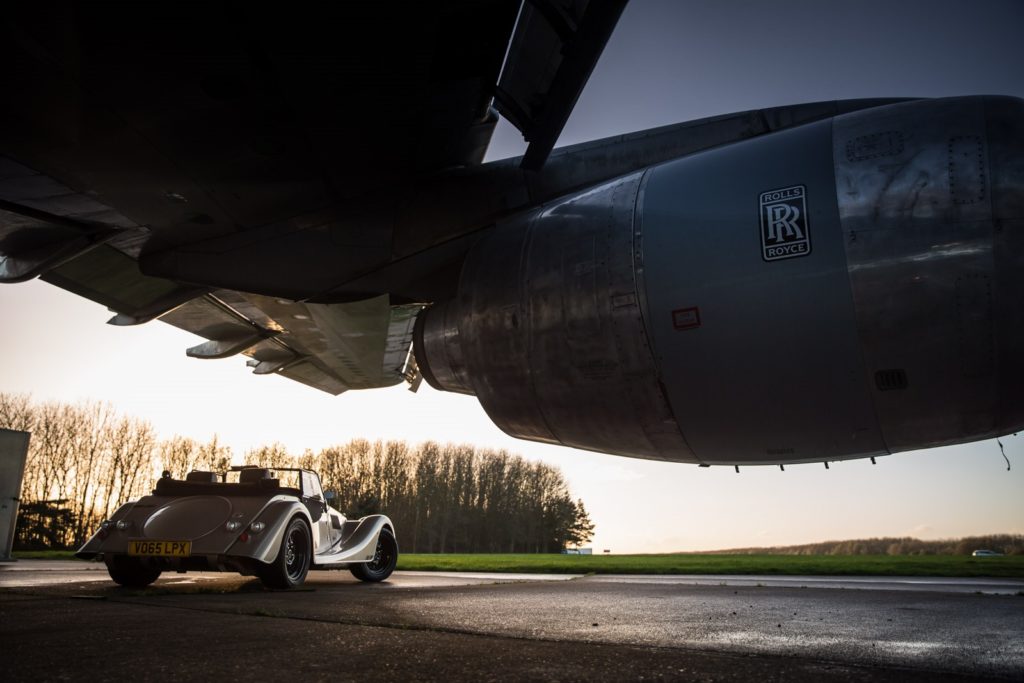 Of course, when you have a race shop on site, you're going to want to capitalise on that, which is exactly what Morgan did a few years back with the car you're looking at here. This is the Morgan ARP4. That's Aero Racing Plus 4. And this is more race car than road car, but it's a road car nonetheless. Think of it as Usain Bolt in a houndstooth jacket. Smoking a pipe.
The Plus 4 has been in production since 1950 and many would argue that it has proven itself to be the backbone of the company. The Plus 4 is the go-to car from the Morgan range. There's the smaller-engined 4/4, but that can leave more spirited drivers wanting. There's the V6 Roadster, but for some this it too far removed from the traditional Plus 4. Then of course there are the V8 Aero cars along with their successor, the Plus 6. These are halo cars though, and their bonded aluminium chassis and modern tech detract, for some, from what a Morgan should be. The Plus 4 is pure, traditional Morgan though, hence its huge popularity. Even now, in 2019, the Plus 4 still boasts that traditional steel ladder chassis with an Ash-framed body sitting on top, all handmade of course.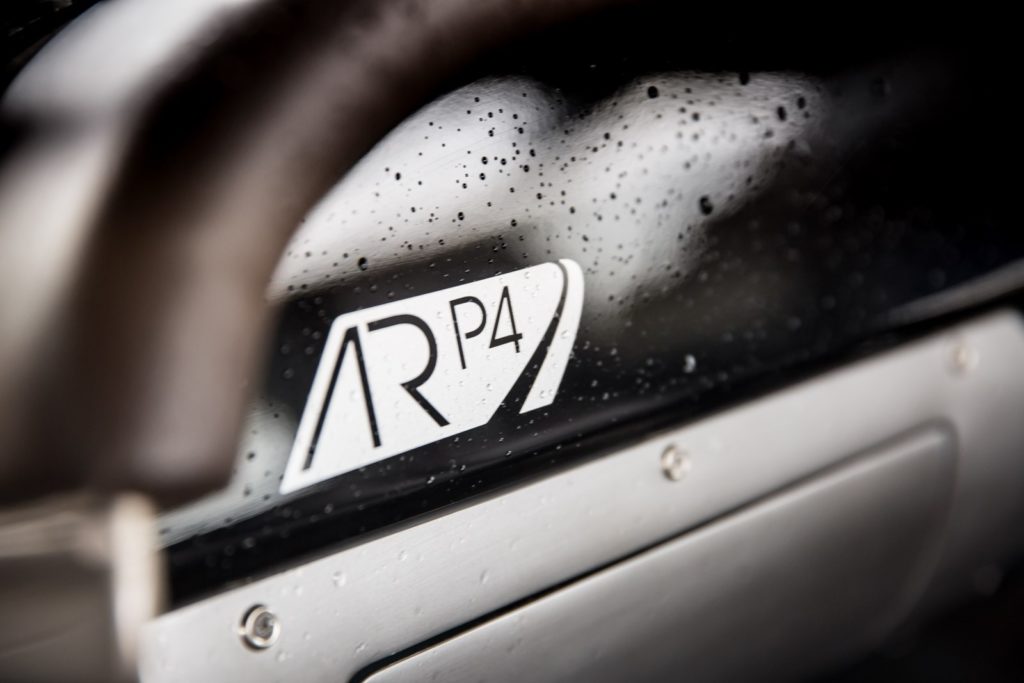 The ARP4 takes the normal 2.0 Plus 4 and squarely drop-kicks it into the absurd, but in the best possible way. As you look at the car it's all very familiar. Those long, flowing wings. The bonnet that spurs away from the driver for a seemingly impossible distance, that tight but perfectly trimmed cabin. Yes, it's just a Plus 4. Until that is, you look closely. The custom-made Image 16×7-inch split-rim wheels grab your attention first, and then your eyes are naturally drawn to the rubber wrapped around them. Yokohama 225/55 AD08R in this case, which for those in the know, is a serious tyre.
There are other visual hints towards the ARP4's true purpose. The black grille, the lack of bumpers, the exposed aluminium in the cabin, it all suggests something other than gingham and sandwiches.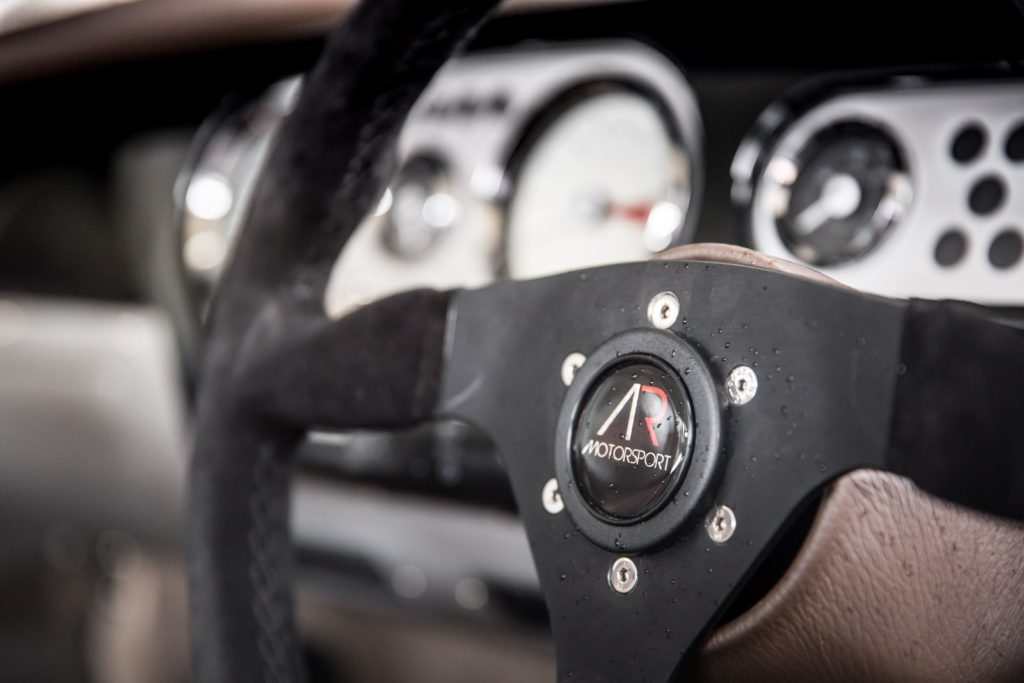 Open that handmade, heavily louvred bonnet and you're in for a treat. The 2.0 Ford engine that you'd normally find in a Plus 4 is still there, but only in essence. The reality is a 2.0 Ford engine that has been breathed on, heavily, by none other than Cosworth. And Cosworth knows a thing or two about screwing the ponies out of a Ford engine. 225 ponies in this case, thanks to throttle bodies, level 2 race cams, a re-worked cylinder head and a reworked crank on which you'll find Cosworth's forged rods and pistons. Bolted onto the back of it is a five-speed manual close ration 'box, which in turn is bolted to a 3.9:1 differential.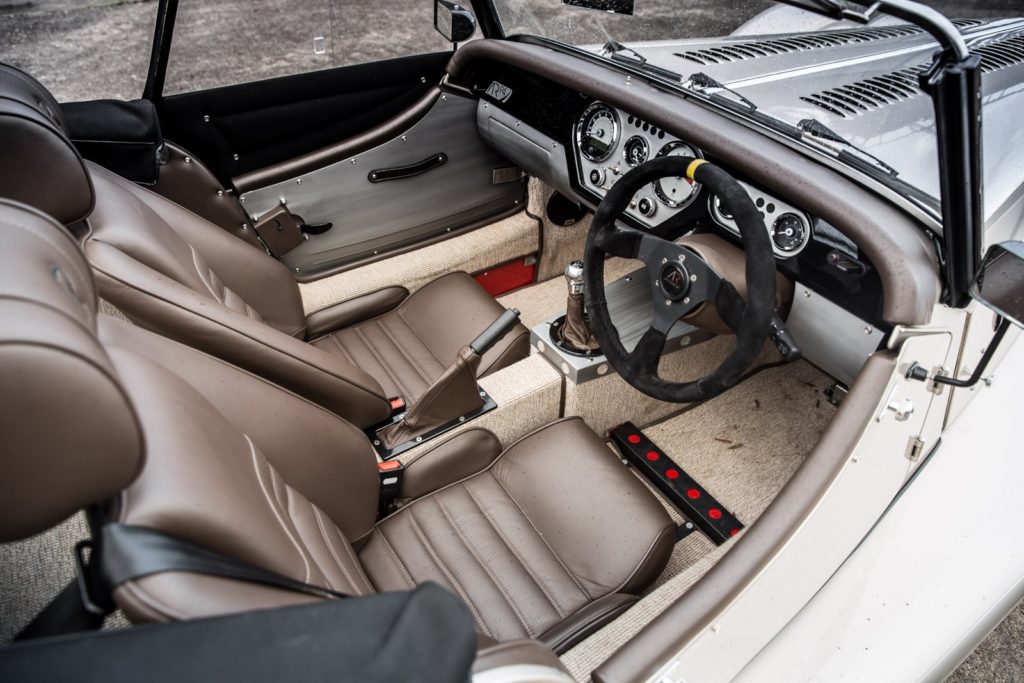 Of course, power is nothing without control, but the ARP4 has the covered in spades. First of all, there are those sticky Yokohama tyres. Then there's the five-link rear suspension, while Spax adjustable shocks can be found at both the front and rear. Four-pot Aero Racing developed brakes sit up front with vented discs, while solid discs take care of things at the back. This is a fully resolved, no point missed, out and out race car. It just happens to have a radio and leather seats.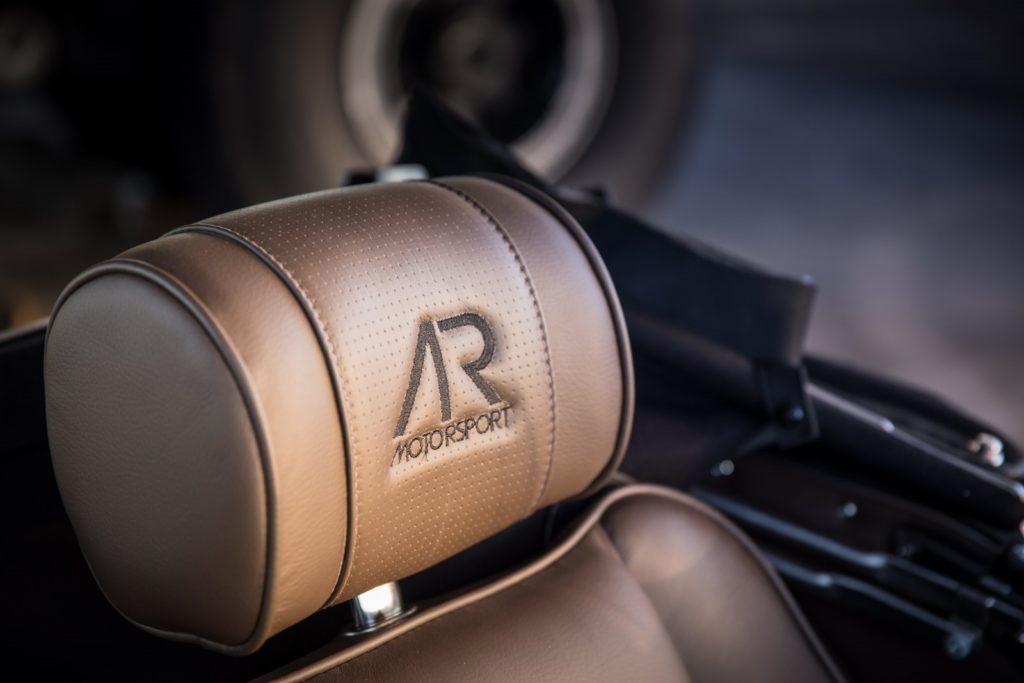 And that's the thing. As we slide into the driver's seat, we can't help but be lulled into a false sense of security by the familiar leather and rich box weave carpet. It's just like sitting in a 'normal' Plus 4, but with white dials and a touch more metal on show. It is not, however, the ARP4 is not a normal Plus 4 when you press the start button.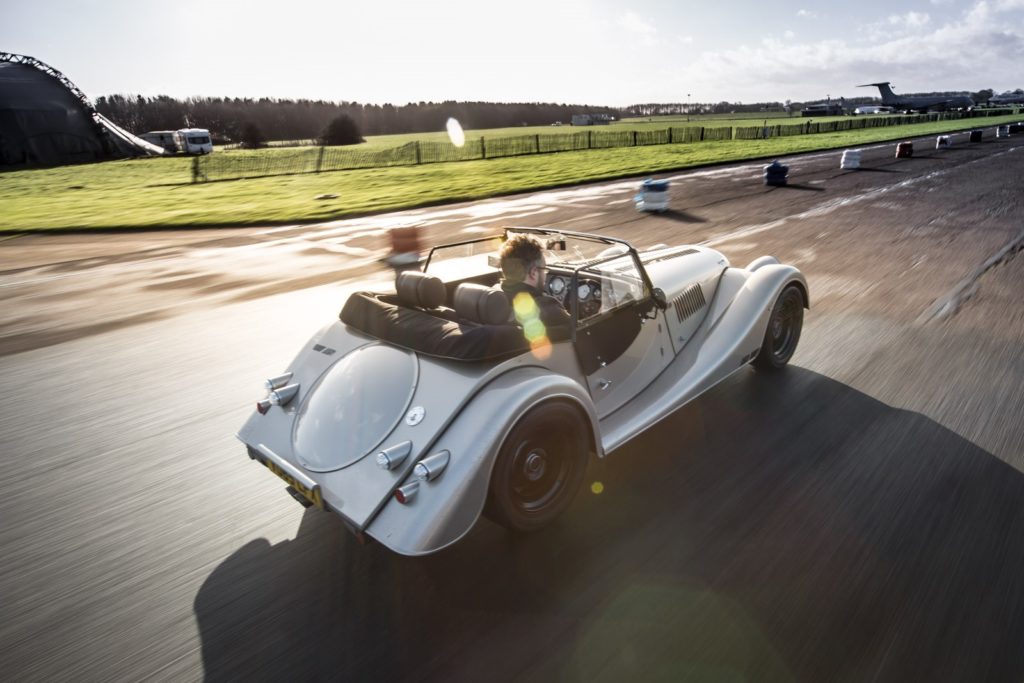 The car barks into life with an urgency that takes you aback. The throttle bodies snarl and gulp for air, and then you jab the throttle. The noise of the throttle bodies is captivating, intoxicating in fact, and more than enough to remind you that this is no normal Plus 4.
As we engage first, we look out on the empty runway of Bruntingthorpe ahead of us. No traffic, no speed cameras, no laws to abide. It's just us and a car that was built, that wants to go fast. Engage first, come off the surprisingly light clutch, we're off. Without trying the rear wheels spin up and rooster tail water behind us. Second, we find grip and reward the ARP4's obedience with a bit more throttle. Third, we're coming up to 100mph and also the first corner, a long, sweeping right-hander at the bottom of the runway. Camera car in front of us, we decided to lean on the Morgan through the corners in a bid to get a heroic powerslide shot. But we can't. Despite being rear-wheel drive, powerful and about as heavy as a Post-It note, it will not slide. This thing is planted firm. We try to induce it with a clutch kick. A little slide out, then back in line. It will not break traction without a fight. We are, frankly, impressed. The ARP4 is a well set-up car.
We come out of that bottom corner and start our advance of the runway itself. Camera car be damned, we want to see what we can get out of the ARP4. Fourth, 120mph and we're still pulling. The wind noise is loud, but those throttle bodies are not willing to lose the shouting contest. Fifth and final gear in that MX-5 gearbox and we climb to 135mph before we need to work back down through the gears for the tight right-hander. As we do, the brakes bring the speed down quickly and without drama, the car stays level through the fast corner and then we start the process all over again as we head down the back straight. This thing is like a drug. The noise, the speed, the sharpness and directness of it. It's astounding. And the grip, just… wow.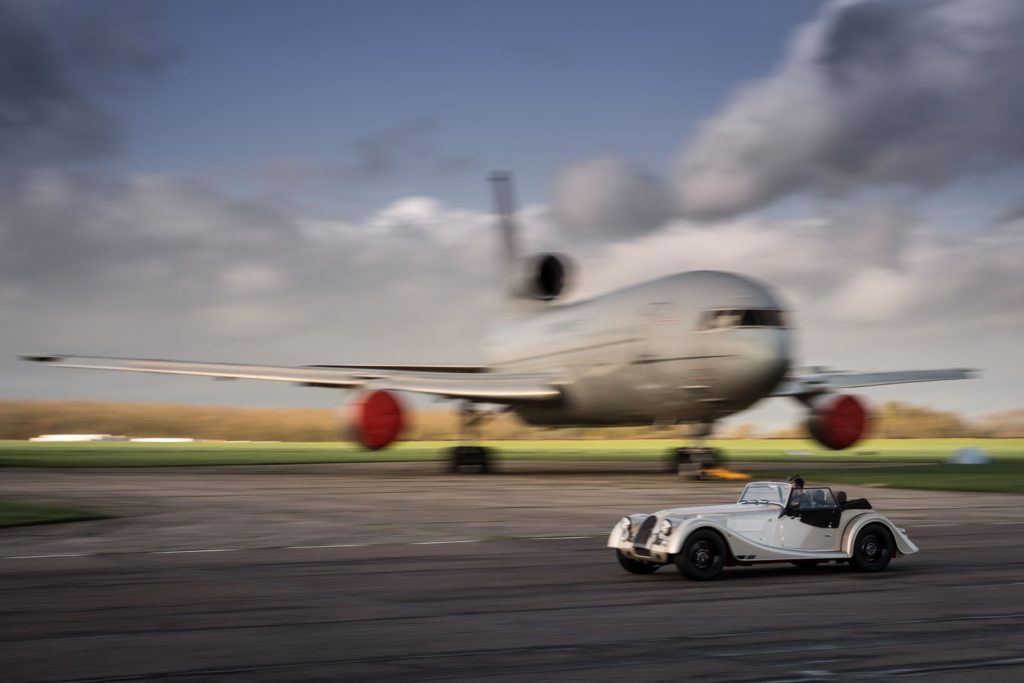 Limited to a production run of just 50, the ARP4 was a rare car when it was new, but it's even rarer now. However, they do come up for sale from time to time. To get yourself into one, expect to part with £60k at least. But trust us, if you do, you'll be very glad indeed. The only thing that will upset you is the fact you don't have your own runway to play on.