2021 MOGSouth Noggin / Cars and Coffee at Amelia Island, 21-23 May 2021 – Report From the Field
MOGSouth 'Noggin' and Cars and Coffee at Amelia 21-22 May 2021
We found a new location for MOGSouth's Friday evening 'Noggin' (for those of you unfamiliar with term, per Webster's dictionary a noggin is (1) a small quantity of spirits or a small mug or cup). Our new location was the Surf Restaurant and Bar in Fernandina Beach, FL (Amelia Island, FL).  And it worked out quite well!!
As is the norm, MOGSouth holds a noggin (or a 'beer call', if you'd prefer the American term!) the Friday evening of the Amelia Island Concours d'Elegance weekend to gather all the Morgan types in town together before the Cars and Coffee at Amelia event on Saturday. The Surf was the designated spot this year as last year's location proved to be a bit too cold! It was a roof top location with a stellar view, but it was also subject to the cold ocean breezes and we froze. Not this time. It was warm, certainly attributable to the later timeframe (the month of May versus the usual March (COVID adjustments…) Who knows what next year will bring…
But my weekend of woe started earlier a mere half mile from my hotel. One of the tires on my trailer decided it was time to go and shredded itself all over the road!! I pulled over and stopped and then after some reflection and discussion proceeded the short half mile to the hotel and parked. I had a spare and thought about getting out the jack, but then someone said AAA and I elected simply to call and let them do all the work while we sat in the bar at the Surf and drank beer!! Easiest tire I have ever changed!
I can't complain about our new location. In my mind, the Surf proved to be a great spot for our noggin!! Plenty of space, we pushed a few tables together on their patio, and had reasonably attentive staff. The food was fine, although not gourmet, but the beer was good and cold! A few rain showers while we were there, however, we were under cover and out of the weather.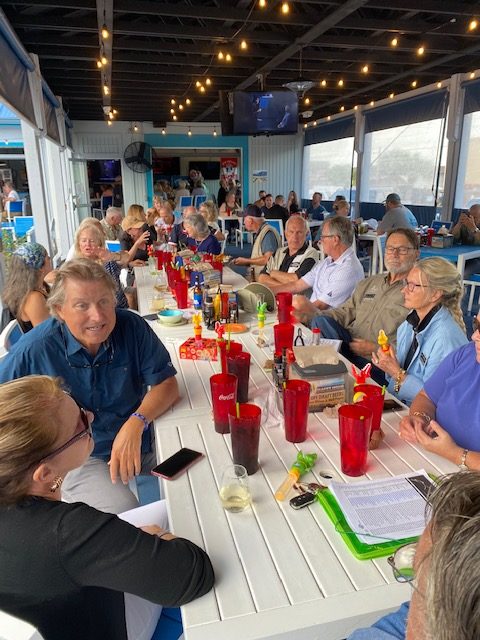 The new location didn't keep the stalwarts away and it certainly didn't dissuade a rash of new Morgan folks!! Even a few notables. The vintage tire mogul, Corky Coker, stopped by. Who knew he has a Morgan trike at home in Chattanooga? He certainly does need to join MOGSouth!! There were quite a few new faces. Some newly joined folks and some folks looking to join.
I was initially worried a bit about the band, but that proved to be unnecessary. They were really not over-powering (we were about as far away from the speakers as we could be) and a few of our folks were even caught dancing! It was all good fun! I think the YouTube video, already posted to the internet, has gone viral!!
Saturday morning came exceedingly early, although some were out beforehand, searching for breakfast?? As is our routine, the Morgans gathered in the parking lot of the Surf (yup, the same place . . . like it was planned that way?) early to convoy over to the Cars and Coffee location as a group. This keeps us parked together rather than all over the place!
We had a few mishaps along the way (my '51 Plus 4 lost power and I needed a push, and I heard about some overheating??), but we all got there and were parked in a pretty good location (right next to a food and beverage vendor).
A beautiful array of Morgans . . . in fact a few spectators thought the Morgans stole the show when we entered the field! The crowd couldn't wait and quickly gathered around us, before we even had time to get our chairs and what-not out of the cars! Lots of 'knowledgeable' (some not so much!) spectators and lots of photos taken. I was up and down from my lawn chair, all day, answering questions and letting kids sit in my car for photos. By the end of the day, and it ended early enough (1 PM, I think?) I was exhausted. Normally they don't end the event so early. Normally it's more like 3PM. It may have been a concern for the staff and the May heat? I don't rightly know.
Well, when they turned us loose, Andrea and I headed back to the Surf for a late lunch and a nap!! As is the norm, the traffic was chaotic, but Andrea's telephone-based GPS took us (and those following us!) through some lovely Amelia Island neighborhoods, to bypass the big, usually congested, intersections. A bit circuitous route but it worked!! We joined two other Morgan couples for lunch and plotted out our Sunday return to Orlando.
Sunday was another day of trials and tribulations for me. A second trailer tire let go before I was even off Amelia Island (the steering wheel was vibrating really hard at any speed above 40), so I ended up replacing them all in Jacksonville. Finding new trailer tires and some place willing to mount them, on a Sunday, was miraculous! Rick Frazee was traveling with me and was a godsend. It is always best to travel in packs!!
Looking forward to seeing you at the next event!!
Cheers,
Mark
(Photos Courtesy of Rick Frazee and Karen Bernath)