2021 MOGSouth / GatorMOG Road Trip to Key West, FL 3-10 Oct
The event for 2021 is planned. Details will be forthcoming. This is our third trip to Key West, FL and we learned quite a bit from the previous two trips. The basics of this trip include the following;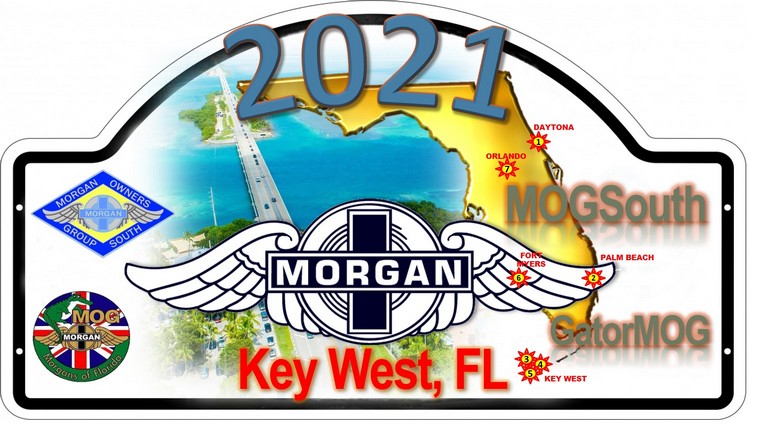 Limited Number of Cars – Too many cars, means too many people! Something like herding cats . . .
No 'Marathon' Drives – I am not really interested in getting up and out early and driving until the sun goes down . . .
No 'Highways' – Mostly Back Roads – The highways all look the same! Only one short bit (downtown Miami) where we can't avoid the highways but we will travel together and keep the speed down.
No 'Crack of Dawn' Starts – What?? and not take advantage of the cardboard waffles offered by the hotel??
No Formalities – It's just not my style! You won't need that tux or evening gown! No room for it anyway!!
Lots of Nature Breaks – Frankly we are getting older and need to stop a bit more often . . .
2+ Days in Key West – Need more time to see the sites . . .
The tentative itinerary is as follows (Activities/times are subject to change so be flexible!) Extra Expenses – This is a 'Pay As You Go' sort of trip. Each participant must pay their own way. Meals, gas, and hotel rooms will be on you, but there are other planned activities that have individual ticket costs. If you choose to play you will have to pay!! We have done our best to minimize costs, but this is Florida in the Winter so prices are somewhat elevated.
Day 1 (Sunday, 3 Oct) – Daytona Beach – (Drive From Home), 1830  – Open House at Morgan Dealer Christopher John LTD, Group Dinner
Day 2 (Mon, 4 Oct) – Daytona to West Palm – 4.5 Hrs (236 Mi), 1830 – Party Hosted by MOGSouth Members Bennett Shuldman / Eric Singer
Day 3 (Tuesday, 5 Oct) – West Palm to Key West – 5.5 Hrs (263 Mi), 1830 – GatorMOG Noggin (Pizza and Beer)
Day 4 (Wednesday, 6 Oct) – Key West – Breakfast, Lunch and Dinner – On Your Own, 1730 – Sunset Catamaran Cruise
Day 5 (Thursday, 7 Oct) – Key West – Breakfast, Lunch and Dinner – On Your Own
Day 6 (Friday, 8 Oct Nov) – Key West to Naples/Fort Myers – 5 Hrs (237 Mi), 1300 – 1400 Air Boat Ride Everglades Safari Park, 1900 – Party Hosted by MOGSouth Member John Pokorny (Cape Coral).
Day 7 (Sat, 9 Oct) – Naples to Winter Haven – 3.5 Hrs (150 Mi), 1900 – Party Hosted by MOGSouth Members Tom and Cathy Coryn Party
Day 8 (Sunday, 10 Oct) – Winter Haven to Orlando – 2.5 Hrs (100 Mi), 1230 – 1430 Lunch at Ace Café, Orlando, FL  (Followed by a 30 – 45 mins Drive to Lake Mary, FL), 1800 – Close Out Party Hosted by GatorMOG at Liam Fitzpatrick Irish Pub
If you think you will want to participate send an email to Mark Braunstein at mogsouth@yahoo.com or series1@cfl.rr.com and it is recommended that you do this quickly as the available slots are going fast!
Mark will let you know if you are on the list to go and send you emails as the details evolve and more information is known. Updates will also be posted to the MOGSouth Website at www.mogsouth.com so check the website often.