Details – 2022 GatorMOG Fall Noggin – Daytona
A Special Commemoration of the 1962 Morgan '1st in Class' Victory at Le Mans
Concept – GatorMOG Fall Noggin – Long weekend. Friday November 4th – Saturday November 5th. Home on Sunday (or ??). This event is being held in conjunction with the HSR 24 Hours of Daytona Classic. We have negotiated with HSR and will have a Morgan specific Car Corral in the infield, Laps of the Speedway, etc. We have done this before, a few years back, however it was freezing cold. Hopefully we will have warmer weather this time!!
Hotel – Hampton Inn, Daytona Beach-Speedway-Airport, 1715 W. International Speedway Blvd., Daytona Beach, Florida 32114, 1-386-257-4030. If you choose to call, be sure to reference the 'Morgan' group.
Direct Hotel Reservation Link for Morgan Group Rooms
In search of ambiance, we attempted to get a hotel right on the water, but alas there is a big event happening in Daytona the same weekend as ours.
So we opted for Plan B, a hotel near the race track and all the new restaurants, shopping, etc. We have a limited block of rooms at the hotel. Use the group 'Morgan' to get the discounted rate. The block will only be valid until 6 October 2022, so make your reservations now (You can always cancel should you need to!))
Tickets – You Must Buy Tickets for this Event. If you are only going to participate in the MOGSouth / GatorMOG Car Corral on Saturday 5 November, buy the single day ticket / 'Saturday Access Only'. If you will visit the track on Saturday and again on Sunday 6 November (or Friday 4 November!), you need the two-day ticket.
Tickets are required for both you and your navigator. If attending alone, you will only need one ticket!!
Tickets are purchased by completing the form found at the following link.
GatorMOG Daytona Noggin Ticket Request Form
You can print it, then fill it out and sign it. Then scan it and send the scanned form via email to lyn@hsrrace.com. Else, if you cannot scan it, perhaps you can take a picture of the signed form with your phone and email the picture?
Finally, if all else fails, mail the hard copy to Rick Goolsby, 1212 Edna Dr., Port Orange, Fl 32129
These tickets are specifically for Car Clubs with Car Corrals. They include infield parking. Also, there will be parade laps of the track around midday, assuming there is sufficient time available, and the track is available. (Note: In 2018 we were limited to a single lap as the track was not available for more.) Parade laps are normally $50 each and infield parking on a regular ticket is $15, so it is a pretty good deal!!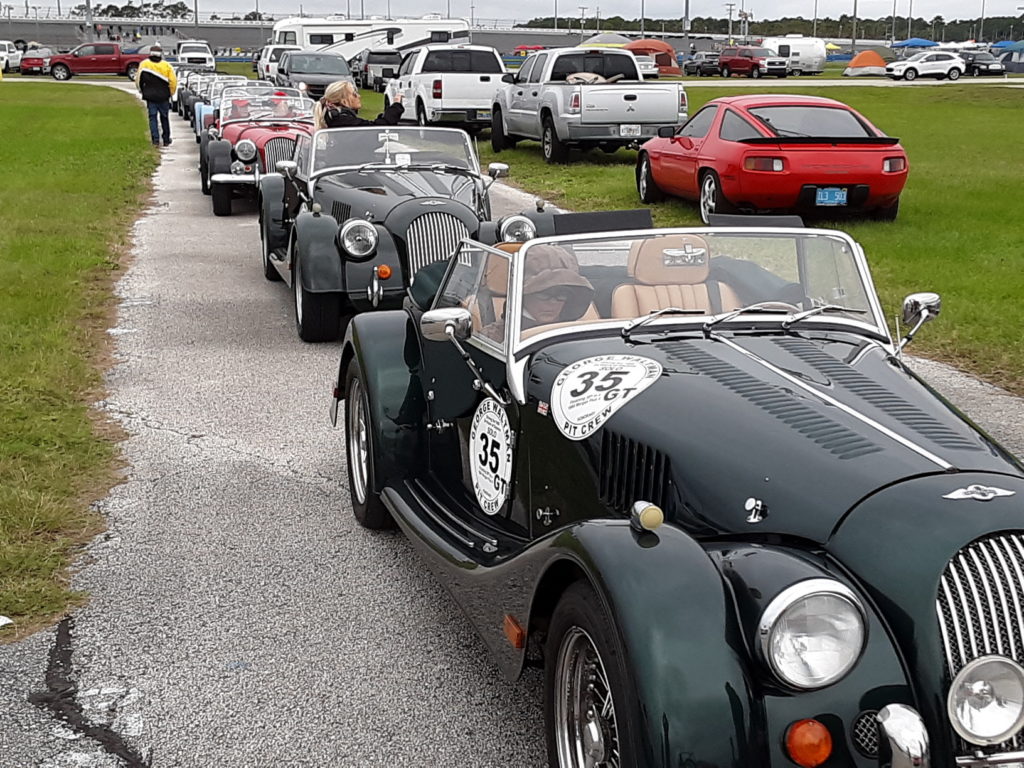 Schedule of Events – Friday Nov 4th, Saturday Nov 5th, Sunday Nov 6th 2022
Friday Nov 4th
Drive to Daytona Beach, Check in to Hampton Inn (or other!)
Friday Night Morgan Group Dinner – Houligan's Daytona Speedway – 1725 W. International Speedway Blvd., Daytona Beach, FL 32114 (Adjacent to the Hampton Inn (you can walk!) 1-386-265-4102
Saturday Nov 5th
Saturday Breakfast – At Hotel
Depart for Car Corral – Front Entrance of Hotel – 0845
At Car Corral – 0900 – 1530 – Track Events
Open House – 1600 – 1800 – at Morgan Dealer Christopher John LTD. 
Saturday Night Dinner – On your Own! Lots of Choices in the general area of the hotel.
Sunday Nov 6th
Sunday Breakfast – At Hotel
Return to Track
Drive Home