Morgan 4/4 80th Anniversary car review: 'a picture of delight' (http://www.independent.co.uk/)
The more things change, the more they stay the same. This 80th anniversary special edition Morgan is a nostalgic reprise of a classic car.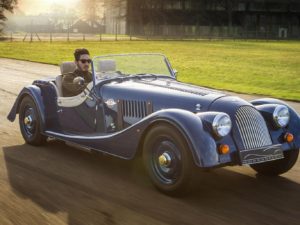 The famous Morgan 4/4 is 80 years old this year. A special celebratory model is in order, and this is it: the imaginatively titled 4/4 80th Anniversary. The car hasn't changed much over the decades, which is where its charm lays – or possibly not, depending on how you look at it.
For fans, the limited-production Morgan will be a picture of delight, with its classic two-tone paint – in green, dark red or saxe blue – and a rather complicated-to-operate mohair drop-top. Details such as bonnet straps, brass grille and solid wheels held by brass centre locks are faithful to the roadster's heritage and further enhance its charm.
The old-school feel continues through to the 4/4's drive. The suspension is stiff, as are the solid-feeling brakes, and the steering is less than communicative. It all starts to come together as the speed increases, though. The Ford 1.6-litre Sigma engine and Mazda six-speed manual gearbox work well together, and the popping and banging side-exit exhaust sounds suitably characterful.
The light, 795kg kerb (1753 lbs) weight enables good performance, although things start unraveling if you push too hard. To get the best from the chassis, your driving habits need to be as relaxed and olde worlde as the car itself.  Meanwhile, the cabin has a suitably classic feel, with Smiths dials, a lacquered walnut dashboard, woven carpet and leather trim for the rather upright seats.
The 4/4 is hugely appealing to those who love classic engineering and motoring, and there's enough of them to keep the British company thriving. That around all but 15 of the 80 models from this special run have been sold already is proof of that.
The spec
Price: £39,996
Engine: 4cyl, 1595cc, petrol
Power: 110bhp at 6000rpm, Torque: 92lb ft
Gearbox: 6spd manual
Kerb weight: 795kg
Top speed: 115mph, 0-62mph: 8.0sec
Economy: 44.1mpg  (Imperial Gallons. 1 Imp Gal – 1.2 US Gal)