As a new owner of what has to be one of the most interesting British marques still in existence, I gladly joined MOGSouth after finding my Morgan last fall. The club covers the southeast and includes several British Car Club of Charleston, SC members. I was determined to attend the Spring Meet and registered early. John Scott and I thought we could gather a few more Morgans from our area but we ended up being the only brave (crazy may be a better word) souls from here to drive a Morgan to Augusta, Georgia during a heat wave!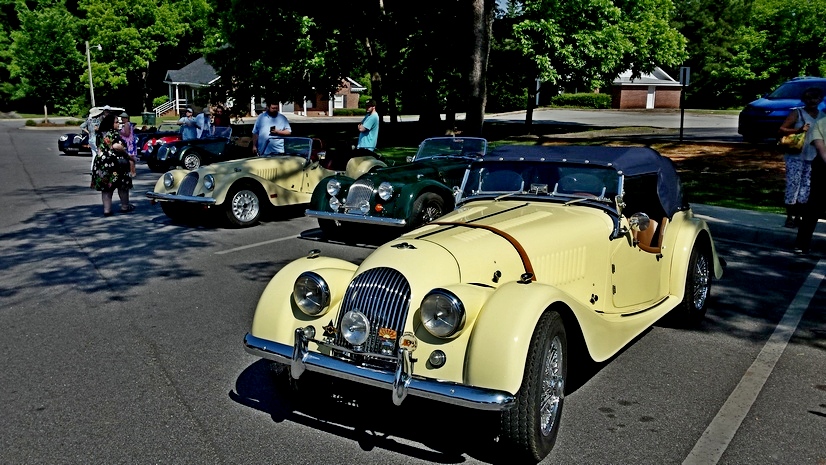 On May 17th John and Laura in their beautiful 1961 Plus 4 and me in my 1966 Plus 4 left Charleston around 10:00 AM headed to hot Augusta. The drive started out quite pleasant with shaded country roads and nice scenery. Did I mention a heat wave? By the time we hit the small town of Williston I was getting nervous watching the temperature gauge, so we made a stop at the local gas station to cool us all down a bit. It's kind of hard watching things like the speedometer, oil pressure, water temp and oil temp with sweat rolling down your face and hot air swirling around your head! As we were heading out John spied a local store named Morgan's and started pointing to it. I must say my eyes were still blurry with sweat so I wasn't sure what he was pointing at till we arrived for a late lunch in Aiken. John's plan was to stop and take pictures in front of Morgan's Drug Store on Sunday morning on our way back home.
After a delightful lunch in beautiful downtown Aiken we readied ourselves for the hottest part of the day and aimed for Augusta. That drive was HOT! Thanks to our excellent navigator, Laura, we managed to get through all the turns, traffic and stoplights and land at The Partridge Inn on Walton Way. We parked our Morgans with several others that arrived early enough to have cooled off (owners and cars) and eagerly watched other Morgans and their owners arrive.
MOGSouth put on a really nice reception with some fun snacks like Nuts and Bolts, which were root beer looking life savers and candied pretzel sticks. They had several other stations with other clever names and goodies all relating to driving, cars and car parts. Something we might be able to copy for our upcoming reception!
Saturday was Rally morning and after a 9:00 group picture we were given our instructions, and by 9:30 our Morgans were rumbling to life in our private parking garage. Now that was a cool sound! As we headed out of Augusta and started getting closer to open hills (yep) you could see the long string of Morgans as they climbed up the next hill in front of you. Oh, forgot to say we were headed to Washington, Georgia via the bridge over Clark Hill Lake. Once again, our navigator, Laura, kept us on the right track. With all the turns, traffic and stoplights our caravan did not stay together but we all managed to get to our first pit stop in time to parade downtown Lincolnton to the visitor center where they had a wonderful reception awaiting us. They were so happy to have us they ran a story in the local newspaper announcing our arrival with history and picture!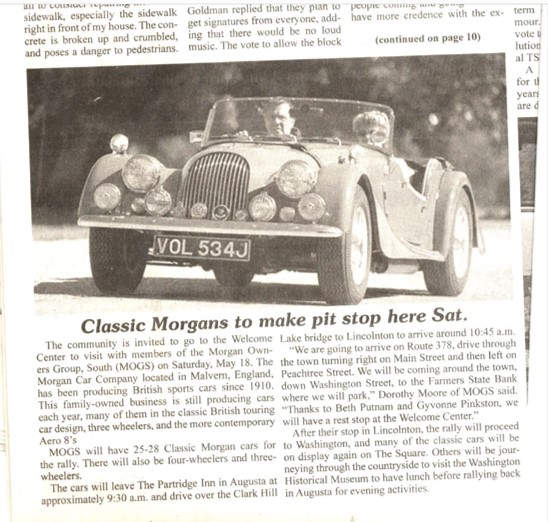 When we returned to our cars, we each had a copy of the local paper with a Morgan article folded for us to see on our front seats. Now that's southern hospitality!
We continued on to Washington, Georgia that is, for lunch and touring. There we were parked around the historic town square and were free to roam around what is an interesting small town. There were several options for lunch and snacks and quite a few folks checking out the unusual cars in their town square. Did I mention it was HOT? Some of us toured the local museums and some traveled up the road to see an American car collection.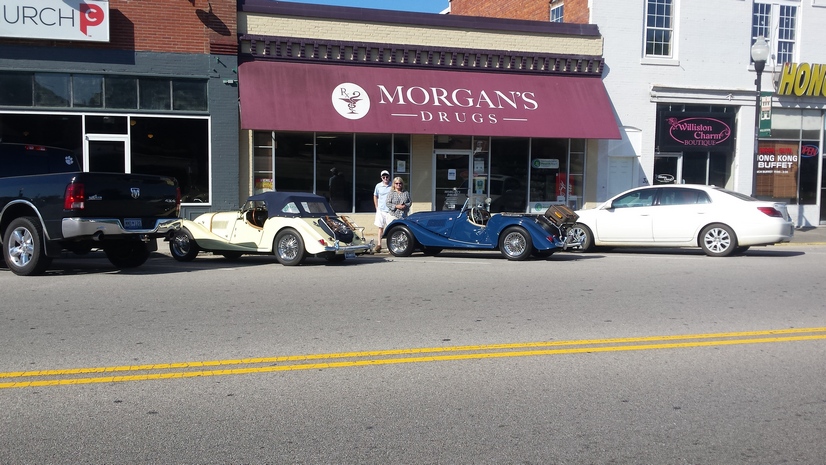 All in all, a pretty neat old southern town that I would recommend going to if close by. I think it's sad that we all seem to be in such a hurry to get to our destinations that quaint towns with interesting history get left behind with the rush to find the fastest route.
The caravan was quite scattered on the drive back to Augusta. We headed out mid afternoon and it was HOT. The directions back to the hotel were supposed to be a shorter route back but didn't allow for a freight train to stop us in the middle of nowhere, in the blazing HOT sun! This is where I decided I was crazy! After carefully getting over the railroad tracks, we resumed our journey back to the hotel. I think at that time we were still an hour and a half or so from our destination (lord knows what it was as my brain was fried from the heat). The three very hot cars managed to get through busy Augusta late afternoon traffic and into our cool garage by 5ish. Cocktail hour was looking really good now as was our club dinner!
Sunday morning, early Sunday morning, was our target for heading back to the coast and hopefully cooler temps. We were on the road again by 8:15. We stopped for gas and we stopped for a picture in front of Morgan's Drug Store in Williston. As we crossed the old Ashley River bridge, we waved goodbye as John and Laura headed downtown and I headed to Mt Pleasant. I pulled into our garage around 12:30 and changed "Morgan's" name to "Sir Morgan" which I had told him that morning I'd ceremoniously 'Knight' him, if he got us both back to Mt. Pleasant!