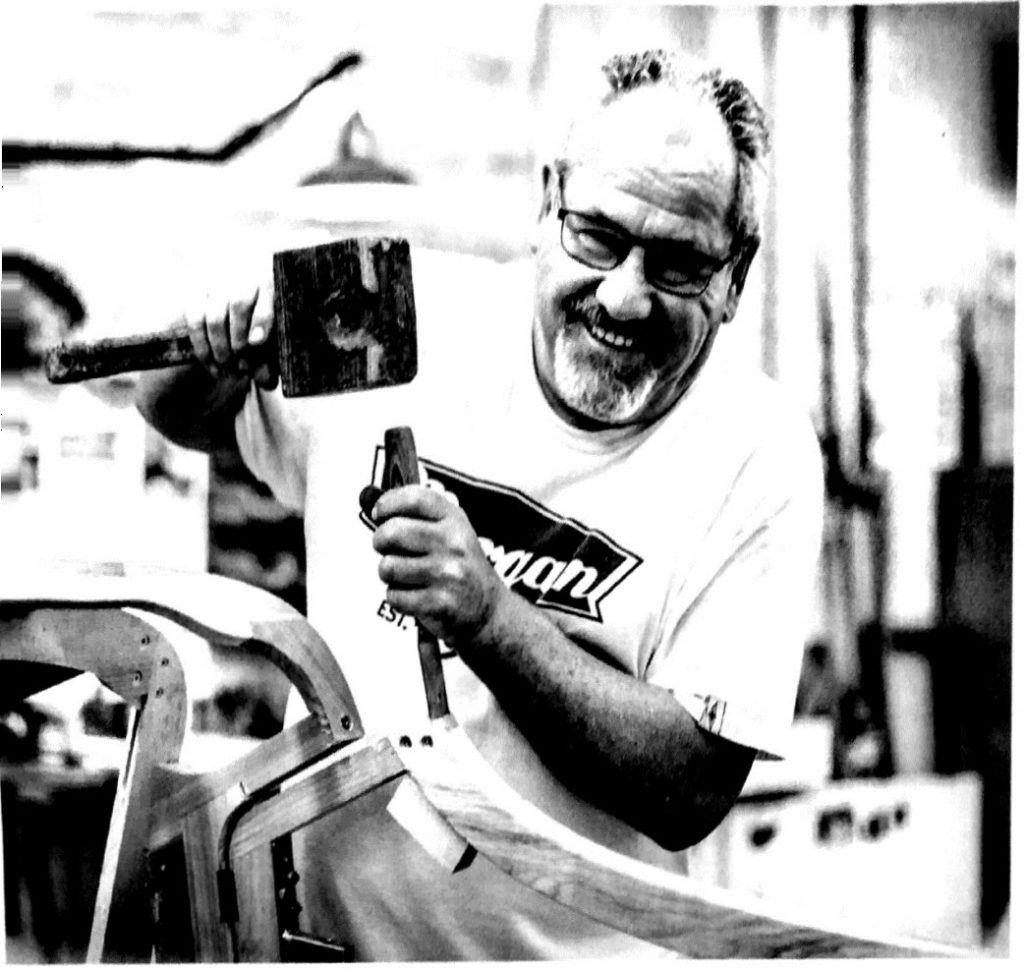 Morgan's Wooden body frames are still hand built, and this craftsman has been creating them since 1975
I DON'T HAVE to be in here at 7am but that's when I arrive. I like to have a cup of coffee and a chat with the other lads before I start work. I've got my own corner of the wood shop, and I only work on the standard Morgan – the 'Traditional' , we call it. Over the years, I've done most of the jobs and they just leave me to get on with it.
At the moment I'm finishing off the last doorframe of a car, making sure it fits in the aperture. I've already built the doorframe in a little jig we have, which holds it all tightly as it's glued together. Once its in place I'll trim it so it fits absolutely perfectly. Using modem glue means the time to make the door has fallen from a whole day, when I started here, to five hours. That's modem efficiency! Still, some things never change. The solid oak press we use to shape the wheelarch is at least 80 years old.
I started at Morgan on 22 September 1975. I'd already done ten years in various building trades, so I had lots of carpentry skills. I liked it because it was close to my house, so I could walk here in 13 minutes across the fields.
Before I came here, I didn't even realise Morgan had a woodworking shop. Or its own sawmill, which it still has. It must be the only car manufacturer in the world to do so. Our ash comes from Lincolnshire; nowadays it arrives on pallets cut to the lengths we need, so we no longer have waste left over from long planks.
When I joined there were still four young ladies working on old capstan lathes, and one of them became my partner. A lot of relationships have started here over the years. Morgan has been my life, really.
I actually retired three years ago aged 65, on my birthday. They put a cardboard cut-out of me up on the wall when I left because I was such a fixture. But I soon came back and now I work three mornings a week. The ghost of Vince is still up there.
The placing and lifting work does become a bit harder as you get older. I groan every time I stand up, but I don't mind because I just like doing it. I've built or part-built about 6000 frames in my time, and these days I'm often working with an apprentice by my side.
I love showing the kids how it done, passing on my skills, although you've got to work swiftly to get the jobs done and do the training. The bodies are going out at a fair rate. These days the apprentices   come straight in. They're usually keen but, if I'm honest, a bit naive. You're  going  to  make  cars,  true,  but  most importantly you've  got to start by becoming skilled at cutting and planing a piece of wood.
Actually, the type of some tools, is the thing that changed most during my time.
I used to have terrible tennis elbow through using old-fashioned planes and screwdrivers. Now, they're all battery-powered, by Makita. 
Patience and accuracy are crucial. Being proud of your tools, and sharpening them, is also important because it's all hardwood we
work with. I have a young lad working by me at the moment who's just sent off for a rosewood-handled chisel to add to his  tools.  That's the right spirit. You have to love your tools.
It's much easier physically, and my hands are still quite soft. After all this time I rarely get a splinter. You just know by instinct not to brush a rough edge. It's an old joke here that you pretend to be in agony by getting a splinter from someone else's work!
I've always liked being in a steady  job that you don't worry  about when you go home. I work part-time throughout the whole year but I'll take a weeks holiday when the Cheltenham Festival is on, because I love horse racing.
Morgan hasn't changed that much over the years,  thank goodness.  With  the  old  gaffer [Peter Morgan] you could drop into his office to get your passport application signed or whatever, or to ask him   something.   The management now is much younger, and there s
a bit more pressure on everybody. I've known the  boss  today,  Steve  Morris, since he was a 17-year-old in the tin shop next door – what we used to call the coachbuilding department!
My partner died 12 years ago but I have a large family life, including her two daughters, and I have three sisters and a brother all here in Malvern. I see my brother every week; he's the head  porter  at  Malvern College.  I'm quite practical at home but I don't have an ornate ash kitchen or anything like that.
These days I drive to work.  I've  got  a VW Scirocco GT and it's a great car, really quick. I didn't learn to drive until I was 43, and I'd never driven a Morgan until last summer. My boss let me use a Traditional to take my great-nephew to his  summer prom. Everybody looked at it wherever I parked, but they'd never guess there was a bit of the driver inside the car itself . . .