1964 Morgan 4/4 Series V. Chassis # B 1054
SOLD

 

– Sorry, 

Too Late

I completed the restoration of the Morgan in 2007; there are 18,000 miles on the restoration.
new frame(tub) purchased from Morgan factory in 2003, rear deck, quarter panels and doors done in aluminum; wood treated with Cuprinol

new crossframe, kingpins and bushings, coil springs,  Koni shocks, rebuilt lever shocks in rear, new five leaf springs, crossframe brace bracket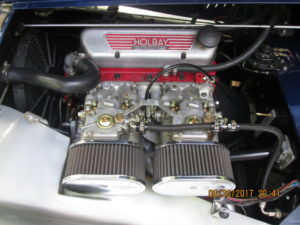 Engine: pre-crossflow, original block, new cylinder liners, .040 pistons and new rings, new bearings, bronze valve guides, hardened valve seats, double springs, Kent 224 camshaft, large valves, steel rocker shaft and posts, ARP fasteners on rods, mains and cylinder head, cylinder head ported, engine fully balanced' est. 105 bhp

Twin Weber 40 DCOE carbs(new) on a Redline intake manifold

Pertronix distributor built for this engine

5 speed English Ford Type 9 Sierra gearbox

Dana Spicer 4.1 rear axle built by Bob Couch

Dual brake master cylinder, stainless steel brake lines

Gemmer steering box

Electrics:  58 amp alternator, Tilton gear reduction "super starter," electric fuel pump, 2 speed heater, all electric components fused individually and relays fitted; amber auxiliary turn signals, original turn signals function as additional brake lights, halogen bulbs used, center mounted brake light; electric cooling fan fitted behind radiator

72 spoke Dayton wire wheels, stainless spokes, chrome rims 

Stainless steel exhaust system

leather over Super Sport bucket seats, transmission tunnel covers, cloth hood with zip out rear window, full tonneau

solid walnut dash with glove box door and matching gearshift knob
This Morgan is docile and smooth in traffic, quick and fast on the open road, has no steering vibration and no squeaks or rattles.
Contact information removed
[In my opinion, this car is one of the best sorted Morgan 4/4s in the US, if not the entire Morgan world.  A wonderful car that anyone would be extremely proud to own.   And, I would be at the front of the line, if not for a lack of garage space . . .   Mark]