This message may be of interest to the club members that followed the story in the newsletter (Volume 6/14) highlighting the MOGSouth visit in June 2014 to the Patterson Pump facility in Toccoa GA where our huge New Orleans flood control pumps were manufactured.
This photo, from the MOGSouth newsletter, shows our tour group standing in half of the suction tube of one of the pumps.
I just received notification that the New Orleans Permanent Canal Closures and Pumps (PCCP) Project involving our monster pumps will be featured on the History Channel September 1st at noon (ET).
Briefly, the PCCP project is the last and largest of the post-Katrina flood protection improvement projects.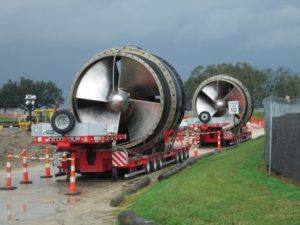 The 10 largest of the 17 pumps are the largest pumps in the U.S. hurricane protection system, capable of pushing 800,000 to 1.2 million gallons per minute EACH over the flood protection walls and into Lake Pontchartrain.
These pumps and the 7 "small" pumps that are capable of half these flow rates produce a combined flow rate equivalent to that of the Ohio River.
The pumps are 5 to 7 stories high.
It took 150 special flatbed tractor trailers to transport the 17 pumps to New Orleans. They were shipped in components (photo attached) and assembled on site while the pump stations were built around them.
Regards,
Jack Claxton